Response to An Open Letter – Yes, But…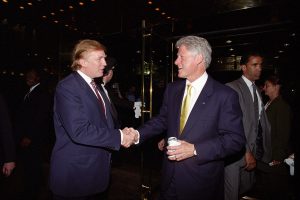 Earlier this week, a small group of public figures from our community, several of whom I consider very dear friends, posted An Open Letter in which they articulated their concern over the current political trajectory of some in the Orthodox community.
Highlights of the open letter include:
The unhealthy confusion of Torah values with politics brings disrepute to Torah and harm to Torah Jews.

No party platform can substitute for our mesorah… Our interests may dovetail with a particular party or politician in one or another situation, but our values must remain those of Sinai, not Washington…

We are a people charged with modeling and teaching ethical behavior and morality to others. It should be inconceivable for us to be, and be seen as, willing disciples of deeply flawed people who are now the de facto arbiters of what is morally acceptable. We should be ashamed when Torah leaders seem to have been replaced as our ethical guides by people of low character and alien values.

As Orthodox Jews, we live in a benevolent host society to which we have rightly given our loyalty. It is thus important that we not be regarded by the American public as turning a blind eye to the degradation of our moral climate in exchange for political support for parochial interests.

We must not allow ourselves to be co-opted by any party. But we must reject the efforts of those who, for self-serving electoral gain, seek to turn Jews against any party or faction. Our practical focus should be on recruiting allies and building alliances, and we ought to shun partisan posturing that only alienates us from those who govern us.

We must ensure that Israel is not used as a political weapon. We must oppose efforts to turn support for Israel from a broad consensus into a wedge issue. Although we may rightly be concerned about trends regarding Israel in some corners, indicting an entire party as anti-Israel is not only inaccurate but has the potential of becoming a self-fulfilling prophecy. Nor should any party's strong support for Israel become a justification to blindly support its politicians in every other matter.

To that end, let us commit to being guided only by Torah perspectives and strive to insulate ourselves, our families, students and congregants from being influenced by the objectionable speech and conduct that have come to infect many parts of the political spectrum.

When we vote, let us do so as Torah Jews, with deliberation and seriousness, not as part of any partisan bandwagon. We are not inherently Democrats or Republicans, conservatives or liberals. We are Jews – in the voting booth no less than in our homes – who are committed, in the end, only to Torah.
I am very pressed for time and regret that I cannot say all that I would like to say, but I feel that the open letter requires some response, however brief.
My first response is that I agree with much of the letter in theory and some of it in practice.
I find it irksome and upsetting when fellow Orthodox Jews, be they Democrats or Republicans, immensely admire and get excited about people whose theology, philosophy or associations are antithetical to Torah values, simply because these people might say or do things that are of benefit to us, bolster our positions, or concur with our actions or ideologies. Whether these people are atheists, evangelicals, secular Israeli politicians, ethical humanists, Hollywood celebrities or political commentators, or anyone else – we might really appreciate their taking our side on certain important issues, and we should express it vocally, but to internally revere or inherently identify with such people as part of our core mission is downright wrong.
Furthermore, to display what at times can seem like quasi-religious commitment regarding political platforms and personalities, spouting forth words of excessive adulation and allegiance as if the political entity were Toras Moshe, is obviously off the mark. And even worse is when people are infatuated with the political and they try to turn it into the religious. This is the opposite of emes and is ziyuf ha-Torah, a distortion of the Torah.
But this is where it gets sticky, for there is a major difference between idolatrous devotion to a political candidate and robust support of the candidate for important practical reasons.
The open letter is concerned with members of the Orthodox community appearing to be "willing disciples of deeply flawed people who are now the de facto arbiters of what is morally acceptable…. people of low character and alien values". But make no mistake – nearly every high-ranking politician, from across the entire spectrum, has committed acts exhibiting major character deficiencies and often much worse. It cuts in every direction.
When the present occupant of the White House, whom we all know has no shortage of flaws and failings, ran against someone who, along with her husband as 42nd president, was party to more scandals – including countless improprieties of a criminal nature far surpassing anything of which the current president has been seriously accused, literally rivaling the most notorious mobsters – no such open letter was issued, as Orthodox Jews gathered behind this political duo and some rabbis conferred overly-enthusiastic and very public blessings upon this couple's political aspirations. The current president's presumed contender likewise lacks "clean hands", from significant charges of plagiarism to lies about his academic record, and more… Modern-day corrupt and scandalous comportment by presidents and presidential candidates brings us back to the Kennedys, Lyndon Johnson and of course Richard Nixon, and most likely much further.
And you know what? For every politician whose major indiscretions have been documented, there are probably a dozen more politicians about whose numerous seismic infractions we will never know. We must realize that even the best of politicians from any party is not a model of virtuous character and is more likely a model of the opposite.
For this reason, the debate about supporting politicians who exhibit moral deficiencies becomes pretty much moot, and we can only vote according to the issues, for in any election, neither side is typically an example of integrity and good moral fiber. Please see my article about this prior to the previous presidential election.
There is another point to bear in mind. Our mesorah for dealing with political leaders and tribal chieftains, going back to Avrohom Avinu and Ephron Ha-Chitti, to Yaakov Avinu and Eisav, and throughout history, has been one of pragmatism and not idealism. We work with leaders and political forces to assist our causes, regardless of these leaders' and political forces' own shortcomings and lack of exemplary character. We do not stand our moral ground, call out lack of appropriateness and eschew working with political leaders, or work with them while condemning their unethical conduct; quite the contrary – we are bidden to show support and even publicly express reverential praise if that is what is needed. We need not and dare not be "frummer" or more proper than our holy Avos when dealing with what are often existential issues facing our community.
No one accused Avrohom and Yaakov of failure to set an ethical example in their accommodation of Ephron and Eisav, nor were any other great spiritual leaders of our people who throughout history had to negotiate with and befriend offensive counterparts censured for these associations, as it has always been obvious that our religious-spiritual ideals are lofty but that we need to work with even the lowliest of characters in a manner that gets things done when it comes to matters of paramount communal import. This partnering with the devil was never assumed to indicate acquiescence to objectionable values, nor should it be interpreted as such now. We are of course adjured by the Torah to serve as examples to humanity of the Godly message and to proclaim its truth, but this does not conflict with the Torah's mandate to go so far as to even publicly befriend, laud and reward despots, as warranted and required by the circumstances. So long as we do not internally identify with such individuals, we are doing the correct thing and abiding by our mesorah. (This is in no way an implication that the leaders of this country are despots! I am merely trying to dramatize a point. But think about the numerous Jews who were saved throughout history, and the many existential crises involving Jewish survival and the State of Israel that were overcome successfully, BH, often by appeasing the most corrupt and malicious of world leaders, and sometimes doing it quite publicly.)
Returning to the contemporary American scene: We must also bear in mind that there are millions of Jews supporting each political party, candidate and cause, and until Moshiach, it will foreseeably remain this way. No one politician, movement or party is going to observe Orthodox Jews supporting the opposition and decide that "the Jews have now withdrawn their support from us". The ramifications of Orthodox Jews appearing to be partisan are pretty negligible in the present landscape and the broader scheme of things.
Furthermore, let us not forget how the current occupant of the White House has treated the Israeli cause, from Yerushalayim, to the Golan, to Iran, to Hamas and the PA, to calling out and defunding backers and awarders of terror, to the honor accorded the Israeli prime minister and the refusal to tamper with internal Israeli politics (in contrast with how the previous occupant of the Oval Office did things), to public and often private support for the State of Israel's right to defend itself as it makes incursions into Gaza, Syria and Iran (!) – remember prior administrations' repeated behest of "we call on all sides to immediately stop the aggression" and absurd censure of "we condemn the violence by all parties"? – to unparalleled backing at the UN, to redefining anti-Semitism most favorably, to the federal government going after violent anti-Semites in New York City, and more. I lack the time to provide hyperlinks for this all, but please Google and you will see it quite clearly and indisputably.
We should do our best to curry favor on both sides of the aisle – I agree wholeheartedly – but at the same time, when one party is stamping out its racist element, while the other party refuses to put a lid on hate speech emanating from its radical members and is unable or unwilling to outrightly condemn anti-Semitism, it is a tall order and perhaps unrealistic to expect fellow Orthodox (and all other) Jews not to feel and say that one party has their back, while one party does not as much. Not to mention the disparity between one party's position on issues relating to biblical, traditional values and its support for law enforcement, versus the other party's embrace of values which offend the traditional/moral milieu of America and its Orthodox citizens, and this party's tolerance (and worse) for some of its most vocal members' calls to defund the police and reform the criminal justice system in a manner that can endanger everyone. It is not difficult to understand why one of America's most senior rabbinic leaders has just openly called on us to vote for Trump.
We dare not lionize and be hero-worshipers of any politician; we worship only Hashem and know that whatever happens in this world is in His hands and is not the product of human accomplishment. At the same time, no one should frown upon displays of appreciation, support and even loyalty to political leaders who have gone to great lengths to assist and defend our community and its interests, and who have taken a strong stand for neighborhood safety and security, regardless of the motives behind such actions. Showing strong support is exactly what we are supposed to do and is what is right.
The Torah is not only a set of ideals, but is also practical guidance for navigating the real world. The facts on the ground matter, and we have a mesorah for dealing with all sorts of characters – a mesorah which endorses working amicably with those who are not examples of integrity, and exhibiting friendship to them as the case may require, rather than making a values protest.
The open letter might be correct in theory, but I respectfully submit that in application, things are different.