Rabbi Pruzansky, JOFA, And Free Speech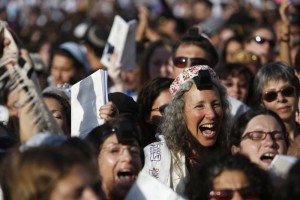 by Rachel Rocklin
As a rebbetzin living in Teaneck, I want to address Rabbi Steven Pruzansky's recent blog post on campus assault, and his follow-up which appeared here.
Rabbi Pruzansky presented a viewpoint that has been expressed many times before – namely, that the existence of a widespread campus rape culture has been exaggerated, and that many cases of reported sexual assaults differ from traditionally understood criteria for this crime.
Moreover, he suggested that upholding traditional sexual mores may lower one's chances of being involved in an assault. Whether one agrees with him or not, variations of this perspective have appeared – from writers ranging from Heather MacDonald on the right to Camille Paglia on the left – in publications as different as Time, U.S. News & World Report, The Washington Post, Commentary, and The Weekly Standard, among others.
While the tone of Rabbi Pruzansky's prose was more typical of a political pundit than a pulpit rabbi, it should not be shocking that an Orthodox rabbi advocates abstinence before marriage. Nearly every Orthodox boy and girl is raised in a countercultural manner when it comes to intimacy, learning halachot concerning negiah, yichud, and tzniut. While these practices certainly do not immunize anyone from the danger of assault, Rabbi Pruzansky believes they may lessen the risk.
The Jewish Orthodox Feminist Alliance (JOFA) mischaracterized Rabbi Pruzansky's words, claiming he engaged in an "attack on women," gave rapists "a free pass," and placed "blame squarely on the victim."
JOFA has every right to disagree with a rabbi's blog entry, but it has no right to distort the truth about what he wrote in order to discredit him. While Rabbi Pruzansky's article was written in what many might consider a harsh and sarcastic tone, he did none of the things of which his critics accuse him.
Slandering another Jew, let alone a rabbi, is bad enough. Yet JOFA's dishonesty and mischaracterization were coupled with another illiberal move. It pressured the organizers of a local educational conference to ban Rabbi Pruzansky, the rabbi of the largest Orthodox synagogue in Teaneck, from speaking there. Ostracizing and silencing someone in this manner, for political and religious views that fall within the normative range of civil discourse in a national debate, is not appropriate behavior in a liberal society.
While the circumstances were radically different, there are elements of Rabbi Pruzansky's treatment here that call to mind my own family's story. My father, a Russian philosopher and refusenik who opposed the Soviet regime, was fired from his university job and blacklisted for disagreeing with the Communists.
Even though the circumstances differed, I cannot help but be struck by some parallels with JOFA's attempt to blacklist and silence Rabbi Pruzansky. In America, ideas are not banned or censored when they offend people. Instead, they can be vigorously debated.
In one public statement, the director of JOFA stated with confidence that Rabbi Pruzansky "should not be in a position to preach about values we want to pass on to our children." I would respond that one important value I want to pass on to my children is that free speech is precious, and that it requires us to hear out difficult arguments, even when we dislike them.
There is a difference between disagreement and demonization. Even if we vehemently disagree with an opinion, mischaracterizing someone's words in order to discredit him is inappropriate and inconsistent with Jewish law and Jewish values. As a community, we should strive for a loftier standard of behavior.