Dr. Marvin Schick – A Second Yahrzeit Appreciation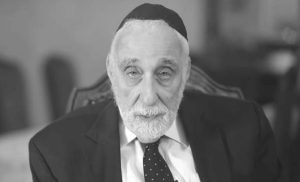 Today, Sunday, June 1st marks the 2nd yahrtzeit of our former Cross-Currents contributor, Dr. Marvin Schick Z"L.
Dr. Schick was a unique figure in American Jewish life.  He was a scholar and intellectual who was also a firebrand, a fierce protector of the Orthodox community who was also unafraid to express his criticisms, a writer and a speaker who was first and foremost a doer, a university professor, and a devoted and loyal follower of his guidestar, Rav Aharon Kotler ZT"L.  The obituary run by the New York Times shows his prominence in the non-Orthodox world.
Dr. Schick was involved in a wide-range of communal activities.  In the 1960s and 1970s he led the fight to protect the rights of observant Jews, to combat discrimination against Shabbos observers and for aid to parochial schools. He did so through his mighty pen (producing an avalanche of op-eds), and as a member of city and state administrations in NY.  Jewish education was the cause closest to his heart. When the government was on the verge of announcing that all yeshivos were acting illegally by moving general studies education to afternoon hours, he was one of those most responsible for getting it to do an about-face, thereby saving Torah education. (I'm not sure who the others were, if any.) As President of the Rabbi Jacob Joseph School for 45 years, through his work with the Avi Chai Foundation and in countless other ways, his concern for Jewish education transcended all boundaries. He ignored other boundaries as well. He worked with and for the interests of both charedim and the Modern Orthodox, but was affiliated with no particular organization. It was all lishmah.
To commemorate Dr. Schick's yahrtzeit, we are pleased to provide Cross-Currents readers with this speech about Jewish education that he delivered at a Torah Umesorah dinner 30 years ago. It is a terrific illustration of his passion, intellect and idealism.
Dr. Schick and his speech were introduced (in Yiddish) by Rav Elya Svei ZT"L, and we offer Rav Svei's remarks as well.
Rav Svei's introduction:
Dr. Schick: