Same Sex Marriage – A Debate For Our Times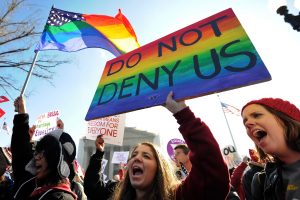 One of the most impactful pieces I recall from the years of The Jewish Observer was a debate between two contributors. (One was Rabbi Bernard Weinberger, z"l, who was niftar just a short while ago; I do not remember the identity of his interlocutor.)[1] How involved should Torah Jews be in the discussion of the great moral issues of the day? Should Jews keep a low profile, offending as few people as possible, and sticking their necks out only to guarantee the freedoms they needed to allow Torah to thrive? Or should they feel obligated, as those who carry Hashem's word into history, to offer a Torah perspective on all social and ethical issues that society faces? No opinion emerged as the clear winner, but the two presentations helped immensely in clarifying the positions. I took those arguments with me for the next decades of my life.
Cross-Currents herewith offers an updated version of the earlier debate. A short while ago, Rabbi Michael Broyde submitted a piece outlining why he felt that it was counterproductive to Orthodox interests to publicly maintain a rejectionist stance of gay marriage. We arranged for our own Rabbi Avrohom Gordimer to write an opposing piece. The two pieces, meant to be read together, are presented below. We hope that the two position papers will help readers clarify their thinking about the topic and its tributaries.
Our two contributors are appropriate to the task. Rabbi Broyde is a professor of law and the academic director of the Law and Religion Program at Emory University. The author of many books and articles, he is one of the most important explicators of halachic thought to those outside the Torah community, particularly to those in the legal community.
Rabbi Gordimer serves as Rabbi Gordimer is a kashruth professional for the OU, is a Senior Rabbinic Fellow at Coalition for Jewish Values, and is a member of the New York Bar. He has distinguished himself as a defender of authentic mesorah, against the depredations of new groups that have stepped away from it. – YA
=============================================================================
Politics Makes Strange Bedfellows
Rabbi Michael J. Broyde
Introduction
I think our Orthodox community is making a terrible political mistake still leading the charge against same sex marriage as lawful in the United States and de-legitimizing as "Orthodox" views that support lawful same sex marriage as a matter of American law. A close read of the recent Masterpiece Cakeshop Supreme Court case makes it clear that we will lose the legal fight about religious freedom as well if we are not very careful. Indeed, many in the Gay community already perceive the cause of "religious liberty" as merely a euphemism for the right to discriminate against gays. Coalitions need to be tended and watched and worked with.
Two Preliminary Matters:
Two matters need to be briefly addressed up front, for the sake of clarity. The halachic issues are simple and always need to be stated so that no one confuses our politics with our Jewish Law. Sexual relations between men is a Torah violation of Jewish law and Noachide law. Female same sex intimate relationships are at least a rabbinic violation of Jewish Law and according to some a Torah violation. Second, there is no halachic obligation ever to adopt a Jewish law orientation to what secular law should be. We need to distinguish between our halachic statements and our political statements. Politics makes strange bedfellows, especially in multicultural democratic societies like America. Rabbi Moshe Feinstein makes this point (Iggrot Moshe 9: Hashkafa 4) in his letter about what Jews ought to want from the secular government with regard to determining death (which he proposes is religious exemption and not compliance with Jewish Law by secular law). I explain the theoretical reasons in an article entitled "The Obligation of Jews to Seek Observance of Noachide Laws by Gentiles: A Theoretical Review" which was published in the Orthodox Forum series in 1997. Essentially, that article concludes that most poskim, early and late, deny that there is a halachic obligation on individual Jews to compel general society to observe their laws even as all other things being equal, we prefer a more moral society and like to help moral values.
There is No Obligation to be an Ideologically Pure Political Loser.
The battle is over and the groups opposed to same sex marriage lost. No one really thinks that this cat is going back in the bag. Even if Obergefell (which mandated same sex marriage nationwide) were reversed, the many various states [NY, California, Massachusetts, Illinois and many others] already have legalized same sex marriage and many more will if the Supreme Court deprives people of this constitutional protection. Honestly, no one really thinks that change is actually possible in the availability of same sex marriage. It is here to stay for the foreseeable future.
This is because there is a liberty interest here with no direct opposing harm (as is present in abortion) and much of American political life is driven by a desire to have less governmental regulation of private matters including matters of intimacy. The longer we Orthodox Jews fight this fight, the more enemies we make and the less politically effective we will be at actually protecting our long term interest, which is driven by religious liberty concerns and not obedience to Jewish law by those who do not wish to obey. . Simply put. I believe we have a more urgent priority – which is to support religious liberty. Creating a model in which religious liberty and gay rights clashes incessantly because we are leading to charge to diminish their rights decreases the number of people who actually support religious liberty
Religious Freedom is Weaker than We Think in America
Constitutional law in the United States is much less protective of religious liberty than most assume. The reason is clear: in Employment Division v. Smith (1990) Justice Scalia, writing for himself and Justices White, Steven, Kennedy and Chief Justice Rehnquist ruled (5-4) that generally applicable laws (like all surgery needs to take place in a hospital and be conducted by a surgeon) need not have an exception for religiously motivated conduct (like milah).
Functionally, this means that religious communities frequently need legislative coalitions to get statutory exemptions to protect their religious rights from neutral laws that impact them. It is worth noting that the concurrence and dissent by Justices O'Connor, Brennan, Marshall and Blackmun show much greater deference to general religious exemptions from the law. Religious freedom would be far stronger in America if in 1990 there had been one more Justice more closely aligned with Brennan than Scalia. Of course, I do not know what that means in practice for today – but neither does anyone else, and diversity on these political matters is important. (Certainly, there is no clear halachic obligation to support Justices in the model of Scalia than Brennan.)
This ought to remind us of two things that are very important:
First, legislative coalitions are really important to religious communities' and being no one's friend is unwise.
Second, it is very hard to know whether being a political conservative or a political liberal is a better long term strategy, since Smith represents the most profound long term threat to religious liberty in America and was a "Conservative" opinion with a "Liberal" dissent.
Liberty Coalitions are Important
Liberty coalitions are politically strange bedfellows and the more fellows in the bed, the better the coalition. The more the community that supports same sex marriage senses that their core right to marry is not acknowledged by us as valid and is actively undermined by Orthodox Jews politically, the harder it is to work together on other matters of common cause. If we acknowledge that their basic right to marry and not be discriminated against is protected, maybe we can work out the friction points successfully. Drawing the community that supports Same Sex marriage into the personal liberty coalition is very important.
Furthermore, I suspect that Orthodox Jews do not benefit from allowing religiously motivated commercial discrimination in the United States. Consider a simple case: An Orthodox Jew sell flower centerpieces for $25 each (each one identical and manufactured in China) and he knows that a particularly customer is purchasing a centerpiece for the christening of his Jewish son's conversion to Catholicism. I want American law to prohibit that commercial discrimination as I think allowing people to refuse to sell products due to the fact that the customer has a future use that violates my religion is a rule that is bad for Jews, because we will become the victims of economic discrimination much more commonly than the beneficiaries. Allowing discrimination because of the sincerely held religious beliefs of someone selling or buying in the market opens such a loophole. It permits hotels to decline to have Jewish weddings when they violate the religious beliefs of the hotel owners. We surely do not want to return to the model of hotels having a sign which says "no Jews allowed".
I am prepared to consider — not under religious freedom grounds but freedom of expression grounds — that if a customer wants an Orthodox Jew to make a unique artistic contribution that is crafted especially for that event, one cannot be forced to do so if one does not agree with the event.  So, if one sings at weddings for a living, one cannot be made to sing at weddings one does not morally or religiously approve of. But, if one sell CD's of wedding songs, one has to sell them to everyone and they can use them for whatever they wish.
Orthodox Jews do not benefit from allowing consistently held sincere religious values (such as an Anti-Semite who sincerely says "I hate all Jews and I would like to never touch any Jew, so I will not give a Jew a massage") the right to avoid the general obligation to interact with all people equally in the stream of commerce. The repeal of anti-discrimination laws in the name of religious freedom is very bad for all Jews.
(Let me be clear here that I am not discussing the proper approach with respect to Jewish communal norms which does not necessarily have to be consistent with one's attitude towards the legal issue. The law correctly gives religious institutions the right to favor their religious values. Synagogues, Seminaries and Day Schools can certainly discriminate.)
Conclusion
Same Sex intimacy is a violation of Jewish law and here is no halachic obligation to encourage secular law to reinforce Jewish values in this area. Given these two fact, it is a matter of prudence what we say in public and why. It might never have been prudent to forcefully advocate against gay marriage. Certainly, once the battle is over and we lost, given the fact that there is no duty to fight, we certainly should not fight it again, particularly since same sex marriage is now widely understood by our secular society to be an equal protection and liberty interest. Rather we need to form communities and coalitions that protect the liberty of all (religious and otherwise) while prohibiting discrimination.
==============================================================================
Orthodox Jews Must Continue to Oppose the Legality of Same-Sex Marriage
Avrohom Gordimer
There are times when one is faced with defending values that are antithetical to his own, in pursuit of his personal religious liberties. We often hear of Orthodox organizations joining amicus briefs defending the interests of different religions, for it is argued that the more that general religious liberties are protected, the better will the religious liberties of the Orthodox community be protected as well.
Rabbi Michael Broyde has taken this approach a massive leap further by arguing that Orthodox Jews should accept the right to same-sex marriage under American law and form personal liberty coalitions with same-sex marriage proponents, for the sake of creating a broad-based personal liberties foundation that will assuredly protect Orthodox religious liberties as well.
The problem with this logic is that even though recognition of same-sex marriage does come into conflict with religious liberties, a la Masterpiece and many other previous and future such cases, protection of the right to same-sex marriage does not really correlate with protection of religious liberties. Stated more simply, same-sex marriage is not a religious right, and there is no indication whatsoever that aligning with proponents of same-sex marriage will help create a coalition in which same-sex marriage proponents will side with Orthodox Jewish liberties, or with any type of religious liberties, for that matter. Same-sex marriage is a civil liberty, and conflating it with a more specialized religious liberty, or identifying same-sex marriage lobbyists as soldiers ready to fight for religious liberty when treated nicely, is at best wishful and at worst dangerous.
We just read of the firing of Dr. David Mackereth, a 26-year veteran of National Health Services in the UK, for refusing to refer to a transgender biological male patient as a female, due to Dr. Mackereth's religious convictions. And in New York City, one can be fined hundreds of thousands of dollars for intentional use of an unwanted gender pronoun – even if the gender pronoun that was used matches the person's biology – as such speech is now considered to be a human rights violation; only pronouns corresponding to a person's declared gender are legally acceptable. (This all followed the New York City Commission on Human Rights' issuance of a list of fluid gender pronouns and its referencing 31 additional gender designations, at the recommendation of Mayor Bill de Blasio.) These are but a few of many such similar situations, in which the creation of special legal protections and rights for the LGBTQ community has alarmingly jeopardized the liberties of the religious community and has led to individuals of faith being penalized for use of religiously-mandated speech.
The establishment of special legal rights to serve LGBTQ interests has proven to directly stifle religious liberty; this alone negates the essence of Rabbi Broyde's argument that Orthodox alignment with coalitions which promote same-sex marriage serves the best interests of the Orthodox community.
There is another very pragmatic factor to consider. By accepting the right to same-sex marriage, we would be condoning and arguably encouraging other Jews to legally marry their homosexual partners. Most of us are aware of the many Jews who legally married their homosexual partners after same-sex marriage was sanctioned by the courts. As Orthodox Jews, we dare not condone this practice, just as we surely would not accept or favor other legislation that would inevitably result in fellow Jews violating Halacha. Rabbi Broyde's approach places Orthodox Jews in the untenable position of sanctioning the violation of Halacha by their fellow Jews.
And there is yet another pragmatic factor at play, for even if Jews are not halachically bound to encourage non-Jewish society to observe the Noahide Laws (the issue is one of dispute among rabbinic authorities), and even if we are not bound to help create a more moral general society (something we quite arguably are very much bound to do within reason), the result of a proliferation of same-sex marriages hits home for nearly every Orthodox Jew, who is thereby increasingly placed on the defensive within society and progressively finds himself in an atmosphere that offends his most basic religious sensitivities. Our Sages exhort us to avoid being in an environment that flouts Torah values and sensibilities; need we approve and voluntarily create such an environment by sanctioning same-sex marriage in every jurisdiction?
It is clear from the aforesaid that extending same-sex marriage rights and special liberties in the interests of the LGBTQ community generally imperils the Orthodox community, and other religious communities, on a variety of levels.
Rabbi Joseph B. Soloveitchik zt"l was unabashedly opposed to the legalization of same-sex relationships, comparing it to the legalization of abortion. In a 1974 public lecture in Boston, the Rav stated:
"A philosophy of (homo)sexualism is being preached throughout the Western world to such an extent that a certain rabbi came to me and said, 'How can we defend ourselves against it?' I told him, 'Take out a Chumash (Pentateuch) and read the a pasuk (verse), 'V'es zachar lo sishkav mish'kevei ishah, ki to'eivah hi.' ('You shall not lie with a male as with a woman, for it is an abomination.' -Vayikra/Leviticus 18:22) We are on the defensive, you understand. Why? And the same is true of abortion and so forth.
"I can never predict what modern society will come up with. Everything is possible. The most abnormal, obnoxious, repellent ideas may be introduced in the form of legislation to Congress. And now, since it is modern to be liberal, it's quite in vogue to be heretical, so any law can be adopted. The Supreme Court in America is the most unpredictable body. Did you see, did you read carefully, the decision about abortion?" (Roe vs. Wade)
And in Man of Faith in the Modern World, the Rav likewise explained (p. 94):
"The campaigns to legitimize abortion, euthanasia, adultery, and homosexuality are examples of the unreliability of the social conscience even with Mishpatim (civil laws of the halachic system)."
The Rav was acutely attuned to the broader American socio-political scene and its impact on the Orthodox community, and he allowed the formation of certain interreligious coalitions with those who rejected Torah ideology – yet he firmly opposed extending personal liberties to areas that are inimical to Torah values.
There is one final consideration, which should actually be our primary concern, and which is paramount in terms of the very integrity of Orthodox Judaism. The acceptance of same-sex marriage in the name of Orthodoxy, or by overtly Orthodox Jews, is a chillul Hashem – a desecration of the Name of God – and an affront to our religious character. Let us imagine that aligning with the promoters of the legalization of prostitution would serve to broaden support for governmental noninterference in the area of personal, intimate relationships, with the goal of assuring batei din (rabbinic courts) the necessary powers and autonomy to better enforce their rulings in cases of religious marriage and divorce within the Orthodox community. God forbid that we should align ourselves with the prostitution lobby, for the chillul Hashem and threat to the integrity of Orthodox Judaism would clearly not tolerate it. Same-sex marriage is worse in the eyes of the Torah than prostitution, and all the more so must we therefore not enter into liberty coalitions with the promoters thereof.
Rabbi Broyde is justifiably concerned about Orthodox opposition to same-sex marriage alienating potential allies, especially since same-sex marriage is now the law of the land, and this is not expected to change. My response to this is that the right to abortion has likewise been the unchanged law of the land for close to half a century, and despite American society becoming increasing liberal since Roe vs. Wade, the specter of abortion rights being subject to significant restriction now looms large in the minds of legal scholars and politicians, with the nomination of Judge Brett Kavanaugh and of quite likely a few more conservative justices in the years to come. But even assuming that same-sex marriage is here to stay, the Orthodox community has no lack of likeminded allies on the matter. The Catholic Church and numerous other religious groups as well have maintained their legal opposition to same-sex marriage, while pursuing their overall agendas in the legislative arena with a nice measure of success; the Orthodox community should not be an exception to this accepted norm. Furthermore, and above all, Orthodoxy cannot dilute or distort its positions in order to score points. Factors of chillul Hashem and religious integrity are not subject to compromise. While we need not boldly advertise our position on every hot-button issue, and the specific extent to which the Orthodox community should assume a proactive or leadership role against same-sex marriage needs to be carefully determined, we nonetheless cannot declare our legal acceptance of that which the Torah prohibits, nor can we fail to stand up for our values when choices must be made.
The proposal for Orthodox acceptance of same-sex marriage in American law is fallacious logically, pragmatically and religiously. Rather, Orthodoxy must follow the ancient path of Abraham and assert itself as the countercultural force for divine morality, in the face of a society that has lost its sense of right and wrong. For the sake of God and His Torah, we must stand up for that right and never sanction the wrong.
Avi Schik wrote in suggesting that the two articles were by R. Weinberger and by Prof. Leo Levi. He may be correct, although I thought I remembered an issue with two articles in the same issue. Whatever the case, those who take the time to read the pieces will be astounded to see the difference in what the haredi world tolerated a few decades ago, and what is allowed today. ↑