Not from the Philadelphia I Know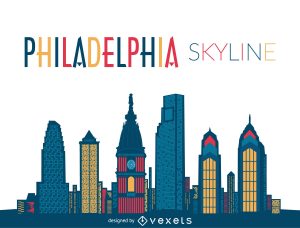 by Rabbi Michael J. Broyde
[Editor's Note: I did sign the Declaration. My expectations were a good deal less ambitious, so I was more inclined to look away from any flaws or overreach. The Declaration seemed to me to be a statement of support for those who have maintained a sense of decency and perspective. Americans ought to hear that such people still exist. Still, there is no question that Rabbi Broyde raises some very important issues for us as Jews. His piece ought to stimulate fruitful discussion]
It is beyond question that the tone and tenor of public discourse has gotten ugly. Swift, strident criticism has supplanted civil disagreement. Social media platforms (Facebook, Twitter, etc.) have magnified the impact of those shouting down their opponents. Today's "cancel culture" has pushed aside not just bad actors but even those who espouse unpopular ideas—including pro-Israel journalists and campus advocates. To many observers, the trend is alarming.
With some fanfare, a group of academics, public intellectuals and faith leaders recently released the Philadelphia Statement on Civil Discourse and the Strengthening of Liberal Democracy ("Philadelphia Statement") and are encouraging the public to add their names online (more than ten thousand at the time of this writing). As appealing as this document seems at first blush, I believe it is deeply flawed both substantively and as a matter of policy. Accordingly, it would be unwise for members of the American Jewish community to sign it.
The Philadelphia Statement is wrong for three reasons.
First, it is historically and legally wrong. The statement's core claim, that "[a] society that lacks comity and allows people to be shamed or intimidated into self-censorship of their ideas and considered judgments will not survive for long," has never really been true. We as a society have always imposed — through shaming, intimidation and even legal sanction — limitations on what ideas civilized people may comfortably advocate in public, and we as a society have prospered with these limitations. Whether it is support for Germany in World War II, or support for Trofim Lysenko's pseudoscientific theory of evolution, society often circumscribes the range of ideas that can be advanced in public by respectable people. Even when free speech rights attach (quite expansively in America; narrower in every other Western nation, including Israel), social restrictions have always been more exacting.
Second, it is wrong because it does not carve out a place for private property. The Philadelphia Statement does not recognize the fundamental distinction between public and private forums. The right to not allow some ideas — even reasonable ideas that many people espouse — in my private space is central to ordered liberty. My house is my castle, and I have the right to exclude discourse I disfavor from taking place in my living room. A synagogue need not let every voice be heard in its pews, and neither must a corporation. (Maybe neither should Facebook, itself a private company.) People ought to remain free to decide which legally permitted ideas they want their children or family or community or customers to encounter. Public discourse frequently takes place in private space and nearly always may be curtailed by the owner of that space.[1]
Third, it confuses morality and law. Of course, the Philadelphia Statement nods to legal limits on speech by noting, "our free speech tradition is not absolutist. It does not embrace certain, limited categories of speech, such as defamation, obscenity, intimidation and threats, and incitement to violence." But it goes on to assert that "hate speech" ought not to be restricted – legally or morally – since "we must favor openness, to allow ideas and beliefs the chance to be assessed on their own merits." This cannot be correct. Even when "hate speech" is legally protected (it certainly is sometimes, but not always), it is important to be able to condemn such abhorrent expression as odious and evil. Anyone who promotes speech that delegitimizes another person or group should be morally condemned even as their rights are legally defended.
Let me give an example: I have little doubt that the statement "the world would be a better place if the South had won the American Civil War and slavery as an institution had continued" is protected right now as "Free Speech" under the First Amendment. But it is morally gross, ethically repugnant and worthy of condemnation, rather than being defended in the name of "openness." Ideas can be legally protected yet their advocates shamed and condemned morally. It may well be that the promulgators of the Philadelphia Statement do not really mean there should no moral criticism of anyone's position; rather, they wish to convey that the open expression of ideas is a very important social value, is currently under threat, and merits greater protection. But perhaps because the statement is designed to oppose the vocal protestations dominating contemporary discourse (and aside from the inherent shortcomings of a document drafted by committee) its sweeping assertions are not expressly counterbalanced by the possibility of harsh condemnation of immoral ideas. Thus the reader does not sense any limits to the free exchange of ideas other than the law. Most of us do not want to live in a society where no ideas are outside the pale and there is no moral odiousness to any discourse. This nuance is lacking from the Philadelphia Statement.
This statement is also bad Jewish public policy for two reasons. First, we in the Jewish community know all too well that unrestrained discourse sometimes leads to public anti-Semitism. One of the great triumphs in America in the last 60+ years has been the Jewish community's ability to make anti-Semitism socially unacceptable even when it is legally protected. The Philadelphia Statement moves in the wrong direction and would allow all sorts of demons out into the public sphere. What we as a Jewish community need is not more openness to every vile idea nor a policy welcoming such conversations. As a historically persecuted minority community, we need to be exceeding wary of opening the public forum to anyone, "since all ideas are worth listening to." As is widely noted, Hitler won his first election fairly. Unvarnished public discourse is not always helpful to the Jewish community. Limitations – both legal and social – are valuable to us as a community.
Secondly, on a Jewish theological level it is important to recognize that our community's drive to promote and proudly live by Jewish values in the deeper meaning of that term has never meant that we ought to freely seek to graft vibrant Jewish values onto secular society. Torah values are not designed for a secular society unmoored from the Jewish people. Even core values in the Jewish tradition, like whether euthanasia is murder, do not readily translate into public policy in any direct way. It is, in short, important to recognize that one cannot analyze a statement like this from a Jewish value view and decide based on that calculus whether to sign it.[2] Our secular politics should follow neither our theology nor our law in a direct way and sense, but instead should follow our sense of what is best for our community as a whole.
I am somewhat sympathetic to the issues raised by the Philadelphia Statement and the critique of cancel culture. The social media phenomenon raises important and complex problems with various types of "bad" speech and the harms they can cause. But "hate speech" and misinformation or deceptive speech (a la Q-Anon) are different types of problems.  Maybe more public regulation of social media overall might be needed to prevent election manipulation. Speech on college campuses is yet a different problem.  I have deep concerns that the majority of stakeholders on many campuses are skewed toward a particular political and cultural agenda to the extent that universities are not doing a sufficiently good job of protecting students' ability to comfortably express unpopular viewpoints.  The concerns abound but no nuance is found in this statement.
The current situation is far from perfect and needs fixing. I suspect that the solution involves moving the guardrails to different points from where they are now, narrower in some areas and wider in others. (I, for one, would prefer more regulation of hate speech, and I see value in the European and Israeli model regulating such speech.) This expansion and contraction ought to take place both in law and in culture. Real discourse on when and where we ought to be more open and when and where we need to be less open requires a political environment of compromise and consensus, something we are sorely lacking now. That might very well be the real problem.
Of course, none of this addresses the difficult question of what should be the Torah values in a situation like this, if we had a society that did adhere – or wished to adhere — to Jewish Law. At least five questions would need to be well addressed to well ponder this idea. First, how would we view people who have egregious flaws, but who nonetheless made valuable contributions? Second, how much heretical ideas and ideals (or even 'considered heretical') should a Jewish society allow to be in the marketplace of ideas? Third, what is the role of coercive religious authority in such an idealized Jewish society? Fourth, how are religious authorities selected in such an idealized society? Finally, is this only a theory question for a messianic society or is their something here of value in a pre-messianic Jewish community. These questions, if well answered, allow us to ponder these questions in our own community, but do little to validate or invalidate the Philadelphia Statement.
Conclusion
The Philadelphia Statement as drafted is too vague to be useful and too sweeping to be logically sound. Furthermore, it is lacking any concrete proposals. Without nuance, complexity and care, the medicine it proposes — unbridled support of open discourse with only First Amendment limitations on speech even in private settings — is likely to make a bad situation worse.
The jurisprudence of federal and state free speech rights on private property is beyond the scope of this piece; see, e.g., Marsh v. Alabama, 326 U.S. 501 (1946), Lloyd Corp. v. Tanner, 407 U.S. 551 (1972), Pruneyard Shopping Center v. Robins, 447 U.S. 74 (1980). ↑

For more on this general point, see my article Jewish Law and American Public Policy: A Principled Jewish View and Some Practical Jewish Observations in Formulating Responses in an Egalitarian Age: Proceedings of the 13th Orthodox Forum of Yeshiva University, Marc D. Stern, ed., from Formulating Responses in an Egalitarian Age: Proceedings of the 13th Orthodox Forum of Yeshiva University, (2001), Lanham, Md.: Rowman & Littlefield (2005), 109–29. For the specific example of euthanasia see Iggrot Moshe YD 2:174, CM 2:73(3) and CM 2:74, where – in each of these teshuvot – Rabbi Feinstein speculates that euthanasia is not prohibited for Gentiles and yet is certain it is murder for Jews. ↑