How Bad Are Smartphones?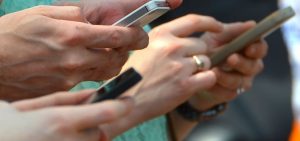 Chances are that you don't need me for this. You already understand that the ubiquitous smartphone, to the naked eye at least, has wreaked havoc with human communications, with attention spans, with happiness itself. But if you need some ammo to make the case to others, read "Have Smartphones Destroyed a Generation" in the September issue of The Atlantic.
The author, having studied generational differences for a quarter-century, tries to show how measured aspects of teen behavior abruptly shifted around 2012, the moment in time at which ownership of smartphones by Americans moved past the 50% mark. She then pummels the reader with a host of indicia about the generation – she calls it iGen – that follows the one we call Millennial.
She shows how much we have changed just in the space of a few years. The new generation is more given depression. They are less likely to date, to have sex, to hang out with friends, even to learn to drive. Fewer find employment, or assert their independence from parents. (If previous years stretched adolescence to the late twenties, iGens are stretching childhood to the late teen years, she argues.) As they interact less with each other, they are less likely to murder each other but more likely to take their own lives. They get less sleep per night.
The case against smartphones is far from airtight. We often think in binary terms: is this good, or is it bad. Prof. Twenge gives us what we so often lack in studying our own community – hard data. But turning quantitative data into firm statements about the essence of things is not an easy matter. If "teens who visit social media sites every day are 19% more likely to be sleep deprived," we don't know enough about how significant a risk-factor Instagram use is to kids who check in every second day.
Of course, the more significant problem in translating data into policy is the post hoc, ergo propter hoc fallacy. As the author herself concedes, the association of all the recent changes with smartphone use is tenuous, at least as far as causality. Many other things have been changing at the same time. Perhaps it is those changes that are the real devils, producing both the trends she reports as well as smartphone usage itself. Do smartphones lead to depression and loneliness, or do they spike the use of smartphones? Or do a host of other changes in society produce both?
Still, as parents, educators, and ordinary concerned Jews, we don't lead our lives as statisticians. We base our everyday decisions on what we observe, understanding that reality can be more nuanced than what we see, but still bound to take those observations as the best that we can work with. One paragraph in the article stands out for making the case for doing what few communities, if any, outside of Orthodox Judaism can do: pushing for community-wide policies regarding technology and social media. We should not be less cautious than Steve Jobs, who wisely denied his own children the great "gift" he bestowed upon humanity. I do not mean that we ought to ban them in most cases, so much as establish best-policy guidelines about ages at which they are introduced, the amount of time kids have access, and keeping them away from classrooms, family time, bedtime, and planned recreational time.
Here is the paragraph:
You might expect that teens spend so much time in these new spaces because it makes them happy, but most data suggest that it does not. The Monitoring the Future survey, funded by the National Institute on Drug Abuse and designed to be nationally representative, has asked 12th-graders more than 1,000 questions every year since 1975 and queried eighth- and 10th-graders since 1991. The survey asks teens how happy they are and also how much of their leisure time they spend on various activities, including nonscreen activities such as in-person social interaction and exercise, and, in recent years, screen activities such as using social media, texting, and browsing the web. The results could not be clearer: Teens who spend more time than average on screen activities are more likely to be unhappy, and those who spend more time than average on nonscreen activities are more likely to be happy.
Another thing to think about during Elul.