The UAE Peace Accord: Lessons for the Orthodox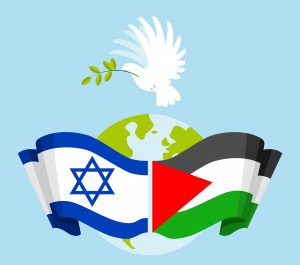 Is there an Orthodox angle to the historic normalizing of relations between the UAE and Israel? Several, actually.
It will take quite some time before all the details emerge as to how the agreement came to be crafted. It is silly to think that because Sunnis in the Gulf hate Shiite Iran more than they hated Israel, that one day they simply decided to put the past behind them and called Jerusalem to request an alliance. The real story is complex, and it involved many actors outside of the Israeli government. Some of the main players were colleagues at the Simon Wiesenthal Center, and a very good friend in the American evangelical community. A good place to start to get an idea (if you can read between the lines) is this article by my boss and colleague Rabbi Abraham Cooper.
Let me help with navigating the white space in that article. The picture that should be emerging as you read it is of a number of "best practices" that led to the deal. The first is seeing an opportunity when it arises, and seizing it. Another is patience. The first stirrings began years ago. Those who saw smidgeons of change in the Arab world contented themselves on slow, plodding progress. They were wise enough not to push too hard or too fast. תפסת מרובה לא תפסת was a working principle. It takes insight, responsibility, and restraint to do that – virtues too often lacking in the political world. The path was not linear. Those who worked on this had to be sensitive to the needs of the other parties, e.g. when those parties seemed to be experiencing some pushback in their own circles, our folks laid low for a while. Understanding the needs of your partner-to-be is essential. Being able to deliver them is the mark of real ability and leadership. None of the preceding would have worked without cultivating genuine warm personal relationships.
The particular affinity for people of faith for each other has to be recognized. Some of the protagonists in this story may be moderates, but they see themselves as religious. When other conditions are right, there is a chemistry between people of strong faith, even when those faiths compete. This has huge potential impact on the policy of the US Orthodox community, which should wake up to the realization that it has the ability to make headway with groups in the US that will not be reached as effectively by non-Orthodox Jews.
It took far more than some smart Jews, backed by the clout of a 400,000 member-family organization with decades of experience as an advocate for global human rights, to shepherd this agreement. It took some smart allies, backed by the clout of a religious community of about 800 million.
This was not the first time that evangelicals made a difference. Earlier this week, President Trump said quite openly, "We moved the capital of Israel to Jerusalem. That's for the evangelicals. You know, it's amazing with that: The evangelicals are more excited about that than Jewish people. That's right, it's incredible."
We in the Orthodox community who have watched with pain and anguish the cavernous gap that has opened in the last decade between traditional Jews and all others know that it is all too credible. Some of us have worked assiduously to build friendships with evangelicals, to let them know about Jews who don't sneer at their values even while we must reject their theology.
That was a factor in the UAE agreement as well, which likely could not have succeeded without strong support – and years of quiet pushing behind the scenes – from the evangelical community, as the word is now getting out.
In all the years of Cross-Currents, I do not believe that I have ever written a piece to toot the horn of the organization which employs me. I hope that you will believe me that this essay is not an exception. While I am proud of the role we played, that is not why I am writing. I am not writing to speak with pride about my years-long friendship with one of the two evangelical leaders mentioned in the article linked in the last paragraph – a super-mensch named Johnnie Moore, who sees the Bible as the Word of G-d and delights in hearing Jewish insights about it. (Even sitting for a morning seder in the Mir Yeshiva – but that is a whole, other story.) My goal is to make some points about what evangelicals want in Israel, and how their intentions have so often been mischaracterized.
I understand the concerns within our community about a religion that inflicted so much pain and suffering on us for close to two thousand years. I get that. I understand the absolute revulsion we have for missionary activity directed at Jews, whether out in the open, or even more so by subterfuge. Especially in Israel. I get all of that, too. Speaking within our community, all I try to do is tease apart different threads in what I believe is a changed Christian world, and to show that it is not all a single fabric. The motivation of many who will disagree with me comes from a good place, even as I disagree about their assessment.
Do understand, however, that outside the traditional community, the reasoning just stated is not the basis of non-Orthodox rejection of evangelicals. That rejection has far more to do with abortions, LGBT issues, and contempt for strong religious beliefs and those who hold them. These lead them to give a wide berth to evangelical support, and impute all sorts of intentions to them, many of them downright silly – and certainly uninformed. The non-Orthodox community has argued for many years that evangelicals back a political agenda that is dangerous for Israel. They are looking to bring Armageddon closer; peace is the furthest goal from their minds. They will not tolerate Israel compromising an inch of Biblical Israel; they are more extreme than those contemptable obstacles to peace – the settlers. Therefore, their support for Israel does more harm than good.
That is the standard take, the customary wisdom about evangelicals. And the myth has just been exploded. As much as they stood behind the annexation they thought was a few breaths away, the evangelical players acted like responsible diplomats. They traded one goal for what they saw as a more important one: a concrete step towards peace, hopefully the first of more to come. They were thrilled at the prospect of more security for the Jewish State, rather than an End of Time outbreak of a religious war.
This was not supposed to happen. The mainline churches (like the Lutherans, the Presbyterians, etc. and certainly the over-the-top haters like the Quakers and Mennonites) tell themselves that their primary concern is peace. Openly siding with the Palestinians, moving always to punish Israel or reduce US military aid to the Jewish State or support Kairos or BDS, turning a blind eye to both terrorism and the institutionalized corruption of the PA that steals the money they throw at it – all this they believe serves the cause of peace, while the evangelicals prop up the apartheid state that is its greatest obstacle.
Surprise. It didn't happen that way. Decades of countless overtures, resolutions, fact-finding missions have produced diddly-squat for peace and for the Palestinians. Their policies have been as effective as trying to ward off Covid-19 in a crowded room by wearing a clove of garlic around the neck. Even if these churches would see their error (and they won't), they cannot serve as honest brokers in a region that now shows itself to be in need of them. They are too compromised to assume that role for at least a generation.
Evangelicals, however, can.
Who would have thought? At least in our community we should understand what has been demonstrated.