The Biblical Museum of Natural History: Bigger, Better, and Not To Be Missed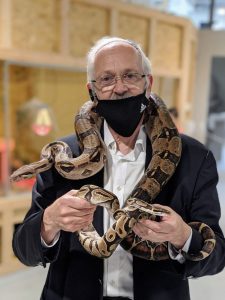 The picture says it all. Last time I was at the Biblical Museum of Natural History, the take-away photo was of a bunch of my family members all holding a single, huge python. This time, as you can see, I got upgraded to two snakes, in a more intense encounter.
And that's the story. The museum is now in its new digs, many times larger than the old. It gained in space, in breadth of the exhibits, and in the length of time it will hold the visitor spellbound. It is just off the main road (38), which means that you don't have to enter Beit Shemesh at all. It is really under a half hour from Yerushalayim. (It is also about three minutes from the new IKEA – which in Israel is so much more than a place for DIY furniture – so you can combine objectives in one trip.)
Most of our readers are not yet within driving distance of the Museum, but they can take part through an assortment of online tours in real time. Think of it as a Zoom call to a specialized zoo.
That specialty, for those who don't know what the Museum is all about, is the animals mentioned in Tanach. It is an incredible learning experience. It is not just that Tanach comes alive through the up-close encounter with its non-human characters. From beginning to end, you absorb information and insights about these animals. Which animals populated Israel in the times of Tanach? Why are some still there today, and others have moved on? Why have different animals moved in? How did different communities far from Israel try to identify the animals in Tanach – and often arrive at different results? What roles did they play in so many areas of Torah she-b'al-peh/the Oral Law and halacha? What do these animals tell us about the wisdom of our Creater? While always entertaining and fast-moving, it is essentially an exercise in Torah learning.
The Museum employs many guides, to cater to the language needs of the audience, including English and Yiddish. (The interactions with the greatest social impact may be the Dati Leumi presenters in front of Chassidic listeners, who absorb Torah from a member of a different "camp" with which they ordinarily have little or no contact. Likewise, charedi guides presenting material to secular visitors can only lead to good things.)
My favorite presenter is my good friend Rabbi Dr. Natan Slifkin, whose interest in, and love for, animals animates the Museum. He's my favorite not just because he put it together, but because his dry British wit comes through at every opportunity. (Yeah, it is also good to spend time with him without fighting like cats and dogs – as we ordinarily do – about Rationalist Judaism. He will be quick to say that cats and dogs really don't fight, and he might win that one. What is important to know is that if you are not particularly a fan of that POV, you have nothing to fear from a visit. Natan has sanitized the presentations, so that there is no trace of any of the controversy about his earlier books, neither explicitly nor subliminally. It is hashkafically safe for all "camps." Just a great learning experience, equally engaging for children and the adults they bring along.)
All that is missing right now is the crowds. Because of corona restrictions, visits are limited. When things return to normal, this museum will be deluged with visitors, Jewish and non-Jewish. In the meantime, the animals are taking it in stride. At least most of them. My favorite giant python had wound himself around a piece of wood, and could not be pried away from it. May have been holding out for a raise in salary.
If you are not in Israel, try one of the online experiences. If you are, take advantage of a great opportunity to take the kids to something they will love and will leave them with a bit of enlightenment. No social distancing required. At least from the animals. (From people, it is strictly enforced.
To figure out how you can take part in all this, visit the website at https://www.biblicalnaturalhistory.org/
[Disclaimer: The author serves as a member of the board of the Museum without compensation. But, ya gotta come clean these days.]