How to Deal With Heresy Without Raising Your Blood Pressure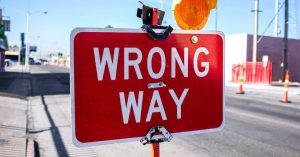 Rabbi Gordimer once again was the Nachshon wading into the turbulent waters ahead of everyone else. His reaction to the new Orthodox heresies pulled no punches. Bottom line: If you are spouting heresy, then you are not Orthodox. Those who don't appreciate the message might consider consulting a dictionary about the meaning of "orthodox."
Back at the ranch, the buzz continues about the people and websites devoted to jettisoning some of the fundamentals of Jewish faith. I would like to contribute a few lines of reassurance to those who have remained faithful to Hashem's Torah.
First, Torah will outlast them. Heresies have been around since Korach. There is nothing new in finding out that some people from our community have wrestled with important issues and landed on the side of unbelief. Remember Acher? Or Yochanan Kohen Gadol who went rogue after serving 80 years? There have been many more. We've moved on. We even survived Spinoza, and the ideologues of the early Reform movement.
How should we view this new batch of troubled thinkers? Not by demonizing them. They may be wrong, but they are not otherwise possessed of evil traits more than lots of others we know. Some are very nice people. They should not be confused with apostates like Johannes Pfefferkorn and Pablo Christiani who turned against their G-d and their people. They were usually possessed of both great ego-centricity and bad character. Not so at all, the new heretics. Neither are they all victims of bad parenting, products of inadequate schooling, glory-seekers, or mired in their lusts and desires.
They are consequences of one of the greatest gifts Hashem gave us – the freedom to make moral choices. We should stand in awe at the power of bechirah that HKBH gives us! It means, among other things, that people have the ability to ponder and question anything. Furthermore, to maintain bechirah, plausible options need to be available (Note: plausible does not mean true or accurate) to keep the choices people make meaningful. While HKBH left us ample evidence of His existence and role in history, He also hides Himself enough sufficiently for some people to have to wrestle with a real choice.[1]
Moreover, Hashem demands that we earn our olam habo. Each generation has its challenges. Questioning the Divinity of the Torah is not particularly new. The gemara makes several references to contemporaries who thought humans had authored it. Our generation, however, has apparently been tasked by the Ribbono Shel Olam with having to deal with techniques and arguments that were not around a century ago. It is not unreasonable to imagine that confronting the new disbelief and remaining steadfast will be the admission-ticket of some to Gan Eden.[2]
How should we react to this recent growth spurt in kefirah? One part of our response has to be our internal reaffirmation that involving ourselves in its study is as assur as downing a meal of pork chops with a side order of a cheeseburger. Lo sasuru equals meenus, says the gemara. (It will serve no ones interests to quibble about differences between kefirah, meenus, and apikorsus. It's all heresy.) If you take halacha seriously, you avoid it like the plague. And, it you have kids who are going off to school, you raise them to go to YU and Touro. You will recognize that their day school education left them unprepared for what they will encounter in the classrooms on other campuses to which their curiosity will draw them.[3] You will understand that if you would not approve of your child's jumping out of a plane with an untested parachute, you should not take the equivalent chance with their neshamos.
Next is to realize that no one has come up with anything resembling "proof" of the non-existence of G-d, or the non-Divinity of the Torah c"v. It's just not there. At the end of the day, there are multiple and competing ways of interpreting evidence – especially in the historical sciences and the humanities. So much is a matter of perspective, of which explanations provide the "best fit" of the data one is looking at. What seems obvious to one person will be questionable according to another. Different perspectives are often sourced in different initial sets of assumptions about what is possible and what it not.
Inescapable conclusions and incontrovertible arguments are not the name of the game – on either side! Here's the thing: Dealing with the heretical resembles a Las Vegas prizefight, rather than a wait for some "Aha!" and "Eureka!" moments. The other side does not land any knock-out blows. At times, they land a few punches. We recover – and then deliver a few in return. And then again. And again. The referees award a few rounds to one corner, and a few more to the other. After 15 rounds, it is a split decision.
Where you go after that?
What makes a set of answers more compelling than another, when traditional belief hangs in the balance? We should take counsel from the case of the weasel and the well, mentioned in Taanis 8a, in a passage beginning with praise for "baalei amanah," trustworthy people. The narrative is amplified by Rashi, and sourced in the Aruch. Briefly, a young woman, frum enough that she did not have a smartphone equipped with Google Maps, took the wrong road. Tiring at some point, she found a well where she wished to refresh herself. The well came with a rope, with which she lowered herself, but was unable to climb back out. She called for help.
A young passerby heard the plea. After assuring himself that she was not a demon, he agreed to rescue her if she pledged to marry him. It was a deal she could not refuse. After pulling her out, he attempted to enjoy his trophy on the spot. She chastised him – after all, he was a kohein, chosen by Hashem for special service. Let him come like a mensch to her parents, and she would honor her commitment to him. He was OK with that; the two agreed that their pact would be solemnized by the only witnesses around: a passing weasel, and the well.
They each went their own way. She remained steadfast to her word. She rejected all suitors, seeing herself as committed to the one she had pledged herself. She went so far as to feign madness, to discourage all inquiries about her availability.
In time, however, the young man forgot about her. He married, and had children. One child was killed by a passing weasel. Another fell into a well. His wife became suspicious about the unusual ways in which both of her children died, and demanded that he 'fess up. He did, recounting his incident with the young woman. She said to him, "Go. You belong to another."
He did, and found her in her parents' house. Inquiring about her marital status, he was told that she was loony. "I'll take her as is," he told her father, explaining what had happened years before. When he did the same to her, she had a remarkably quick recovery. They married, had children, and lived happily ever after.
The gemara concludes: "See how great are the baalei amanah! If one who trusts in a weasel and a water-pit has his trust honored to such an extent, how much more so the one who trusts in Hashem!"
Something happened here. The term baalei amanah has undergone a shift in meaning from the way it was used at the beginning of the passage . It can't mean trustworthy people as it did in the lines of the gemara before. Trustworthy to the weasel and pit? Indeed, Artscroll renders it "people who have faith in G-d." (Amanah and emunah, of course, are close cousins.) But what does trustworthiness in a commitment to your fellow man have to do with faith?
The point, I believe, is that they are very much related. Belief, faith in G-d is also a commitment, a pledge of loyalty. You stay loyal to someone or something you believed it, even in the face of questions. In a good marriage, husbands and wives will survive suspicions of each other, giving the benefit of the doubt, until the evidence crosses a line and becomes proof.
There are no such proofs against G-d or the divinity of His Torah. Competing claims – yes. Proof – no. To some, perhaps, a Mexican standoff. What should happen at that point to anyone who had a good relationship with HKBH, is that loyalty to Him should take over. If we have to, we can wait for answers and for clarity. Avrohom, according to Chazal, began recognizing Hashem's existence at a very young age. Yet, HKBH did not speak with him – did not give him the clarity he strove for in loneliness – until he was around 70. He seems to treat some of us the same way. Somehow, it is good for us to live with questions while we remain loyal and steadfast to what we grew up believing about Him.
Telling is a line from the Haaretz article to which R. Gordimer links. One of those interviewed explained how he transitioned from a graduate of a Modern Orthodox day school to his present role, after engaging biblical criticism in college. "The questions that it dealt with were not new to me, but the answers that it offered were, and they were more elegant, simple, and compelling than what I had been taught earlier." N.B. They were not demonstrative beyond any doubt. Just more elegant, simple, and compelling. This is where yereim u-sheleimim part company with him. "More elegant, simple and compelling" should not be sufficient cause to reject a mesorah, a belief system, of over three thousand years.
Some people will find this approach inadequate and risible. So be it. I have nothing more to offer them. Hopefully, greater people than I can provide them with something better. Other readers will hopefully find some comfort or strength in my words, which will have made writing it worthwhile.
Others, however, will fall in the middle. They will agree in principle, but want to find out about how we thrust and parry in the ring. Just what are our counterarguments? They are entitled to know. Here we find ourselves in a very different place than in previous centuries. Back then, we had the likes of Emunos v'Deos, the Moreh, Kuzari, Derashos HaRan, the Akeidah. The intellectual battles were led by Torah leadership. In more recent times, it was the Netziv, R. Yaakov Zvi Mecklenburg, R. Samson Raphael Hirsch, the Malbim, R. Dovid Tzvi Hoffman. The answers used to emerge from the strongest part of the Torah community. That does not seem to be in the cards today.
Perhaps that is exactly the point. When the intellectual battles resembled sessions of the Oxford Union Society – when people were looking for a succession of one-liners that could entirely demolish the other side – we needed gedolei Torah to take the mic.
Today's need is for people to go the fifteen rounds without taking a count of ten. We need endurance-warriors who are loyal to Hashem. We have them.
In time, b'ezras Hashem, I will tell you about them.
I emphasize "some," because emunah peshutah is a powerful, positive option – for those fortunate enough to have developed it. So is choosing not to ask the questions! ↑

Rav Kook, zt"l, in Orot Hakodesh, held that, when approached properly, the confrontation with heresy would lead the true maamin not to doubt or struggle, but to even greater emunah: [כל אותן ההרצאות והדרכים המביאים לדרכי מינות הם בעצמם ביסודם מביאים, כשמחמפשים את מקורם, לעומק אמונה יותר עליונה] ↑

Our schools are not perfect. But this is one area for which I don't believe we can fault them. Coping with the arguments that they will be exposed to in areas of Bible studies, archeology, etc. requires a maturity of mind that the vast majority of high-school students simply do not have. It would be futile to try to make these areas part of the curriculum ↑