What I Didn't Tell Pat Robertson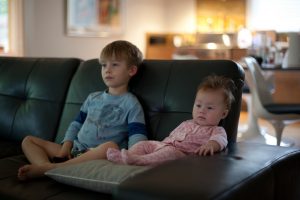 My eight-year old granddaughter in Givat Ze'ev nailed it. She reacted to viewing clips of my recent television interviews with Pat Robertson and his son Gordon with two questions: What's television? What are Christians?
There is something very beautiful about an eight year-old child not having to deal with those things. Let the incubator provide a warm, toasty environment where a love of Yiddishkeit can thrive without competition from alternative possibilities. There will be time enough later to learn about the realities of the general world. Her older sister knows full-well who Christians are. When I took her along on a Museum of the Bible sponsored helicopter tour of Israel, she befriended and stayed in touch with the daughter of a Catholic participant. That older sibling knows as well about the existence of something called television, although it has not climbed particularly high on the list of things that interest her.
The issue is not television per se, but acculturation. How much of what is out there do we let in?
Different groups – and untimately each family – arrives at different formulas. No one has yet come close to finding the right balance, probably because there is no one-size-fits-all solution. Allow too much in, and you can easily dilute Torah values, or replace them altogether with foreign ones. Allow too little in, and you ill-prepare the many who will encounter general society. Some of those who have not been inoculated by measured doses of previous exposure will fold when faced with strong temptations or strong challenges to their belief system.
Readers of this blog for the most part are people who find themselves someplace around the middle. (This is brave, because it has become very unfashionable to hug the center and admit to not being an extremist of some form or another.) They do not reject the idea of imposing boundaries and limits; mentioning "censorship" does not send them retching or laughing. On the other hand, they do not entirely shut out influences from other cultures, even though they do not want themselves and their children to drown in a sea of foreign interests and values.
Over the decades, the Torah community has developed responses that have more or less won general communal acceptance. Some genres are kept at arm's length, while others are sampled with caution. We've been guided in this by some Divine providence that can be appreciated only decades after fateful decisions were made.
I thought of all this as I waited to meet the iconic Rev. Robertson in a live broadcast from his Virginia Beach studio. I knew of Pat Robertson as a conservative evangelical who had displayed decades of strong friendship to the Jewish State. The work of the international human rights organization that I represent, the Simon Wiesenthal Center, had been brought to his attention by Christian friends, and he wanted to meet on-air an Orthodox rabbi who would make Christians feel guilty for their less than passionate defense of millions of their embattled co-religionists.
I knew of Rev. Robertson's support, but I did not fully realize how pervasive it was in his large operation. All kinds of people – black, white, young, old – came over to talk about their love for Israel, their frequent trips there, their categorical support and willingness to work for her interests. (Increasing the sense of wonder was the fact that all of this was going on a short distance from a vibrant Torah community in Norfalk that sports a shul, a kollel, a heimish day school with over a hundred students, a girls' high school, and some of the best schwarma I've had in the US. Much of this takes place under the capable stewardship of Rabbi Sender Haber, who was a gracious host.)
Decades ago, Pat Robertson (who today is still doing his show several times a week at the young age of 86) saw the threat that television posed to the values that he believed in. Determined to do something about it, he began broadcasting content that he could endorse out of an old UHF station. He challenged his viewers to donate $10 a month. If he could sign up 700 people, he would be able to meet his expenses. His pioneering show is still known as the 700 Club. Although he did not achieve the goal of 700 supporters at the time, his operation grew, and today reaches 15 million viewers, mostly in parallel operations abroad. Over the decades, he expanded the nature of the programming, and ventured into film production as well. Together with his son Gordon, he has made multiple films about Israel. (At a luncheon for local Jewish and Christian guests keyed to my visit, Gordon spoke of one of those films. "We examined the entire Arab-Israeli conflict. We came out on your side.") A new film on the liberation of Yerushalayim is now in production.
I could only admire Pat Robertson's determination and grit. I was also struck, however, by how different were the reactions of our communities to the same challenge. Our community was much smaller at the time; we would not have attempted to produce our own television programming. We were able, however, to do something that Rev. Robertson's community couldn't do: we completely eschewed the entire medium. Serious Christians would not have gone for it then, nor would they pay such a price today. Rev. Robertson could get his foot in the door of television, and still does. But he could never hope to take over the entire edifice, nor to provide so much competition that believers would abandon the increasingly objectionable programming and only view his. In a sense, his programming tacitly accepted the medium of television, which meant that conservative Christians would spend hours each day wading through the same filth as everyone else. He succeeded, however, in at least using the medium to project a strong voice for his values.
We embarked on a different path. We effectively banned the medium entirely. (To be sure, there were lots of private "sinners," and lots of jokes about built-in televisions hidden in furniture in certain neighborhoods. But as a community standard of the yeshivah community, nixing television was accepted.) We never tried the same with radio, or telephones – even though naysayers pointed could point to evils associated with their use. We somehow knew that it could not be done – that these innovations were here to stay, and people were going to avail themselves of them. (I am not sure why we were not blessed with the same understanding of reality in relation to the internet, which some still believe they can ban. Perhaps we are too close to it to see it for what it is, and we will understand better in twenty years time.)
In other areas, we succeeded in time of doing one better: we thoroughly co-opted a number of media. We developed a full range of popular culture made in our own image: music, daily newspapers, weekly glossies, fiction and non-fiction books for children and adults. We did not have to ban (although many, of course, do) so much as create attractive substitutes that could be every bit as inviting as that offered by the host culture.
All of these lessened our culture reliance on outside influences. They are some of our community's most important accomplishments after its miraculous reestablishment following the Holocaust. The path we travelled owes to remarkable hashgacha from Above, besides the willingness of the Torah community to restrict its private activities to create a more nurturing environment in which to nurture Torah for the next generation.