CS Lewis, Elul and the Shofar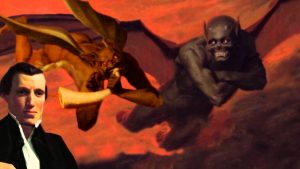 Somebody you know has read The Screwtape Letters. He or she may not admit it, however, because reading the work of the most successful Christian apologist in the twentieth century will not win friends in some circles. Those few who will weigh in on Lewis are more likely to comment on the Chronicles of Narnia, the children's fantasy series, a few of which turned into movies around a decade ago, alarming some parents who thought that their children would subliminally absorb Christian theology. (No risk. The themes were only detectable to those who were already exposed to them.)
Screwtape is another matter. It will no sooner become a movie than (lehavdil) Mesilas Yesharim will become a Netflix series. Screwtape is actually a mussar work – and some of it is very, very good.
The short book's whimsical premise sells itself to the reader. A senior official working for the Father (the Devil ) offers advice to his nephew, a neophyte working for the same outfit, in the form of a series of letters. Screwtape provides the sage voice of experience to help Wormwood keep his "patient" out of the clutches of the Enemy. The latter really loves human beings, those puny despicable creatures, which infuriates Screwtape even beyond the call of duty.
An effective vehicle like humor can take care of transportation, but there had better be some cargo in the back of the truck. Lewis does not disappoint. He was a gifted wordsmith, and his prose sparkles. He had many insights on how good intentions could be stopped dead in their tracks; how pride can eviscerate connection with G-d; how attaching oneself to cultural trends or snobbish intellectuality can derail religious striving.
Lewis did not invent the idea of using an interesting literary device to make his point. Chazal do this all the time in many midrashim. Earlier in time, our mesorah has it that Shir Hashirim is an allegory; one opinion has it that the Book of Iyov is allegorical as well. And think of the success of the mesholim of the Dubno Magid and the Chofetz Chaim. Fictionalized exchanges of letters also appear often enough in our Torah literature, including the earlier edition of Mesilas Yesharim and R. Samson Raphael Hirsch's Nineteen Letters.
I can think of several reasons why such devices were employed. Sometimes, an idea is so subtle or complex that it can only be grasped through the concrete example of an allegory or story. Sometimes, the listener might become defensive if spoken to directly. He must first absorb the message on neutral turf before he is ready to apply it to himself. Think of Nosson ha-Navi confronting Dovid after the incident with Batsheva. A story can transmit a message before the listener can get defensive.
At other times, the listener might have no problem comprehending, but will not be interested in paying attention in the first place. To address this, an author can use some inventive device – like the Screwtape premise – as bait. If readers take it, they stay with its development to see how long the author can make it work, absorbing the moral points along the way.
Lewis, for all his talent, recognized that conventional preaching would not work for most of his audience. The "moderns" for whom he was writing – most of whom had soured on conventional religion – were not going to respond to the fire-and-brimstone preachers of the past, or to direct, unvarnished exhortations. A good part of his writing had to be disguised as fantasy fiction.
What's surprising is how often we, in our community, can respond to a message without embedding it in an allegory or story. Sometimes, the vehicle can even become a distraction. Kedushas Levi at the beginning of Devarim observes that the last of the five chumashim offers very little narrative. His explanation is intriguing. The earlier chumashim, he argues, used stories to convey profound messages. Each story had some manifest meaning, but served as a moral Trojan horse, carrying with it many levels of latent meaning. Forty years after receiving the Torah and pondering it in the Wilderness, a new generation was sophisticated enough that they did not need the sugar coating to swallow the message. They could respond to Moshe telling it like it was.
And so it remains, at times, today. While so many have lost the ability to read more than 140 characters at a time, or heavily depend upon emojis and memes to express themselves, we remain a People of the Book. We can still respond to the power of words – even the undisguised truth, served straight-up.
Before that happens, however, many of us still require the bait, the attention-grabber, to attract our interest. Here we are in Elul. The daily sound of the shofar does for us what Lewis' devil-device did for his readers: it turns our heads, and suggests that we stick around for the impact of words that we ought to be pondering deeply. When the Rambam (Teshuva 3:4) tells us that the shofar tells us, "Wake up! Wake up, you slumberers from your sleep," he might not mean only that the shofar itself commands us to do teshuvah. He might mean that we awaken our ability to listen to words of teshuvah that will be spoken to us during this period, and give them our full attention. How many of us will be looking once more at the Rambam's Hilchos Teshuva, and find them as powerful as they were the first time we studied them? How many of us have turned to Chovos Halevavos, or Shaarei Teshuvah, or Mesilas Yesharim during this period?
The avodah of Rosh Hashanah is the recitation of malchiyos, zichronos, and shofros, the three all-important sections in the Musaf Amidah. We may have filled our reading during Elul with stories about teshuvah and great tzadikim, but in the clutch, we read to ourselves a three-part protocol that drives home who Hashem is. We affirm with new clarity and commitment that He is the absolute Master of everything. There are no competitors to Him, and no limits on His power. We cut ourselves down a few notches. But next we speak of His remembering, meaning that He made Man important. He leaves room in His world for the Man to be a doer, and to make a difference. Man's deeds are so impactful that G-d weighs, evaluates, and reacts to them. Finally, we remind ourselves that with all His power, He remains close to Man. He reveals Himself to Man in dramatic moments of history, all trumpeted to large audiences.
Here, too, we first rivet our own attention through an external device. Once again, it is the shofar. It can be understood on so many levels, but the one that comes to mind is that of Rav Kook (Olat Rayah, vol.2, pg 338). No aveirah, he argues, starts in a vacuum. Every aveirah, rather, begins with a deficieny in yir'as Hashem and ahavas Hashem. Those deficits harm our midos, our character traits; the imperfection of those midos ultimately cause our active sin. Teshuvah for the aveirah without addressing the cause means treating the symptom, rather than the disease. The day itself is one of healing, because it allows rebirth. Before we can avail ourselves of that opportunity, we sound the shofar, which, in his words, is מעורר מגלה וקובע אהבה ויראה – awakens, reveals, and fixes within us love and reverence of Hashem.
When we stop to pay attention to the shofar, we find already within ourselves a pure source of love and fear of Hashem. We can go on from there to capture the potential of the day, through the avodah of Musaf.
As we find this love within us, so may HKBH find that love for us, and grant us all a year of aliyah, peace, health and prosperity.