A Letter from Beit Shemesh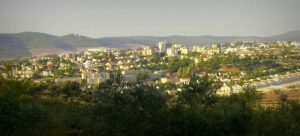 by David Kasten
This letter was submitted to Cross-Currents. We invite an alternate point of view and the ensuing discussion.
Editors' Update, Nov. 1, Updated Nov. 4: This has proven to be one of the most contentious debates in the history of Cross-Currents. Probably one of the most successful, as well. We agreed to publish, and to allow free-wheeling commentary plus a submission from an opposing point of view, which we urge you to read as well.
In retrospect, publishing the piece was especially important because few were prepared for – or understood – how it came to pass that thousands of charedim cast their ballots for the non-charedi candidate. This article and the comments provided an inside look that could not be found elsewhere, which will help many assess the impact of this election on the future course of the charedi community, and elections to come. It should be understood that, as with virtually any publication, the editors do not necessarily agree or disagree with the content of any submission! — Editors
I hail from Bet Shemesh, and although the final results are not in yet, I'm disappointed. But before I get to why, I would like to introduce myself. Around 15 years ago, I came to learn in Eretz Yisroel. I knew right from the beginning that I wanted to stay forever, but it took a few years until it became official. 5 years later I was married to an (American-)Israeli girl and happily living in my dream-town, Bet Shemesh, and more specifically, Ramat Bet Shemesh Aleph.
Now I've been around the block. I have learned or davened in all neighborhoods and shuls, had business dealings with many different types of people, and just schmoozed with random strangers from all over. Over the past 10 years I've met and conversed with thousands of residents of the city, the vast majority of them English speaking. I am proud to say that the common denominator of almost all of them is their living in, or moving to Eretz Yisroel, in order to grow spiritually. Indeed, it is very rare that one is here for the Gashmius opportunities or because they love the Israeli mentality or culture.
Come the municipal elections. We just had elections for mayor and city council and while 5 years ago, the city picked R' Moshe Abutbul to lead, this time around, although there are many more Chareidi families in the city, he may or may not have been chosen (again, they are currently waiting for the results). That's right. A city that has a clear majority of frum, Orthodox Jews, has not clearly picked a frum, Orthodox mayor. I myself saw English-speaking residents who have their children in the local Beis Yaakov actively campaigning for non-religious parties. That's right, not a (non-existent) Dati-Leumi party, but one that has no connection to religion at all (and actually participated in the anti-religious decrees of a few years back). This is very disappointing.
It goes against the logic of our choice live here. We came, we saw, we wanted, we moved. The Kedusha, that is. We moved here because we didn't want the Chutznik life centered around one's job or career. We didn't want for ourselves and our families to be enmeshed in a secular world and culture. We wanted to grow in Torah and Yiras Shamayim and become close to Hashem. We wanted to be in the land that Hashem gave us in order to serve him in the way that he requires of us.
Now unlike America, there is no separation of Church (Synagogue?) and state. The government is in charge of basic Jewish operations such as Kashrus and Marriage. The government funds almost all girls schools and a large percentage of almost all boys schools. Most aspects of non-connected Religious plans such as constructing a shul must also go through the government offices in order to turn them into reality. A school does not raise money for a building but requests one of the municipality. Even religious events, such as a Daf Yomi Siyum HaShas is normally funded or at least heavily subsidized by the local government.
Every 5 years, the residents of a city have the choice to decide in which direction they want the city to head by voting for a mayor and a local political party. What is important to you influences you decision when you go to the polls.
Hence the illogical decision of many of my fellow Chutznikim. Who didn't come here for the comfort. Who didn't come here for the spick and span streets. Who didn't come here for the American –style way the government and the city are run. Who did come here for the Ruchnius and the ability to connect to Hashem more easily.
So why vote for a mayor who is not like you and does not share your ideals? Why vote for parties who don't even fake their connection to religion? Why put yourself in the same camp of those who hate Judaism and anything to do with it? Why reduce the amount of resources spent on your own child's education? Why shoot yourself in the foot? (Why shoot me, your neighbor and friend, in the foot?) Why make it harder for your own shul to build or expand? What are you gaining? One less empty soda can on your street? Because I hope you're not preparing to go to the theater that they say they would like to build…
And for this I'm disappointed. Disappointed that my fellow Chutznikim have decided that the ideals that they have come here for no longer apply. And disappointed that they have let me, and all those who still hold those ideals strongly and lead our lives as such, down.
And they should be disappointed in themselves. Disappointed that they listened to those spreading lies and Loshon Hara against those who have done no wrong to them and only want to do good. Disappointed that they have embarked on a rocky, downhill, path that may, Chas Vesholom, destroy their families and themselves. Disappointed that they have left the idealism that they once had when they came here. The idealism for growth, for Kedusha, and for connection to Hashem.
Whatever happens, whatever the results, I hope good will come out of this. I hope that my friends and neighbors who have lost direction will come to their senses. I hope they will climb up from the hole in which they have placed themselves in. And come back. Come back to Hashem, to their friends and those who truthfully care for them, and most importantly, come back to themselves.