Election Day in Israel: The Pleasant and the Perplexing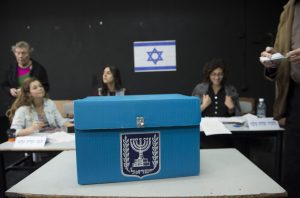 Election Day here in Israel is a legal holiday, which might be a good idea. Because people are in a better mood, the tension and charged atmosphere of intense campaigning is dissipated somewhat by an upbeat atmosphere. At least it was in my neighborhood.
I've been told that there is a law here similar to that in the US that bans electioneering close to polling stations. If there is, there must be some confusion about whether the proscribed distance is either two centimeters or three centimeters. Maybe that's why it is not enforced. To enter the local polling place, you had to run a gauntlet of competing booths, tables, and volunteers. Some of them threw in loud music for good measure. The good news is that all the competing workers were getting along fine with each other, which is better than at US events – or even Congress. It all felt like a county fair.
The run-up to the elections was not all that pleasant to behold. I live in an ideologically mixed neighborhood, so I was spared the worst. In the more charedi enclaves, tensions can run pretty high. As usual, charedim find it impossible to translate their burgeoning numbers into seats in Knesset or on city councils, largely because the different factions (chassidish, yeshivish, Sefardic) deeply mistrust each other and cut-throatedly compete with each other for whatever is in the pork barrel. Therefore, they work at cross-purposes to each other and dilute their effectiveness. The entrenched political workers don't really speak to the electorate in terms of what their representatives can offer. Instead, they speak of the obligation of the electorate to support them. Someone I know was told by a local charedi political hack, "You have a right by law to cast a ballot – but not to exercise any choice. We tell you for whom to vote." (Even outside the observant community, I saw virtually no mention of issues. Every candidate had meaningless, boiler-plate slogans attached to his advertising. What was conveyed was a name – and his party affiliation, as if nothing else had to be said.)
This can get comical. One parent found that his child had come home from school with two almost-identical handouts. Each one spoke of how gedolei Torah emphasized that it was a halachic responsibility to vote for candidate X. Voting for the opponent was assur. One who does so is called a poresh min ha-tzibbur/ one who turns a deaf ear to the needs of the community and distances himself from it. What made this interesting (if not a bit pathetic) was that the two handouts backed two competing candidates. (While my wife voted as a new oleh, my status didn't allow me to. Had I had the opportunity, as an inveterate contrarian, I probably would have filled in Harold Stassen as a write-in.)
For some honors, there is no room for doubt or for choice. The weekly award for sheer irresponsibility goes to a writer for Mekor Rishon, ostensibly an Orthodox publication here. He managed to get Chief Rabbi Lau to sit for an interview about the Pittsburgh Massacre. He questioned Rabbi Lau about coverage in the Israeli charedi press, which did not refer to (non-Orthodox) Tree of Life as a synagogue or temple, but found some non-religious substitution like "community center."
To his credit, Rabbi Lau handled the question very well. He was aghast that the denominational issue was even a topic of conversation. Jews at worship had been slaughtered because they were Jewish. Was anything else important?
Rather than let the matter go at that, the reporter insisted on going for a journalistic kill, and insisted on getting R. Lau to commit himself as to whether he would call it a synagogue or not. His answer was interpreted by some as a dodge, even though he explicitly did call Tree of Life a synagogue. But the haters at Haaretz ran with the story, and soon the story was in the public domain, beginning with the New York Times.
I won't mention the name of the original reporter, just in case I've somehow missed something. But if it is what it looks like it is, the reporter is either irresponsible, uncaring, ego-driven, intellectually-challenged, or all the above.
Runners-up in the competition are whatever charedi outlets (assuming they exist) that decided to substitute something for "Temple" or "Congregation." Do they still not realize that people are monitoring every paragraph they write, and they that their capacity to generate chilul Hashem is immeasurable? Do they not care? Can they be so obtuse as to think they are doing HKBH a favor by heaping contempt upon the non-Orthodox, especially at a time like this? (I have not checked to see if such outlets exist in fact, or were fabricated by Mekor Rishon. I did notice that Kikar Shabbat, an important charedi website, unmistakably called Tree of Life a beit knesset.)
One hero(ine) emerged. Avital Chizhik-Goldschmidt, the Life/Features Editor at the Forward, set the record straight. A frum woman, she risked the ire of he paper's leadership by calling out those who distorted the story, including by implication a colleague at the same paper. Her piece, "Israel Chief Rabbi Didn't Dismiss Progressive Synagogues. Stop Twisting Words to Sow Division" includes a transcript of the original interview, so our readers can go there and see for themselves what R. Lau did and did not say, and take note of the huge distortion by those who want to undo the Rabbinate in Israel – and worse.