Her Future on an Index Card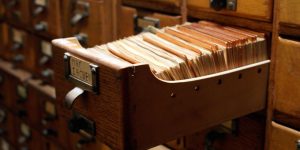 By Rifka Wein Harris
I was annihilated by an index card. On it, it said: Mommy, what can a frum girl be? It was handed to me by my otherwise confident mini me. A bottomless curious and clever tween. Deeply creative, visual and musical, and an innately rule-seeking good girl upon whom the world weighs too heavily. The girl who carries candies in her backpack so that she will always have what to offer a beggar on the subway. A joy to parent at all times. And her question slayed me.
I negotiated for her a world of unbounded possibility, and filled that world with ample enchantments to slake her limitless imagination. Our house is burdened by the weight of too many books. A question about magic squares means squeezing two more on the shelf. Anatomy, chemistry, history, Navi, Medrash, Hilchos Shabbos. Sometimes on her bookshelf; sometimes on mine. Oftentimes, it requires a trip to the attic, where all our academic and overflow halacha books are laid out in six ceiling-high bookcases. Sometimes, it requires adding a book to our burgeoning collection. And so it goes, the house heaving and sighing under the ever growing weight of facts to be learned and Torah to be loved.
My mini me is abundantly blessed to live today. She goes to a Bais Yakov that nurtures her wonder and validates her never-ending questions about the open world. She has principals who keep their doors open and whom welcome her visits to share with them her poems and pictures and the fact that it's NOT friction that causes space shuttles to break up upon descent. She is taught MaHaRaLs that positively enchant her. She is beguiled by their chemistry experiments and charged with writing letters to her congressman to design workable solutions to urban challenges. I adore her school which believes so deeply in her. I do my level best to introduce her to frum female role models. Their lustre of accomplishment sustains her imperative to make a formidable mark on the world – both bifnim and bachutz, within and without.
I am aligned entirely with the hashkafa that girls have potentials without limit, and that all potentials should be carefully nurtured in the direction to which they point, and never elsewhere. Clearly the message we are all sending her is: Actualize into the person HaKadosh Baruch Hu made you! You are a gift with a responsibility to bring your gift into being. This is the path laid before you – embrace it with simchas hachayim, and cherish the unique persona Hashem has blessed you with.
This is my derech. This is the derech my Litvish lamden-professor of a father a"h laid out for me. That my Slabodka great-aunts who were doctors prepared for me. That my academic of a Rebbitzen — with a degree in German Literature, no less — validated for me. Blessed abundantly from above with role models and reinforcement, I became me in this derech that aligns well with my nefesh. I stridently stake my claim to it; THIS IS MY MESORAH.
But, still.
Like every tween, my daughter is exploring her potential path toward actualization. And when the weathervane centered deep in her heart suddenly twists, pointing in new directions, further and further outward toward as yet unmapped terrain, she will inevitably encounter the dissonances of worldviews that may not align with our own. That is growing up. Certainly, this will occur in the secular world. Also, though, in the frum world — things that do not cohere are rudely bumping into her.
What can a frum girl be? Maybe not a Khazak general? I would have said maybe not a wine specialist at an auction house, but then I learned that a frum woman does navigate that job really well (she has a halachic workaround). What are you afraid of, my magical wonder of a daughter? Who dares to clip your infinite wings? I challenge you.
I always understood that there are multiple paths to yashrus. This is mine. There are others which believe shmiras einayim is of such overriding importance that they, without my proud Litvishe mesorah on their side, have sanitized the entire corpus of the chareidi press of all that is so necessary for my daughter to see. Yishayahu Hanavi said when the Geula comes "VeHayu Einecha Roh-os Es Morecha" – your eyes will see your teachers. And that at that time, "Lo Yikonef Od Morecha" – your teachers' face will no longer be completely hidden. And at that time, Hashem will show us chein and answer our tefillos.
When my daughter pointed to the editorial note on the bottom of a frum publication that says it will not print a seven-year-old girl's picture with her artwork – she looked at me and dismissed it as "crazy." It does not begin to align with the way she is being raised, and as much as she might benefit from some of the content, I have no choice but to keep publications like this far away from her. How toxic is it for her to associate the word "crazy" with the word "frum"? And for girls who do not think it is crazy that the image of a young child's face is deemed dangerous and necessarily hidden — girls for whom this practice coheres with the rest of their experience — just imagine what that child's view of her own place in the world might be. Such a tiny circumscribed box with no legroom in any direction. And does that unyielding box, silent and silencing, aid or hinder her actualization into the true unique path Hashem imprinted within her?
So this is what galus wrought. Her role models, compatriots, and teachers are commanded to hide their faces straight out of Yishayahu's nevua – but she craves the visuals now. She cannot wait until the geula fixes this. In the same way children universally prefer the books with the pictures, she needs to see what frum actualized and accomplished women look like to hear their message clearly. She, and every curious girl like her, need to see that she can step in the footprints women have left for her. And for all the women who say "but I do not!" and are inured to how things have inexplicably become – kol hakavod. But perhaps their obligation of nose be'ol chaveiro and their imperative of ahavas yisroel dually require them to be at least somewhat unsettled by the fact that so many children, young women, and women feel disenfranchised, out of step, and failed by the publications charged by our community with nurturing their neshamas.
Even Moshe Rabbeinu was aided by visuals. Hashem showed him pictures: of the new moon, of the menorah, of insects. His nevua was a visual one: "u temunas Hashem yabit" — he saw the "image" of Hashem. Pictures have a power that words do not. It is so crushingly hard already in this generation to be a frum girl. The pressures of perfection and conformity are not healthy ones and they cause grave distortions in the path to actualization. Why then are we not giving our girls the benefit of seeing the remarkable diversity of what it is to be a frum woman?
Rifka Wein Harris is a graduate of Bais Yakov d'Rav Meir and BYA in Brooklyn. She has an undergraduate degree in history from Brooklyn College and a law degree and a master's degree in taxation from New York University School of Law. After practicing for many years in large firms as a tax lawyer, Mrs. Harris is now on the advisory board of Jew in the City and Project Makom. She lives in Kew Gardens, Queens.