Question and Answers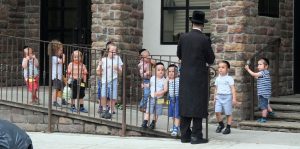 By Dr. Moshe Krakowski
Earlier this week an essay that I published in City Journal about anti-yeshiva activists in New York State appeared online.
Rabbi Adlerstein has generously invited me to discuss the article's argument and the response to it further here, from a Jewish/frum perspective rather than to a general audience.
But first I'd like to make an important point: I cannot abide the personal cruelty and malice that often overtakes controversies of this kind. Some people have been discussing my article online as if it were a character assassination of Naftuli Moster, the head of YAFFED. Because of that – I'd like to state unequivocally that while I am extremely critical of what YAFFED does and how they do it, the criticism isn't motivated by any kind of personal animus again Naftuli. (I absolutely think that he's sincere and well-intentioned and believe it or not, I like him very much personally).
In the City Journal article I tried to be as careful as possible to address and discuss him respectfully, even though I disagree deeply and vehemently with YAFFED's actions. In fact, the only hesitation that I had at all in writing this article was that I knew it would make Naftuli angry and hurt.
I've also received criticism about my decision to mention personal trauma as a factor in anti-yeshiva activists' attitudes to the charedi community. But those remarks reflect accurately public statements made by many (if not all) of the activists, which I believe is relevant to the way they view charedi communities. This portion of my article was based entirely on material in the public record.
That said, while I've received many positive responses to the article, it's also attracted a lot of criticism.
Fair enough. Here are some responses:
1. One of the strangest claims I've seen critics make is that defending charedi yeshivas against distorted media portrayals, or against efforts to enact regulations that would radically transform them (and by extension, radically reshape charedi culture) is a form of "punching down" at activists—striving to uphold a corrupt and powerful system against the wishes of the vulnerable.
But the activists aren't the only vulnerable people in this story. Many, many charedim—including huge numbers of parents who send their children to these schools—support the schools' autonomy (even if they might wish to change particular aspects of the way they function) and vehemently oppose YAFFED's aims. For the most part, these people are voiceless. They aren't activists or politicians—they don't have the New York Times on speed dial. These people, too, are vulnerable.
I know such people exist because I speak to them routinely. How large a segment of the charedi community do they comprise? How many charedim—parents, students, community members—on the other hand, want the state to step in and force the schools to upend their curricula? How many people want more yeshivas to offer secular education, period? The truth is that no one has any idea. No one's conducted a systematic survey to find this out. (YAFFED certainly hasn't.) I wish someone would do so, but I suspect the answer would not be to the activists' liking.
2. There's a huge number of ways secular instruction might be improved in these schools without state intervention. In fact, many devoted people who don't make the headlines are already working to improve secular education in charedi (including in chasidish) schools, whether by creating textbooks that chasidim consider "kosher" or by developing curricular materials and extra-curricular programs. For example, a wonderful organization called Code Kevudah (https://codekevudah.org/) is currently working to bring high-level coding classes to chasidish girls in Brooklyn and elsewhere.
But the people asking NY's government to regulate the schools don't pursue this route.
This is hard to understand, because in my experience charedi schools are extremely receptive to advice, guidance, materials, and programs that might help them improve the secular education that they offer—within the limits that school leaders view as religiously appropriate. In one of the schools I visited, a chassidish rebbe proudly showed me a fancy new STEM curriculum, complete with lab materials and textbooks, that had been procured by a parent in the school. Sadly, the school had nobody competent to teach this curriculum and so it was sitting in a corner of the office. It would be easy for concerned reformers to step in and help them bring this plan to life.
There are hundreds of interventions of this kind that could be made, which wouldn't change the fundamental approach the chassidish community takes towards life, but would still allow kids to get the best secular education possible within the time schools allot to secular subjects.
3. But perhaps such improvements aren't really the point. One of the most frustrating aspects of this debate has been the anti-yeshiva activists' constant moving of goalposts. Most of the media accounts about this controversy focus on charedim. But the regulations that the activists support, and that NY State developed in response to their requests, would regulate all yeshivas in the state, not only charedi ones.
Discussion of this point tends to go like this: First, one might note that a school like Ramaz hardly needs the state to step in and reshape its curriculum. Supporters of the regulations then respond that of course Modern Orthodox schools aren't the issue here—the issue is charedi schools.
OK; but the vast majority of yeshivish schools don't teach in Yiddish and tend to offer a more robust secular education than chasidish schools—one that usually continues through high school, and that often includes the Regents tests.
"Yes, but this isn't about them; it's about chasidish schools."
But as part of my fieldwork I gathered data in four chasidish schools on YAFFED's list (including some of those deemed "worst" with respect to secular education); I sat in on classes, took detailed field notes, coded them, analyzed them, and wrote some popular articles about what the minimal secular education they offer actually looks like. The response was incredulity and outrage—these schools aren't representative; you can't have gone to Satmar or Skver—and don't you know that Oholei Torah has no secular education at all?
Without revealing which schools I've actually visited, it's worth noting that by the time the conversation gets to this point, we've narrowed down activists' claims from the 170,000 or so kids in NY State enrolled in Jewish private schools to literally a handful of institutions (and that's even if we accept that the claims made about these institutions are correct, which given YAFFED's track record—and based on my own observations—I don't).
By blurring such distinctions in the public press, opponents of the yeshivas conjure up a far more wide-ranging problem from the one they actually appear to be targeting. (It takes real chutzpah for these same activists to then complain when the Agudah or PEARLS respond by using the same sleight of hand to highlight high-performing charedi schools). But in fact, even if we were to accept the claims being made about this handful of schools (which, again, I see no reason to take at face value), a handful of schools offering insufficient secular education is not a reason for the state to begin regulating all the Yeshivas in the state, especially when such a move raises major questions about religious freedom.
4. The press and public (including many Modern Orthodox people who don't know much about charedim) tend to accept uncritically sweeping claims about rampant abuse, fraud, poverty, suffering, racism, and other social problems within charedi communities. Yet none of these claims are backed up systematic data of any kind.
None.
They're based on anecdotal evidence and "common knowledge" (otherwise known as prejudice). In the few cases where we do have hard data, "common knowledge" tends to turn out to be mistaken—for example, when it comes to basic employment and income data for even the most isolated, Yiddish-speaking communities (as I noted in the City Journal article).
Even the one area where there is some data from the U.S. census, poverty numbers are usually presented without providing absolute incomes, but rather by focusing on benefits. But if you have nine children you are eligible for benefits even if you make close to $100,000 a year. It's very hard to argue that education is causing poverty when in objective numbers the men who are receiving this education are making pretty average incomes.
Does this mean that charedim are perfect? Of course not. Charedi communities are complicated, messy, human societies, home to all sorts of dysfunction, tensions, and problems—as are all human societies. The problems deserve to be studied in a real way. But that work has not been done. Very little in-depth research of any kind exists on how American charedi communities work.
In the meantime, I would caution outsiders who accept such "common knowledge" about charedim at face value to ask themselves how they would feel if they heard the same kinds of claims being made about any other social group or community in the country. I can't imagine it, and to be honest, I am sometimes shocked by how people whom I know to be personally kind, wonderful, sincere people, engage in rank bigotry when it comes to charedim.
5. The proposed state regulations at stake are not trivial but radical. They would entirely transform the nature of education within charedi schools, forcing them to resemble something like modern Orthodox ones. For many people, the result would be the government mandating that children be educated according to a religious-cultural model that violates their religious beliefs.
As I mentioned in the article but is worth repeating here, America has a long sad history of using education to wipe out minority beliefs and religions. In the 1870s the US Government began systematically removing American Indian children from reservations and sending them to boarding schools designed to assimilate them into American society. One of the leaders of this movement famously stated that its goal was to, "kill the Indian, and save the man." These leaders were the liberals of their time; unlike many contemporaries who viewed Indians as helpless savages, they thought that it was Indian culture that needed eradicating in order to "save" the people being held hostage by that culture. Such leaders pointed to Indians' poverty levels, "barbaric" cultural practices, and to perceptions of theft and dishonesty within Indian communities. In these schools students were given new English names, were forbidden from speaking native languages, and were given English haircuts and uniforms (names, language and clothing).
Of course, they never asked whether any of these children or their parents actually wanted to go:
"Indian parents also banded together to withdraw their children en masse, encouraging runaways and undermining the schools' influence during summer and school breaks. An 1893 court ruling increased pressure to keep Indian children in Boarding schools. It was not until 1978 with the passing of the Indian Child Welfare Act that Native American parents gained the legal right to deny their children's placement in off-reservation schools.
Some Native American parents saw boarding school education for what it was intended to be — the total destruction of Indian culture. Others objected to specific aspects of the education system, the manner of discipline and the drilling. Still others were concerned for their children's health and associated the schools with death. Resentment of the boarding schools was most severe because the schools broke the most sacred and fundamental of all human ties, the parent-child bond."
(http://www.nativepartnership.org)
Whole cultures were lost and religious practices disappeared as a result of the State mandating secular education for these American Indian children.
* * *
Finally, as long as Rabbi Adlerstein has graciously given me a platform, I'd like to briefly talk about myself. Apologies for the solipsism. But over the last year, people who don't like what I've written on this subject have made many claims about me on social media. For example:
I'm a useful idiot, being played by the PEARLS and the Agudah.
I'm a mendacious (academic) criminal who lies to support the Yeshivas (whether or not I'm getting paid to lie is the subject of some dispute).
I have no idea how different these schools are from the Modern Orthodox schools I am used to.
I'm hiding the names of the schools I visited (obviously, because they aren't really the schools people are concerned about).
If I had attended these schools myself I wouldn't make the claims I'm making.
For the record: I certainly understand the difference between charedi and Modern Orthodox schools. I myself am a product of charedi schools. My schooling was (in order): Cheder Lubavitch of Chicago, Brisk Yeshiva in Chicago (headed by R. Aharon Soloveichik, zt"l, and now closed), Yeshiva Sha'ar Hatorah in Queens, Yeshivat Kerem B'Yavneh in Israel, the University of Chicago, Northwestern University. While at Chicago and Northwestern I learned for nine years every night together with the Mechanchim Night Kollel at the Chicago Community Kollel, and for a few years together with a small chabura run by Rabbi Yosef Gavriel Bechhofer.
As for my elementary education (K-8)—yes, it really was all in Yiddish. So much so that I dreamt in Yiddish for years and was embarrassed at my Litvish day camp when I didn't know the English translations for chumash words (since I only teitched into Yiddish). Indeed, many of our rebbeim were new immigrants from the USSR, and learned all their English from their students. And no, we really didn't have more secular education than in the schools at the heart of this controversy: barely any science, and a mostly English and math focused curriculum.
I'm also not a useful idiot. Here's where I'm coming from: I've been studying education in charedi (both yeshivish and chasidish) schools since approximately 2003. I chose this course of study partly because of my own experiences in these schools. My interests lie in learning practices, culture, worldview formation, and the intersection between classroom practices and communal practices and beliefs.
Because I speak Yiddish, I understand what's happening in these schools and I'm familiar with their curricula. (I'm also well aware of how some schools perform for guests and what they do differently when outsiders are around.)
A number of people seem to believe that I just credulously repeat whatever the Agudah tells me, while discounting claims made by ex-chasidim. But they have it backwards. I probably know more than the Agudah about what goes on in the different chassidish schools, because the Agudah busies itself with things like policy on a grand scale, which I am uninterested in as a scholar, while I am interested in the nuts and bolts of schooling.
My academic work doesn't seek to pass judgment one way or the other on American charedim or charedi culture.
I don't focus specifically on potential dysfunction that may exist in charedi society. This is not because such social problems—to the extent that they exist—aren't worthy of study (of course they are)—but because they tend not to be directly relevant to the questions I'm examining. This is hardly unusual. Not every scholar who works on public education, or on Catholic education, or on Muslim education, focuses on illiteracy, or bullying, or school violence, or other social problems in those contexts.
Nor does my research aim to pass judgment whether charedi culture itself is historically authentic (whatever that might mean), or "bad" or "good."
The aim rather is to understand how classroom practices actually work in the very large number of charedi schools that exist in the United States—why school administrators set things up the way they do, how aspects of student learning work, what parents who choose to send their children to these schools think about them, and how school practices impact aspects of charedi communal culture. It is the intersection of communal religious worldview and school culture and practice that has been the focus of nearly all of my work. These are very typical questions in other educational domains (again, public education, Catholic education, etc.). I study them using standard social science research methods (I collect curricular material; observe and videotape classes; conduct long, in-depth qualitative interviews with parents, teachers, administrators and students, about what they're learning and how it fits into the rest of their lives; and then code and analyze the data I've gathered).
For many years nobody besides academic journals took an interest in my work.
However, when this controversy erupted, I felt that I needed to speak up. As noted, I'm dismayed by the extreme hostility and prejudice towards charedim expressed by many people (including, sadly, Modern Orthodox Jews) who know very little about them, but think they know a lot. And I'm dismayed by the misinformation YAFFED and other activists have circulated (here I don't just mean impressionistic misinformation, but also basic factual and demographic errors).
No one asked me to speak up in this way. I was not approached by any yeshiva, nor by the Agudah, nor by PEARLS. These groups are obviously pleased with what I've written, since I am largely in support of their position, but my writing is a product of my own research and experiences.
I also haven't received a penny from any of these groups, although I did receive a small grant from the Mandel Center at Brandeis University to conduct further research in chasidic schools.
As for the question of transparency: something that people outside of academia may not appreciate is that human subject research is governed by very strict ethical rules. All universities have oversight boards, called IRBs, that govern research protocols to insure they are being conducted ethically, including with appropriate protection for subjects' privacy. This is most relevant in medical research, but also applies to the social sciences. One of the basic requirements of research is anonymity. If I conduct fieldwork in a school (observing, videotaping, interviewing, etc.), I must promise the IRB that the school and students will remain private – that no identifying features will be released. A researcher who violates these guidelines would be in serious trouble. Given the outrage my perspective has sparked, it would honestly be a lot easier for me personally to state specifically which chasidish schools' on YAFFED's list I visited, but unfortunately, I cannot do so.
Finally, it is important for me to say that I appreciate very much anyone who chooses to speak to me rather than about me. I can be reached at [email protected], and no matter how much you hate what I have to say, I'm happy to talk about my work, my findings, and my opinions.
I can be reached at [email protected].

Post Script
I am sorry to once more bore readers of this site with details of my personal biography.
Over the last week people who disagree with my essay about the yeshiva controversy have made many false claims about me on social media platforms. My earlier post on Cross-Currents was an attempt to set the record straight and to explain where my work is coming from. I guess I should have predicted what would happen next: I was accused of lying in that post, too.
A historian (and long-time friendly colleague of mine) has now claimed in a widely-read social media post that I'm making up parts of my own life story, and that it's not true that my elementary school taught all in Yiddish and had minimal secular education.
He "knows this" because he's familiar with Cheder Lubavitch of Chicago – his own kids went there in recent years – and in his experience, the school uses Yiddish only superficially and has more secular education than this. He "can't understand why (Krakowski) would say something that is so easily disproven by anyone who attended the school, or sent their kids there." The takeaway: "If he says something so seemingly untrue here, it reinforces for me questions about everything else."
Personally, what I don't understand is how a professional historian could make such a serious accusation without pausing to first check the facts – without investigating the school's history, or asking me (the person being accused of lying) to clarify. It shouldn't come as a surprise to someone whose job it is to study history that institutions change over time.
I'm not lying or mistaken about my time at the boy's Cheder Lubavitch of Chicago. Throughout most of the 1980s, instruction there was entirely in Yiddish and with minimal (80 minutes/day) English/secular education. In those years the school was very different from how it is now in other ways as well – it was a school that drew from many sectors of the Chicago frum community, including Litvaks (and even Telsers!) and other chasidim, and it was the only school in Chicago that offered Yiddish instruction.  
Over time the school's profile changed completely for a number of reasons: Rav Shach increased his opposition to the Rebbe and yeshivish people began to pull away from Chabad. The Rebbe had a stroke and then died, which changed Chabad itself significantly. As Chabad began to be more isolated from other charedi groups than it had been before, the Veitzener Cheder opened in Chicago and non-Lubavitch Yiddish-speaking families switched their kids there. And the Chabad Cheder itself began to absorb many more children of recent baalei teshuva. Thanks to all of these changes, by sometime in the late 80s/early 90s, the use of Yiddish in the Cheder Lubavitch of Chicago began to decline and the secular studies changed in many ways as well. Eventually it turned into the school that my colleague is familiar with. These changes didn't directly affect my graduating class, though (I graduated in 1992, and the younger grades had begun to change already by that time, but my class still learned on the old model), and I would be happy to supply anyone who still thinks I may be lying about this with contact information for my own former classmates. All of them can confirm my experience of the school.
I did ask my colleague to correct the record, and offered to put him in touch with my classmates, but aside from changing the charge that I'm "lying" to a suggestion that perhaps I'm simply mistaken about my own childhood, he declined to do so.
So I've posted this here, because being accused of lying is a big deal. I thought it was worth responding to this particular accusation, because it came from a colleague whom I respect, was read and apparently believed by many other people I know and respect—and because it illustrates how easily false accusations of this kind can be made and believed, even when a bit of research would reveal that they're untrue.
However, this will be the last post of its kind (hopefully). From now on I plan to stop paying attention or responding to claims made about me or my work behind my back. If anyone thinks that anything I've said in print is untrue, I encourage you to contact me directly about it. I'll be happy to clarify, or, if it turns out that I did make a mistake, to correct the record on my end.