A Quick Response To Chillul Hashem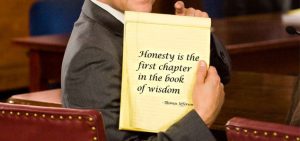 The statement by the Lakewood Vaad came quickly, and expressed succinctly and effectively what had to be said.
"We are saddened beyond words by the arrests of seven couples in our town. As firm believers in the principle of 'innocent until proven guilty,' we suspend judgment until the disposition of these charges, and are comforted knowing that our judicial system is an able arbiter of justice.

"Regardless of the outcomes of these cases, we have, in our view, a valuable teaching moment that cannot be wasted.

"There is no such a thing as "justified" theft. Federal and State social safety-net programs are meant for those in need, even those in need have rules and criteria that must be strictly followed. To deliberately bend a safety-net eligibility rule is stealing, no different than stealing from your friend or neighbor.

"We would all do well to redouble and triple our efforts in our communities, reminding each and every one of us that there is never any excuse for dishonesty in any form. Let us take this moment to speak openly of these matters, from the pulpit, in the classroom, and by parents at the dinner table, so that this tragic but necessary learning moment is not lost.

"In the days ahead we will help launch a set of intensive educational programs that can ensure that such does not happen again, and will invite the public to participate in these timely programs."
Not much needs to be added to this. So many have requested/demanded that Cross-Currents weigh in on this, that we will permit ourselves a few thoughts.
We join in cautioning against jumping to conclusions about the extent of these alleged abuses, and the mind sets of those who allegedly took part in them.
We join the many who unequivocally condemn the alleged behavior. And yes, we will say it. Compromising the gift of emes l'Yaakov is as much an assault on our mesorah as the adventurism of OO and the Orthodox far-left. So is a slow descent into too much of a preoccupation with materialism, which snuffs out the ruchniyus from an otherwise Torah lifestyle.
We can speculate about financial abuse in general. We could quickly identify three different paths to failure.
There are always those who spot an opportunity to make a quick buck, and grab it. No single ethnic, religious, social and economic has a monopoly on these opportunists. You will find them everywhere. In a perfect world, we should not find them at all among Torah Jews. Realistically, they will persist until moshiach wins them over. They are not an indictment against the rest of us.
An altogether different group that succumbs to the temptation to defraud is composed of those who try, but cannot make ends meet. They find ways to rationalize their theft, because they feel boxed in and suffocated. Educational programs about yashrus will not ease their suffocation. Families with many children and less than adequate income (sometimes because of underemployment) can conceivably be more prone to this. There is plenty of room for optimism regarding this group in the Torah world. New programs (like Agudah's PCS) provide training in a variety of vocations to young men transitioning out of kollel into the marketplace. These programs will have a real impact on easing desperation, by giving families a shot at an adequate parnassah. There has been a sea-change in attitude towards these programs in recent years. We hope that they will continue to fine-tune their activity by realistically assessing where the jobs will be ten yours from now.
Isolationism Some people have been taught, and continue to live with, fairy tales concerning anything outside their bubble. They see themselves as the last decent people on the face of the planet. While they would not steal from them individually, the amorphous and faceless behemoths we call governments elicit their contempt as the corporate face of the less worthy. They have no conceptual way of respecting man-made laws, because of their preoccupation for G-d's laws. Evading the demands of man-made law then can become in the minds of some a privilege of those smarter and better, which they believe themselves to be. For centuries, it was a necessary survival tool for Jews surrounded by powerful anti-Semitic neighbors. In short, they have not changed much in attitude since the days of Czar Nicholas.
Most people – at least on this side of the Atlantic – discarded these beliefs a long time ago. (You will find evidence of this if you go to the comments on some of the frum sites that have carried the story of the arrests. You will find some comments so stupid, ill-informed, and of contorted logic, that they make contributors to the alt-right look like paragons of sagacity. But you will also find more straight-shooters, who find the behavior of some of their friends to be repugnant.)
We wish we could announce their disappearance from parts of our community. I believe that the single most important reason for the continuation of their attitudes is cultural isolation. Those who have spent considerable time with our non-Jewish neighbors can spot their weaknesses. But they can also speak of their considerable strengths. They know that many, many of their neighbors are of strong character, do much good, and are not at all anti-Semitic. In short, they have learned to respect others by getting to know them. Through this, they have learned to respect their laws, and the fabric that holds our society together. They no longer see themselves as entitled above and beyond everyone else. They have been mugged by reality, and no longer believe what they may have been taught in their culturally isolated youth. They do not believe that the entire world is some Jewish version of the Hunger Games, in which they will survive against the dangerous "other" only by outsmarting the people who run it.
Because there simply are no more communities hermetically sealed off from the rest of the world – even where smartphones are banned – time will cure what ails this group as well.
Where does that leave the rest of us? The small theft by Achan was held against the entire people. The baalei mussar explain that while it was true that no one else succumbed to the temptations to help themselves to the spoils of war, they were still to blame. Social pressure can become so overwhelming, that the individual cannot resist it. Had the people developed a near-palpable loathing for violating Hashem's ban on taking spoils, Achan would not have acted contrary to it. Because their resolve was weak, Achan could do his own thing – but they were seen as complicit.
Our job is to be more articulate, more forceful, and more vocal in creating a community in which all forms of lack of yashrus lead to a social disapproval that leaves less room for mavericks to do their own thing.