Are Some Open Orthodox Rabbis Rethinking Resistance to Intermarriage?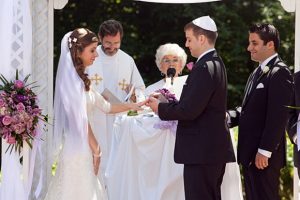 I really can't believe that I'm writing this. It is not the first time that Open Orthodox rabbis have gotten involved with a non-traditional position on intermarriage (please see here and here). However, the event in these linked articles was a one-time exploration, and it does not seem to have gained traction – at least not in a public manner.
But now, in a Jewish Week article entitled Time To Rethink Our Resistance To Intermarriage, a recently-ordained YCT graduate posits that policies toward intermarriage need to be overhauled:
While the Reform movement has the most welcoming posture towards families with non-Jewish partners, the Conservative and Modern Orthodox worlds would be well served if they adopted a similar approach. If our traditional communities do not learn how to adapt to modernity and cater religiously to different people's needs, Judaism risks nearing its extinction date.

(I)t's time we revisit our tribalistic approach toward intermarriage and our highly divisive conversion practices. Instead, welcome "the other" into the Jewish family.
As many upset readers have pointed out, it is largely heterodox Judaism's abandonment of the "tribalistic approach toward intermarriage" that has engendered the precipitous decline of non-Orthodoxy across the board and its alarmingly high levels of assimilation, with a trajectory toward eventual disappearance. On the contrary, it is adherence to our tradition's firm stance on intermarriage that has helped preserve the Jewish People throughout history and that has predominately made the Orthodox community the exception to the plagues of assimilation, religious dilution and disappearance.
In response to the Jewish Week article, YCT issued a statement against intermarriage. While the statement is certainly welcome, it should not have been necessary.
Although the writer of the Jewish Week article is somewhat of a radical – he seems to also celebrate gay marriage (as have some other Open Orthodox rabbis), and he sends his children to public school rather than to yeshiva/Jewish day school –  his endorsement of changing the Orthodox attitude toward intermarriage is cheered by Torat Chayim, the new Open Orthodox/progressive Orthodox rabbinical organization, which publicly posted the intermarriage article of the young YCT graduate and proclaimed with excitement:
Rav Avram Mlotek, a rabbinic member of Torat Chayim, calls for Radical Inclusivity on the Intermarriage issue!
This issue does not require analysis and abstract argumentation. It does not necessitate a multi-page rebuttal demonstrating why it is so wrong and dangerous. The rabbis promoting this change are playing with fire, and I fear that they are igniting a massive inferno, whose devastation will hit close to home and will be catastrophic.