Clash of Civilizations: Chanukah Was Just the Beginning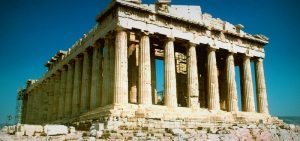 While Chanukah has come and gone, the ideological conflict at its core remains ever-present. In fact, it looms larger than ever before. Observant Jews need no reminder of the nature of the conflict, but the case can be made that it directly impacts all of human civilization. My favorite vehicle for presenting it to general audiences is chapter 13 of Matthew Arnold's Culture and Anarchy, which is his treatment of Hebraism and Hellenism.
A friend passed along a different approach. It is a long, deep and penetrating look at Hellenic culture, and why the Greeks have not forgiven us to this day. (It begins with a question of why the rate of anti-Semitism in Greece today is one of the highest in the world.) Authored by former atheist and now observant economist and critic David "Spengler" Goldman, it is well worth the effort to read, if only to understand in yet another way what a precious gift the Torah was not only to us, but to the world.
Thanks to Prof. David Thomas, Northwest U.