Judicial Reform Gets a Plug from a High Court Justice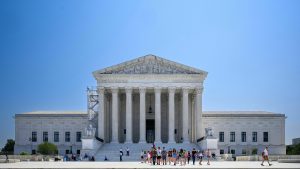 Not intentionally, of course. And not from a justice of the Israeli Supreme Court.
Consider the following [with very minor edits in brackets]:
At the behest of a party that has suffered no injury, the majority decides a contested public policy issue properly belonging to the politically accountable branches and the people they represent…That is a major problem not just for governance, but for democracy too. [The legislature] is of course a democratic institution; it responds, even if imperfectly, to the preferences of…voters. And agency officials, though not themselves elected, serve a [Chief Executive] with the broadest of all political constituencies. But this Court? It is, by design, as detached as possible from the body politic. That is why the Court is supposed to stick to its business — to decide only cases and controversies, and to stay away from making this Nation's policy about subjects like [ ]…The court exercises authority it does not have.
These lines were written by Justice Elana Kagan, in her dissent from the USSC's 6-3 decision that put the kibosh on President Bidens' plan to dismiss billions in student loan indebtedness through executive order, i.e. without the approval of Congress. Close your eyes and imagine the same words applied to Israel's High Court. They could have been written by Simcha Rothman or Yariv Levin, two champions of judicial reform, who collectively are seen as The Great Satan by the Israeli left.
Of course, in the US, Elana Kagan is one of the voices of the left on the Court. Which makes the issue of restraints of the judicial confusing. Is it good in the US, but a threat to democracy in Israel?
It must be, since President Biden has reiterated his objection to meeting with Prime Minister Netanyahu so long as he persists in his assault on Israeli democracy.
Go figure.