One More Kiddush HaShem, One Less Anti-Orthodox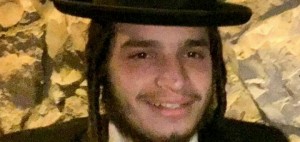 From Kikar HaShabbat:
Kiddush HaShem: that's what this Chassidic Bachur made with 130,000 Sha"Ch he found at a bus stop
A young "anti-Orthodox" man, as he testified about himself, lost 130,000 shekels at a bus stop and could not believe his eyes: Nehemiah Indursky, a 19.5 year old Belzer Chassid was waiting at the station with an exciting surprise.
The Mitzvah of returning a lost object by a Belzer bachur went viral: last Friday, a non-religious person wrote an exciting post in which he described an Orthodox bachur who performed hashovas aveidah, returning a lost object, with a particularly high amount of money.
The man wrote that he forgot a bag with 130,000 shekels in cash at a bus station in Haifa. He said that after half an hour he returned, completely out of his mind with worry that someone had taken the bag. "I thought that with all that, maybe a miracle will still happen and I will find it."
"When I got to the station, there was a Charedi bachur sitting there, and he asked me if he could help me. I told him the story and he told me: 'I came here 25 minutes ago and saw the bag. I opened it and saw a large sum of money. I told myself that I'll wait here a quarter of an hour, and if the man didn't come, I'll put up a note with the number of my cellphone so he could reach me.
"'Fifteen minutes later, when no one came, I told myself that since I live in Jerusalem and possibly the one who lost the money needs it urgently, I will wait for some time. I said a Psalm that he should come soon, and not 10 minutes later you arrived.' The bachur asked the one who lost the bag for signs that it was his, and returned the money intact.
"Until the moment I finished counting, I could not believe it was with me or that I could find this at all (I was so 'anti-Orthodox'… but only until now). I wanted to give him a nice gift, but he absolutely did not want to accept it, saying that it is his Mitzvah" excitedly said the one who lost the money.
In an interview with Kol Hai radio, the bachur, Nehemiah Indursky, a 19 year old Belzer Chassid who studies in the Belz Yeshiva, recounted thoughts went through his head about good things one can do with that amount of money, like giving ma'aser (charity). But then he said to himself that this money does not belong to him, and the owner needed it.
Nehemiah decided to wait another fifteen minutes. "I said, 'Master of the World, I passed my test, now You need to do Your part and send him."
If you think this reminds you of a story you heard before, you would be right.