Double Take of a Photo Op – Pictures of Women in Orthodox Publications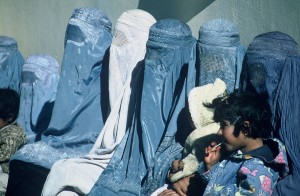 If you are looking to avoid controversy, Cross-Currents is not the place for you.
Continuing a recent trend of respectful internal dissent, I would like to comment ever so briefly on the issue of women's photos appearing in frum media.
Whether or not we like to admit it, every "normal" male is going to view the image of a woman, if she is attractive, as an attraction. That is how Hashem wired the male gender. Male attraction to an attractive female image is part of nature, and is a normal biological reaction, endowed by our Creator for the purpose of perpetuating life.
This being the case, I fail to fully understand the often vociferous clamor insisting that photos of women be featured in Orthodox religious publications – knowing that men will naturally, intended or not, view some of these photos with attraction and will as a result likely violate the halachic prohibition thereof. The reluctance to publish photos that will evoke natural attraction – as much as we may wish to deny or overlook the existence of this attraction as pertains to reading enlightened media, and as much as we may assert that people are "above that" – has nothing to do with an aversion to women and has everything to do with an aversion to sin. As one of my rebbeim remarked long ago: Some Orthodox Jews view man as a malach (an angel); Chazal (the Talmudic Sages), however, were realists and viewed man as human (and therefore promulgated halachos that regulate interactions between men and women).
As Torah Jews, we do not seek renown, acclaim, glamor or glory. We try not to be self-serving, and our publications, especially when they are of a religious nature, should promote these ideals. Hence, we ought to consider whether notions of, "I want my/my rebbetzin's/my daughter's picture to be in the magazine too", are proper. Of course, no one is being accused of vanity, but perhaps we should take a step back and think about how this quest for the appearance of female photos does or does not reflect our values. And given that the majority of people who seek the publication of photos of women in frum media are driven by noble reasons, this does not mitigate the halachic issue at hand.
While blotting out faces in photos is distortive, can offend, and is something entirely outside of the purview of this quibble, the professed right or requirement to post photos of women in Orthodox religious publications, when it will knowingly and naturally evoke male attraction, is something I find difficult to endorse, as politically incorrect as my stance may be even within some of our same religious circles.