The Magical Disappearing Woman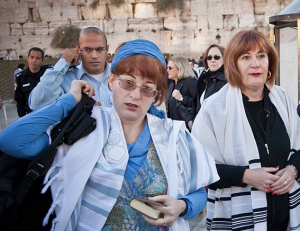 It is always good when Cross-Currents reflects a diversity of opinions. I am, though, as troubled as Rabbi Gordimer by this discussion of, and condemnation of, a "trend" to "deny the existence" of women. No one, on any side of this issue, is pretending that women do not exist, or intending to shove them to the side because their photographs are not featured. And, of course, Cross-Currents currently has multiple photographs of women on the front page — I am just defending the policies of those who make different choices than we do.
As far as it being a trend, a change… I don't see it. I tasked two of my younger children with looking through a stack of Jewish Observer magazines, probably violating labor laws in the process. They eventually came up with photographs of Sara Schnierer and Rebbetzin Vichna Kaplan, a"h. If Der Yid (the Satmar paper) ever had a picture of a woman, I'd eat my shtreimel… if I had one. I can't say for certain, but I have no recollection of ever seeing a woman's photo in any newspaper or news-magazine serving the charedi community. If this is new, I'm unaware of it.
Second, this is about market forces, not coercion. I spoke with the editor of one of the charedi journals — one of whom, Ruth Lichtenstein, is a woman. I will use the male pronoun, but I am certain that this individual spoke for all of them. He told me that if he chose to print pictures of women, he might as well shut down now rather than waiting for bankruptcy. No one is threatening him. He isn't concerned that people will storm his office or put up posters. They will simply stop buying. So would we prefer that there be no charedi newspapers, or that individuals be coerced to continue purchasing their copies?
I deliberately chose a photograph of the Women of the Wall, and not only because it features prominently in the oeuvre of Shoshanna Keats-Jaskoll, the writer of the piece favored by Rabbi Adlerstein. What I chose not to do is feature the woman who describes herself as the "face" of Women of the Wall. She expresses how she was shocked that out of all the "hundreds" of women who join WOW (quite a debatable assertion, that), she kept being targeted by cameras. Yes, she wears tefillin, but so do several others. That's not why she in particular appeared dozens of times in newspapers around the world.
Needless to say, Ms. Keats-Jaskoll has never criticized the blatant objectification of women inherent in the fact that Ms. Wiese was unwillingly selected as the public "face" of a group supposedly promoting the rights of women, based solely upon her physical appearance.
Neither are women who seek public office left to their intellectual credentials. The appointment of one minister in the new government of Israel caused a spate of such sexist remarks about her appearance that a feminist cried out that she was forced to defend someone whose policies she opposed. Another Israeli MK was assigned a nickname on a list of attractive politicians that, while not precisely "foul," is certainly unfit for Cross-Currents.
And that — besides relating to Rabbi Gordimer's excellent piece — also leads to the second point made by the editor to whom I spoke. Yes, he agrees, you could print pictures of elderly Rebbetzins and few would object. A picture of a teenager in a sleeveless top is just as obviously out of the question. But where should we draw the line? If a frum publisher is cognizant of Rabbi Gordimer's point about dealing with people rather than malachim, printing a picture of "Joan Smith" implies that Ms. Smith is unattractive — a contention that Ms. Smith and her supporters might find objectionable as well.
At the end of this day, it all returns to market forces. It is obvious that we at Cross-Currents do print pictures of women, probably because we are published on an (a) English-speaking (b) website which means our readers, like we ourselves, are probably not in a demographic that finds them objectionable. But to assert that choosing not to print pictures of women is bigotry, done to "devalue" them, is not only wrong but diametrically opposed to the actual intent of that policy.
If someone wants to create a charedi journal with pictures of women, bevakasha! We've come a long way since the Jewish Press was the closest thing to a frum English-language weekly. Otherwise, we are simply telling other people that they should change their standards to meet our preferences, which is no more appropriate when it comes to Chasidim, Israeli Charedim, or even American Charedim, than to anyone else.