But If You're Going to be Jewish About It…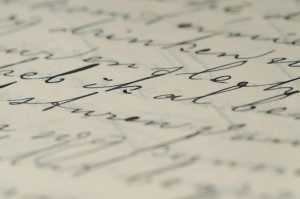 Today's mail included a cylindrical package from the Forward. In addition to a commemorative poster, said package contained the following "Dear Friends" invitation to advertise in their upcoming commemorative issue:
As you are undoubtedly aware, the Forward is a legendary name in journalism and a revered institution in American Jewish life. [Frankly, I wasn't aware that the Forward was revered, but that's not what prompted this post. Project Genesis should learn to write PR materials from these people. –YM] Launched as a Yiddish-language daily on April 22, 1897, the Forward helped safeguard the "American Dream" of Jewish immigrants for generations. The paper has been a force in world Jewry ever since.

We are proud of our legacy and we invite you to help us celebrate this significant occasion. Please consider placing an ad — either commercial or congratulatory — in a commemorative issue to be published on April 6, 2007. We are offering a substantially discounted rate for participating in this special issue.
I suspect that by this point, the writers of the above letter lost about 90% of their advertisers. If you're commemorating a launch on April 22, then why are you doing it on April 6? True, it's now a weekly, but why not April 20? But you've probably figured it out: although they don't mention or explain this anywhere in the letter, the commemoration is indeed only two days before the anniversary — if one is going by the Jewish calendar.
Thus is recorded the very secular character of the Forward at its inception: it launched on the 20th of Nissan, at the end of Chol HaMoed Pesach [the Intermediate Days of Pesach]. Sad, no?
Perhaps things have changed — I think this is one aspect of the Forward's legacy of which they are no longer proud. All materials for the commemorative issue are due March 23, a full two weeks in advance… and the Forward will be closed April 3, the first day of Pesach, and have only minimal staff present on the 4th. So I was assured by the Advertising Sales Director himself.
Nonetheless, considering the secular character of the Forward, it would have been better from all angles to simply do the commemoration according to the English calendar, and thus avoid the inadvertent emphasis upon the Chilul YomTov that assuredly accompanied the launch. [Do you think the then-daily Forward halted the presses the day after the inaugural issue, for the last days of Pesach?]
Unsurprisingly, neither the weekly Yated Ne'eman nor HaModia plan issues for Chol HaMoed. Considering the ongoing transformation in American Jewish life, how long will it be before the Forward joins them?