The Charedi Vote Will Fizzle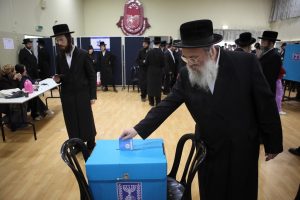 That may be the safest prediction anyone could make – a sign of my cowardice. I will be more than happy to find out that I am wrong. But it has been this way for decades. If Knesset seats followed population growth, charedim should have added three seats every ten years because of its explosive growth, B"H. Instead, representation has remained at about seven, and it might decline to six this time around.
Besides the usual reasons for this phenomenon, a new wrinkle has been added. Anglo-charedim are beginning to behave like Westerners at the ballot box. We'll have to see if their Israeli cousins are listening.
Not that they really need the example of Anglos to bolt from expected party loyalty. They've been doing it for quite some time. Although the charedi community can successfully enforce many kinds of behavior (which quite often is a good thing) through social pressure, its control does not follow people into the voting booth. There, charedi voters often do not vote Gimmel, but for alternatives like Shas and the Religious Zionists – and no one finds out about it.
The silent resisters are one cause for the abysmal record of charedi voting behavior. Another is apathy. Many, many charedim just don't bother voting. They may assume that the outcome is guaranteed, or they may be fed up with the corruption, the power-grabs, the infighting among the charedi factions. That infighting got so bad that it took Bibi's intervention to prevent Gimmel from splitting into Chassidic and non-Chassidic parties, which would likely have cost them seats. Those are seats that Bibi is counting on to reach the magic number of 61 for his right-leaning coalition. This possibility looms so large, that a popular Saudi pro-Israel blogger appealed to charedi voters to get out and vote Gimmel, in order to keep the Jewish State Jewish! No one, however, is betting on his appeal accomplishing more than those of respected charedi talmidei chachamim, which have failed to staunch the outflow of votes.
By now, there is another model of voting outside of the designated choices of charedi leadership. (One charedi who questioned a local rov about his right to vote was told, "Of course you have a right to vote. But we tell you whom to vote for!") Anglo-charedim are doing things differently. In the municipal elections in Beit Shemesh (an Anglo-charedi stronghold) a few years ago, the present mayor was swept into office by lots of charedim. Despite explicit instructions from charedi leadership, they voted for the candidate that they felt would do a better job providing services in the city.
There is every reason to believe that this will continue, and grow. That means a not insignificant number of charedim voting independent of what the "street" demands. Estimates are that there are some 400,000 Anglos in Israel. If, as a rough guess, we use the Aliyah trends of the last decades, half of those would be Orthodox, of some variety. And half of those (at least) would be charedi. One hundred thousand souls includes quite a few voters.
Now, many of those have acclimated themselves entirely to the expectations of the charedi mainstream, and embrace them without hesitation. But a good many have not. They continue to hold on to values and ideas that were part of the more "chilled" practice of charedi Yiddishkeit in the West. They privately – and increasingly, not so privately – feel alienated from the Israeli variety. They are not willing to sacrifice any of their passion for strict adherence to halacha and the primacy of Torah study. But they are not able to accept practices and attitudes that run counter the way that they – all products of charedi yeshivos – understand Torah.
Yitzchok Goldknopf, who will become an MK for Agudah, tells Israeli media not to believe the polls about charedi voting. (Charedim don't respond to phone polls, he says. The callers arouse suspicions that the party at the other end really works for the Tax Authority). Gimmel's workers are doing a full-court press to deliver the vote. We wish them well. But ironically, Goldknopf's own recent statements to the press will likely drive away far more Anglo-charedim than party loyalists will enlist. He has recently opined that: 1) Knowing Math and English has contributed nothing to the Israeli economy in the last twenty years; 2) Non-charedim have run the State for many decades and accomplished nothing. It is time to let charedim run the State; 3) Bnei yeshiva work harder than soldiers in the IDF. These are not the kind of statements that will please anyone with Western sensitivities. And if they are what win over the mainstream charedi "street," Anglos are going to search for a different neighborhood.
Besides Goldknopf, what irritates Anglo-Charedim about Gimmel? Here is a partial list:
Charedi politicians have largely ignored Anglo needs. Parents who have sought help in establishing schools more to their liking have not only found no support, but have been actively blocked by them. In other words, Anglos who have tried to mainstream have often found that schools will not accept their children, because they want to keep out Americans and the culture and tastes they bring with them. But if those same Americans (some who have learned in charedi yeshivos here for many years) try to start their own schools – especially ones with government sanction known as Mamlachti Charedi – they are thwarted.
Anglos who have spoken of their reservations about charedi politics have been told paternalistically that there may be some truth to their grievances. Nonetheless, they have been told, when push comes to shove, how you vote is a defining element of charedism. Vote for a non-approved party or candidate, you are, ergo, no longer charedi. While some Anglos will cave and accept that, many reason differently. Any club founded on a principle like that is not one they are interested in joining.
Anglos were brought up to vote for whomever they thought would serve the interests of the nation, or state, or city, or whatever. They were taught that when compiling a list of issues that should concern them, Jewish and Torah interests should be at the top of the list. Except for bloc voting among chassidim, charedim in the US are very, very rarely instructed whom to vote for. (When Lakewood tried this in a NJ race a few years ago, voters roundly rejected the instructions.) Torah figures there generally know that if voters are told whom to vote for, they may very well resent the incursion into their autonomy and do the opposite.
Many Anglos are appalled by the lack of concern for many of the issues that the country faces as a whole. Charedi politicans do a good job in insisting on the Jewish character of the State while the Left tries whittling away at it. But on other issues, they stand ready at all times to trade their support for cash, because it means support for yeshivos, kollelim, chesed organizations – as well as jobs for their otherwise underskilled family members, relatives and friends. Many Anglos find it difficult to ignore the needs of the largest population of Jews in the world – even if they are not all charedim – especially since they were brought up to believe that Torah has important things to say about all issues that face humanity.
Another thing that they are tired of is the bastion mentality exhibited by the charedi politicicans – the dividing up of the world into good guys (us) and bad guys (everyone else). They are keenly aware of the challenges to Torah life by the likes of Avigdor Lieberman and Matan Kahana. But they reject the idea that the entire purpose of the State, from the time of its founding till today, is to obliterate Torah. They know this is not true, and bristle when it is claimed in their name.
Lastly, the best – really the only – argument that they hear from Gimmel as to why they should vote for approved candidates is Bekolo Tishme'un/ "you shall hearken to His voice." This is accompanied by a picture of Rav Ovadia, or Rav Chaim, or yibadel le-chaim, Rav Gershon. (The poster designers seem completely oblivious to the blasphemous nature of the ads, which replace HKBH with basar v'dam. [See the only two places in Tanach where the phrase appears: Devarim 13:5, and Tehillim 95:7.]) This doesn't work with Anglo-charedim, for a few reasons. 1) Like it or not, in the US in particular the concept of Daas Torah has taken too many hits through its overuse over the years – just like the word "assur," which rarely means that. To be sure, it is de rigueur to pontificate about it in public. In private, however, Anglo-charedim make their own decisions – about women getting degrees, about smart phones, about which concerts they will attend. Invoking Daas Torah is not going to be the strongest argument for many Anglos. 2) The minds of many have been poisoned against full trust in Daas Torah. Too many verified stories about gatekeepers, too many scandals swept under the carpet. 3) The most recent iteration is a conversation with Rav Gershon, shlit"a, in which he responded to MK Yitzchok Pindrus' question about people with grievances against UTJ politicians. Rav Gershon said that the reason to vote Gimmel has nothing to do with those politicians. We must vote Gimmel because it is a Kiddush Hashem, when others see us voting for our values. Anglos are just not going to buy this. Those values are indeed quintessential. But why not find a different party which will affirm those values, without producing the chilul Hashem so frequently made by some of the UTJ politicians?
Twenty years ago, Anglo-charedim had no choice. There were two "clubs" within the religious community, and it was a no-brainer that olim with yeshiva background were going to go mainstream charedi. Today, there are enough of the disaffected to start their own club. If their critical mass will not turn out to impact this next election, it is only a matter of time till it does.
May HKBH save us from ourselves, and may we wake up Wednesday morning to minimally learn that, to paraphrase Tricky Dick Nixon, we don't have Lieberman, Yulia Malinovsky, or Gilad Kariv to kick us around anymore.