Living Israel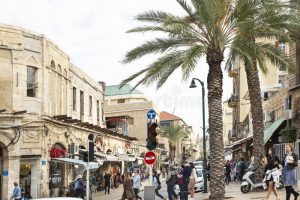 So many choice tidbits from daily life here. Hard to resist sharing them from time to time. Here are two from the last few days. Hopefully, there will be more.
My wife's Pilates instructor is not what you would call typically frum. More like typically formerly frum. When she showed up at Kever Rochel/Rachel's Tomb in what we shall call non-standard dress (nothing risqué – just not up to accepted haredi norms), she was accosted by an older woman who was not happy with her sleeves – or lack thereof. But wait – this is not going where you think it is. At least not at the end.
It started off predictably. The older woman came over to her, and asked her if she might be interested in a shawl. She wasn't. The older woman became more insistent, but the younger one (who came from a background, according to her telling, where tzniyus was imposed heavy-handedly, which caused her to rebel) wasn't buying. It degenerated into shouts and insults hurled at her by the older woman.
She had spent years learning to deal with difficult people and her own reactions to them. So she calmly ignored the taunts, and finished her recitation of Tehillim, which is what she came for. (While not haredi, she has lots of Emunah/faith in G-d and the efficacy of prayer.) She left – at which point things got really interesting.
She was followed outside by a group of haredi women, who surrounded her. None of them tried to pick up the argument, and convince her to dress more conservatively when visiting a holy site. Instead, all of them had the same request. They asked her for a blessing! They explained that they were knew that the gemara spoke in glowing terms about Hashem's love for a person who is insulted and holds their tongue, not responding. They witnessed what she had just experienced, and how she remained silent, refusing to match insult with insult. That, said the women, made her a holy person, who certainly could give them a brachah!
__________________________________________________________________________________________________________________________________________
Two of my guests at the Shabbos table were young Christians. The young man was a doctoral student who doubles as the local coordinator for a left-leaning US evangelical group that is hostile to Israel. What he was doing at my table – not the first time at that – is a longer story, but it is not for now. Remember – I am the interfaith director for a global human rights organization, so this is par for the course. We (mostly) avoid politics and talk about religion – and the weekly parshah. He's bright, very respectful, and good company.
A few days before arriving, he asked if he could bring a friend, a Palestinian Christian who lives, as does he, in Bethlehem. We were OK with that, especially when he added that she and I might very well gang up on him regarding Israel.
She was fascinating, and became the center of conversation till the time they left at 1:15AM. She grew up in Bethlehem, and noted that this once vitally important Christian city had lost almost all its Christians. They were down to 6% of the population. She stayed there long enough to complete a law degree at a Palestinian school, which she termed largely useless. She then spent years in London, and was completing another graduate degree there.
The world was open to her, but having returned home, she was loath to leave without finding a way to take her family with her. Life was not good for Christians in Bethlehem.
For those who see the world in black and white, she wouldn't compute. Certainly not a terrorist. Bright, personable, articulate, determined to get to a better future.
And maybe the most surprising part of her story: she believes that the Holy Land belongs to the Jews. This is not a common element, shall we say, of the surrounding Palestinian Muslim society. How did she arrive at this conclusion? Simple. She reads the Bible!
Do you hear the words of the very first Rashi in Chumash in the background? The ones that explain that the Torah begins with the story of Creation, rather than the first commandments, in order to provide an antidote to the fevered cries of the world community: Listim Atem! You are ethnocentric colonialist imposters!
Never before have Rashi's words been easier to understand. It is not AIPAC, and not Israeli hasbarah, that have the most important tools to create loyal friends for Israel, but the Jewish Bible. People who truly take it seriously as the word of G-d are not listening to the MSNBC take on Israel.
As much as there are elements of Western society engaged in beating down all firm religious devotion – especially when those religions contain normative expectations that run afoul of secular orthodoxies – the Bible is not going to disappear. The contemporary Amalekites (i.e. those interested in actively resisting the very notion of G-d in a relationship with Man) are just not going to prevail. Minimally, this suggests a course of action in seeking alliances with non-Jews who can be enthusiastic about a Jewish Holy Land.
[Those who want to go the extra mile in learning what has been going on in the evangelical world (from which so much support of Israel came in the past) should listen to this podcast by Robert Nicholson. Nicholson directs the Philos Project, one of the best programs that train bright young conservative Christians to defend traditional values – including support for the State of Israel. He is also deeply involved in Passages, sometimes described as the Christian Birthright, that brings young Christians to Israel to learn for themselves what Israel is about, and thereby equips them to counter the anti-Israel propaganda on campus.
Nicholson describes the ongoing changes in the evangelical world, like the inability of an older American evangelical community to transmit intergenerational (religious) wealth to a younger cohort. At the same time, he shows how in other places in the world, evangelicalism is on a meteoric rise.
The presentation is valuable. Two comments might be in order.
Nicholson puts all the bad news on the table, specifically how evangelicals are losing the younger generation. While their elders are overwhelmingly supportive of Israel, they are much less so. They are not into Bible study (or reading much of anything else), which figures so importantly in shaping pro-Israel attitudes. (See story above!) The reaction of many people who learn about this is binary: older generation of evangelicals – good; younger generation – bad. They write off evangelical support as a wonderful bubble that has now burst. We enjoyed evangelical support for a few crucial decades, but it is now over. Disengaging from them might now be contemplated.
This is definitely not the way to process Nicholson's findings. It is true that there are serious cracks in the solid wall of evangelical support. But it is not a toggle switch that has been moved to the off position. While it could be previously claimed that as many as 100 million US evangelicals supported Israel, the number is not going to approach zero in the foreseeable future. I have no idea how to turn the trends into numbers. But there are plenty of young evangelicals who still study Bible, and who are still enthusiastic about Israel. If we lose half the evangelical world in the next decade, we will still enjoy the support of 50 million American voters, which is well beyond what progressives who hate Israel can forecast for themselves. We will still need to build bridges to evangelicals, and to engage them with thanks.
A second point is Nicholson's optimism about what Latino immigration – increasingly evangelical, as more and more Hispanics give up Catholicism for evangelicalism – will do to replace white evangelicals who are leaving Israel's camp. I believe this to be overly optimistic. The figures so far don't back up the claim. In fact, a 2016 ADL survey found that foreign-born Hispanic immigrants were the most antisemitic of all U.S. demographic groups, with 31% having antisemitic attitudes, followed by native-born Hispanics at 19%. Furthermore, even if all Latinos that entered the US were gung-ho Israel supporters, it wouldn't last. Latinos participate in the same process of Americanization as the minorities that preceded them. That means that their children and grandchildren will attend universities where they will receive the dominant anti-Israel leftist brainwashing.
Bottom line: We have our work cut out for us.]