The Demise of Roe v. Wade: A Letter to Rabbi Michael Broyde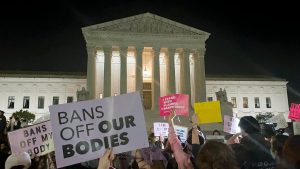 Dear Reb Michael,
Congratulations on the excellent piece in Lehrhaus. It's perhaps the best piece that I have seen on the subject. Not that I agree with everything you wrote, but that is not so unusual. I do happen to agree with the major thrust of the piece, in regard to what our public policy ought to be.
We disagree quite a bit, often in public fora. We remain respectful, cordial, and more – we're actually friends, and get together socially. You often send me your articles in advance for criticism, and I usually have some to dish out. (The fact of our friendship despite our differences may be more important than anything else in this exchange!)
The abortion essay was no different. I saw it before Lehrhaus did, because you sent it to me for comment. So I know that you did not time its publication for the day after the SCOTUS decision, unless you are a navi, besides being a chacham. Nonetheless, the serendipity of the two events is going to lead some readers into thinking that it is your response to the reversal of Roe v. Wade, even if it was not written for that purpose.
For what it's worth, I think that your essay omitted crucial elements in guiding people towards an intelligent position regarding abortion and its jurisprudential fortunes. I believe that you minimized the responsibility of Torah Jews to make Hashem's will known to anyone listening. I also believe that you ignored affect – what Jews are supposed to feel when they witness departure from His dictates, and what should be going on internally when they see people moving closer to the way Hashem wants them to live.
Here is what you wrote:
Even though Halakhah sees no technical obligation in most situations for Jews to ensure that Noahides obey their laws, doing so might still be morally laudatory. Surely God smiles on those who seek to help others obey God's will.
A footnote takes us to two sources – a single citation from the Hirsch Chumash (although the Jewish mission in making His will known to all inhabitants of the world is central to his hashkafah!), and one from the Netziv. And then you immediately dilute their effect by writing "Notably, no legal sources discuss this idea as far as I can determine."
There you have it. If you can't pin it down to specific and explicit halachic sources, then it just isn't worth all that much.
So here is my fervent request to you, my friend:
STOP BEING SUCH A DARN LITVAK!!!!
No, I don't mean to enmesh us in a discussion of the old question of whether or not there is a Torah ethic independent of halacha. (Readers can start with the contributions of Rav Aharon Lichtenstein, zt"l, and yib'l Rav Dovid Bleich shlit"a.) The point here is a different one, perhaps best characterized by an oft-repeated teaching of Rav Soloveitchik, zt"l. He said that we have not one mesorah, but three. The one that gets the most attention is the mesorah of deed – how we are to behave and act. We've put a huge amount of energy in fleshing out the requirements of halacha, and making them known to people. There is also a mesorah of thought: what ideas should provide the conceptual framework for the Torah's practitioners. Which ideas are essential, which are volitional – and which are dangerous and wrong. This mesorah is there, but a bit harder to access, as it is not as well known, and not as sharply defined.
Finally, there is the mesorah that is the hardest one to determine, although it is most definitely there. It is the mesorah of how we ought to feel and emote. Assuredly it exists, although many are unaware of that fact.
It is there that we find that Hashem is not indifferent to the sins of non-Jews, or to their rejecting Him. There we find that those who love Him will feel the "tzaar of the Shechinah" when people trifle with His honor.
Your essay shines a light on the path forward – including the hard work ahead in assuring that abortions will be available to those who halachically should be availing themselves of them. It fails, however, to mention that the Orthodox reaction to the downfall of Roe v. Wade should include a celebration of the triumph of those who find significance in the potential life of a fetus against those who argue that it is no one's business but the mother's.
You will correctly argue that the Court did not relate to that issue at all. But that has been what the struggle in the hearts of Americans has been about for decades, not the availability of an abortion to a pregnant woman whose life is threatened by the fetus she carries. (According to a poll conducted by the Guttmacher Institute in 2004, fewer than 7.5% of those who aborted did so for reasons of rape, fetal health issues, or the physical well-being of the mother.)
In 1969, a pregnant Norma McCorvey, was recruited by lawyers seeking a plaintiff with standing to challenge Texas abortion restrictions. They would turn her into the "Jane Roe" of Roe v. Wade. They asked her what she thought of abortion, and she said she didn't know. They convinced her by telling her, "It's just a piece of tissue. You just missed your period." McCorvey was not raped, nor in any danger at all. She just didn't want to carry to term. Because the case dragged on, she never got the abortion she sought. She gave up her daughter for adoption, as she did with the first two children she birthed.
Sixty million abortions later, it has never been about the small number of women whose abortions would be sanctioned halachically, at least those beyond the 40 day benchmark. It has been my-body-my-choice, and no piece of tissue is going to get in the way with my career choice or my convenience. It has been about steadfastly ignoring the moral responsibility towards a life-in-formation. It has been about turning abortion into a form of contraception. (According to the CDC in 2019, unmarried women accounted for 86% of all abortions.) Having the right to express their sexuality any way they choose is an entitlement that trumps any moral reservations.
All of these attitudes are repugnant to HKBH. How can we not be happy about a potential reversal of some of the damage? How can we not share that happiness with the world – especially when there are those proclaiming that Judaism celebrates abortions? How can we not acknowledge that the SCOTUS decision will strengthen the hand of the half of Americans who at least want to engage the ethical issues, rather than cede them to the autonomy choir? How can we not be hopeful that some of the states will come up with laws that cut down on what the Torah considers to be a capital crime for non-Jews?
But what if…? What about the Jewish women who will be legitimately advised by poskim to terminate a pregnancy, and face obstacles in draconian state laws? Of course that is a concern, and there is no question that we have our work cut out for us. Chazal remind us that every child who is born is going to die one day. Nonetheless, that reality does not dull the simcha surrounding the birth. There will be time to mourn much later. Similarly, the challenge we will face in future months should not drown out the loud approval we should be expressing at the moment. A cavalier attitude to what Roe v. Wade's demise means does not speak well of our belief in the rectitude of Hashem's Torah. In other words, a bit less Litvishe reserve might be called for.
Interestingly, Reb Michael, you show in your essay that Agudah's policies in the past have always opted for maximizing religious freedoms, even when those freedoms would be misused by others. They have taken exactly the course you advocate. That seems accurate. But you should now observe that the same Agudah – not having changed its policy in the slightest – issued a strong statement of approval of the Supreme Court decision. It struck a perfect balance in its release. It referenced the concerns about women who should be terminating their pregnancies, but clearly stated that those situations are rare. It explained why Agudah welcomed the decision:
We do not seek to impose our religious beliefs on the broader American society. We are of the view, however, that society, through its laws, should promote a social ethic that affirms the supreme value of life. Allowing abortion on demand, in contrast, promotes a social ethic that devalues life.
Sforno (Shemos 18:9) is critical of Yisro for his celebrating the happiness of the Bnei Yisrael in their escape from Egypt, "like one who takes pity on the tears of the oppressed." He missed the opportunity to do what was more correct: to express joy over the destruction of Egypt, "as is appropriate for one who is zealous regarding the honor of his Creator." We should not make the same mistake.