Google Sanitizing Anne Frank's Diary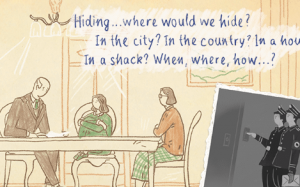 June 25, 1947 was a significant day for Jews. So significant that the 75th Anniversary of that day was highlighted by the Google search engine with Google Doodles "Honoring Anne Frank." June 25 was the date when The Diary of Anne Frank, the most famous Shoah-related book, was published for the first time. For June 25, 2022, Google Doodles commissioned a presentation of 14 slides, with statements from the Diary of Anne Frank. At the bottom of this posting I put the link to see the slides.
Google often indicates a particular event related to a significant date by embedding a link to a Doodle in the search box, as they did to honor Anne Frank, hy"d.
The problem is that it seems it was not significant enough for Google to mention that Anne was Jewish. The word "Jewish" appears only once in the Google Doodle, in a diary quote. "Our many Jewish friends and acquaintances are being taken away in droves. I feel wicked sleeping in a warm bed while somewhere out there my dearest friends are dropping from exhaustion or being knocked to the ground."
Writing from her family's hideout perhaps she didn't know that Jews were being tortured and murdered. But Google certainly knows Anne Frank did not hide her Jewish identity. I did a check on the googlebooks version of the diary, and Jew appears 41 times. The final slide of the Google doodle tells us that "Anne died in the Bergen-Belsen concentration camp at the age of 15." Died? She was tortured and starved to death.
I am particularly interested in The Diary of Anne Frank because I am writing an article about Anne's best friend in Holland, Hannah Goslar, for a summer issue of Ami Magazine. Hannah Goslar is now a 92-year-old, frum great-grandmother living in Jerusalem. I spoke with her recently and she related how her religious family often invited the Franks for seudot on Shabbat and Yom Tov before WWII began. Hannah Goslar spoke with Anne in Bergen-Belsen through a fence, and threw her some extra food. It wasn't enough. This friendship is depicted in the Netflix drama " My best Friend Anne Frank."
In the first Google Doodle slide there is a trigger warning. "This presentation includes mentions of the Holocaust, which may be sensitive to some viewers." Well, I am one viewer who is sensitive to NOT mentioning the Holocaust. Aside from the trigger warning, the word Holocaust is not mentioned or described at all. The whole presentation is mild, pareve, and sanitized.
I have watched many programs on the two most famous Holocaust books: Diary of Anne Frank and Elie Wiesel's memoir, Night. Many presentations on these two books barely relate to the Jewish aspects of the victims or to the Jews tortured and murdered during the Shoah.
The aforementioned date, June 25, this year was also significant because it came out on 26 b'Sivan, the sixth yahrzeit of Elie Wiesel, z"l. Two years ago Elisha Wiesel spoke about his father during a webinar interview sponsored by the Museum of the Jewish Heritage. I made a point during the Q & A to bring up the widespread emphasis on his father's advocacy for non-Jewish causes. I asked,
"Many adults and youth read some books by your father and get the impression he was an atheist and was not observant. Do you think it is relevant to ask what was your father's attitude to prayer and such Jewish observances as keeping Shabbat and kashrut?"
Elisha Wiesel answered,
"My father kept Shabbes, my father kept kosher. He davened every day….My father was a devout Jew…. He travelled everywhere, he had a pair of tefillin in his Boston University office… He had tefillin everywhere he went… Everywhere in the world he would try to leave a pair of tefillin there just in case he needed to get to an emergency pair of tefillin… His faith was extremely important to him. Whoever asked the question is on to something which is that the memory of my father is so tilted towards his actions on the world stage and in non-Jewish circles … there is a broad lack of understanding on the world stage today just how critical it [Jewish faith and observance] was… so on the various websites… I try to pull that out and bring it forward… It's the core of who he was." This segment is at the end of the interview (minute 48) Transforming Moments with Elisha Wiesel.
In contrast to the presentations of Anne Frank and Elie Wiesel as AnyGirl or AnyMan, sans their Jewish identity, I am encouraged by the fine work by several Holocaust centers who do emphasize the spiritual heroism and specifically Jewish aspects of the Shoah. Among them are: Zachor in the Michlalah Jerusalem, directed by historian Esther Farbstein; Shem Olam Faith and the Holocaust Institute in Kfar HaRoeh; Ganzach Kiddush Hashem in Bnei Brak; and Amud Aish Memorial Museum in Brooklyn. There are other centers as well. May they multiply and have an impact.
I wonder what others think about the Google Doodle, at this link: