There Will Be Blood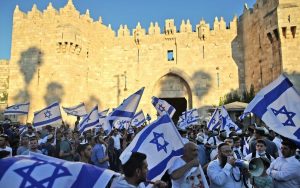 Do people not see what seems so apparent? How can the Flag March scheduled for this Sunday, Yom Yerushalayim, not lead b'derech ha-tevah, to Jewish deaths c"v at the hands of Palestinians who have been pumped up by hellish imams, armed by Hamas, and raised on a steady diet of the glory of martyrdom? Even if it were only a strong possibility, would it not make sense to simply avoid the flash-points of Sha'ar Shechem and the Muslim Quarter? Aren't we smarter than that? The fear that by appearing to give in to Palestinian demands we will lose control of Jerusalem is understandable. But have we forgotten how good we are at getting things done without calling attention to it? We will do what we have to do if there are any real threats of eroding our legitimate control of all of Yerushalyim? Can't we delight in the wonderful reality of having our own State and all its blessings, without feeling that we have to flaunt it – at least when lives immediately hang in the balance? Isn't having control more important than exercising it? The fact that lots of them are prepared to slaughter Jews at all times doesn't mean that we should be the proximate cause for producing a few more members of their murder mills.
When Israel passed the Golan Heights Law, viewed by the world as a de facto annexation of the territory gained in the Six-Day War, Rav Shach zt"l was highly critical. The way I remember it, he argued that we were exercising effective control over the Golan since 1967. What was the point of antagonizing our enemies? What did we gain by making a statement to a world that rejected it? We had control, we were using it, we were firm about not relinquishing it. (Yes, he was in favor, right after the '67 victory to trade land for peace. But no one on the other side showed up to talk.) Why did we need the formal declaration?
A 2007 film, based on Upton Sinclair's Oil, told of the course of devastation wrought by unvarnished greed and unrestrained capitalism. The title, "There Will Be Blood," ostensibly was taken from Hashem's command to Moshe to bring the plague of blood upon Egypt. That title might very well apply c"v to what will transpire this weekend. Here, it will have nothing to do with greed and capitalism, but a faulty understanding by some Israelis of their sense of independence.
Chazal are critical of Yaakov Avinu for his arranging a confrontation with his brother Esav, who had entertained plans of killing him for decades. They call his action grabbing the ears of an otherwise calm dog. He should have avoided the conflict altogether. Yaakov, of course, is the patriarch associated with galus.
Which may bring us to the explanation of why at least some Israelis are so eager to see the march proceed along the route that it took for many years in the past. Many are genuinely concerned that any amount of giving in to Palestinian demands is a fatal flaw – just as it was so many times in the past. But there are others who champion a different argument. They cannot accept the idea that there is galus in Israel, that there might be limits on what we can do within the borders of the proud, sovereign state of the Jewish people. To them, there is no middle ground between the mah yafis Jew on the one hand (who for centuries tried to curry favor with the local anti-Semites), and in-your-face bravado on the other. Alas, this would seem to be one of the last vestiges of old-school Zionism.
It is disappointing to behold. Many of us constantly try to convince our family, students and neighbors that the old Zionism and its tributaries is dead, and it is time to change our attitudes to the State. As a charedi rosh yeshiva told me decades ago, "Why are we still fighting wars of the past. We should get up, declare victory, and move on." Indeed. But the old school Zionists still exist as grumpy old men who write for Haaretz; in the academy (that academicians dwell in a world apart seems to be true regardless of country of origin. Cf. George Orwell: "Some things are so stupid that only intellectuals can believe them."); and in some senior positions in the IDF. That is not, however, where the "street" is. There you will find millions of citizens committed to the legitimacy, defense, and betterment of the largest Jewish community in the world. That, to them, is what Zionism means today – and it should be acceptable to sizeable parts of the charedi world.
But old mistakes die hard. We have apparently not yet loosened the grip of influence of Israel's founding fathers, many (certainly not all) of them who indeed did want to stamp out traditional Judaism. In their legacy we will still find the kochi v'otzem yadi reservoir full to the brim. Show those accursed Palestinians a thing or two! Wave the flag in their faces! No one is going to tell us what we can do in our country!
So if there will be blood, c"v, we can blame it on the tziyonim ha-arurim, as Nochum Shtisel was wont to say? Maybe. On the other hand, the decision was not a slam-dunk. While Naftali Bennet gave the green light for the routing of the Flag March, others in his coalition – Gantz and Lapid – have reservations, to their credit. Which means that the decision did not come from a cabinet of monochromatic ideology. Which means that there is likely some room for discussion, negotiation, and persuasion. What would the current situation look like if more in the Torah camp they took real positions on matters of national security – and not just the dati l'eumi.What if more in the Torah camp brought moral backbone to all the issues that plague our State? Might they not today be members of a coalition? Or even if not, might they not at least be part of a discussion at the highest levels, at which their moral arguments would be taken seriously by others sitting around the table, or around the 6 PM news? Wasn't it the sterling character of Rav Chaim Ozer that got his religious opponents to nonetheless respect him and his opinions? We should encourage forums that allow charedi bnei Torah, think-tank style, to apply Torah thought to contemporary issues.
May HKBH protect us from ourselves, and provide more clarity to the hundreds of thousands of faithful in His Land. And a miracle on Sunday wouldn't hurt, either.