The RBS Kerfuffle: Tempest in the Wrong Cholent Pot?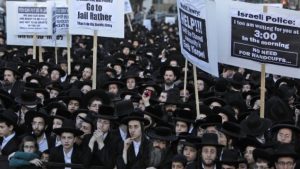 As two sides go at each other about the regularity of attacks on women in Ramat Beit Shemesh, both may be letting another culprits off the hook. No one has invoked Malmo. Or Umea. Or North American college campuses.That is a pity.
And the beat goes on. The sides are firmly entrenched, trading accusations and arguments, more or less genteelly so far. It began with an opinion piece in the Forward, was responded to there, and moved to Facebook. The issues include whether moderate elements in the haredi world are complicit in attacks upon women by extremists in Ramat Beit Shemesh because they have not opposed such violence vocally; whether such violence is a regular occurrence; whether haredi leadership has in fact spoken out; whether unrelated complaints against the haredi community are combined by critics as a mashup of incitement against that community; whether there is a pattern in haredi life of ongoing encroachment on the rights and status of women.
[Sidebar: My own stance on some of these points should not be a distraction to the main issue, so let's get it out of the way. Perhaps then readers can weigh on in the real issues, rather than what I should or should not be saying. 1) I have no idea whether the attacks occur regularly. I have heard from trusted individuals arguing both narratives. I am left thoroughly confused. 2) I cannot accept the position that haredi leaders – local and national – can remain silent. We teach that watching in silence is complicity. However, I do not believe that gedolei Yisrael have to personally react to every upsetting item in the news cycle. It suffices if they weigh in through recognized surrogates. Their clearly enunciated opinions should be conveyed, to both their own followers and to the general Israeli public. Periodically. 3) Local rabbonim who have spoken out forcefully should not be criticized for failing to speak out again and again. Once they have made their views known – their unvarnished contempt for the extremists – they should be appreciated for having done the right thing. They cannot be expected to cure what they cannot cure. 4) It seems inescapable but to note that more extreme views about women have indeed infiltrated the haredi world, where they have become the new norm. It is useless to debate whether or not pictures of women appeared in the old Jewish Observer. Up until a few years ago, no one outside of chassidishe circles would question the publication of the pictures of a married couple as honorees of a yeshiva or shul dinner. No more. That is an escalation – one that brings shame to the image of Torah, decreases opportunities for kiruv, and creates an unusual obstacle for the thousands of Bais Yaakov girls who struggle with the extremes of galloping peritzus on the one hand, and suffocating restriction on the other. (Anyone who cannot see the evidence of that struggle in changes in mode of dress among many Bais Yaakov grads is blind.) OK. I've done it. Now let's move on to the important stuff.]
Back to Malmo, being the city in the south of Sweden that once opened its arms to the Jews spirited out of Denmark during the Holocaust, and gave them new lives. But no longer. Today, Malmo is – rightfully – seen as unsafe for Jewish visitors, and unworthy of any visitors with a conscience. Malmo is the city that, in the face of persistent and recurring attacks on its elderly Jewish population by Muslims, essentially announced that it was unwilling to protect them, and whose previous mayor faulted its Jews for inviting the attacks: "I would wish for the Jewish community to denounce Israeli violations against the civilian population in Gaza."
Umea, also in Sweden, recently saw the close of its Jewish center, when its Jews could no longer bear the threats from neo-Nazis.
These cities share two things. Firstly, they utterly failed in their duty to protect their citizens. Secondly, they were justifiably called out for it by the world Jewish community, as well as many others.
Closer to home, we find ourselves infuriated when campus police back down when Jewish students come under verbal and sometimes physical attack by pro-Palestinian hordes. We write angry letters to protest that students have to cower in a room after a meeting is disrupted by menacing extremists before eventually being led to safety. Why aren't the disruptive students arrested? Aren't the police meant to protect the rights of the lawful students, and create consequences for the unlawful ones? Governments are charged with keeping the peace for all their citizens, and not withdrawing when the going gets rough. We expect those to whom we entrust our security to do what it takes to protect those under attack.
Why, then, do we not demand the same of Israel – its municipalities and national police? If women are menaced in RBS, there should be an immediate show of force by the police, arresting as many violators as is needed. There should be police escorts in place thereafter, until the rule of law is reestablished. The same holds true for the illegal street demonstrations in Yerushalayim of the last weeks that have stopped traffic, tacking on senseless extra hours to the commute of tens of thousands of commuters. There is no sanction halachic sanction for such demonstrations; they amount to theft in the full sense of the word from a large number of Israeli citizens who, inexplicably, have shown more forbearance than the citizens of New Jersey would if their elected officials tried to repeat the George Washington Bridge lane closures. There should be a show of force to prevent illegal gatherings, rather than a handful of token arrests And those who have the temerity to lay a hand on an IDF soldier in uniform should be dealt with far more severely than other demonstrators.
In all these examples, law enforcement is not doing its job, fearing a confrontation with extremists in the haredi community who ought to be jailed. They don't have the manpower, they say. They fear an escalation of the conflict. This is inexcusable, and cannot work. We decry the so-called no-go neighborhoods of Paris; why do we tolerate them in Meah Shearim, and its satellite community in RBS?
As Jews, we should and must weep to see other Jews rounded up for illegal behavior towards other citizens. But weeping is a better way to go than tolerating a lawlessness that will only get worse. We can continue to point fingers of blame at those we think should be censuring the extremists, and speaking out against the atmosphere that tolerates them. But if they spoke out more often, would the problem go away? Has the clear denunciation of Peleg by the majority haredi leadership in Bnei Brak moderated the street demonstrations?
Moderate haredim, from messages I have seen, have clearly called for the arrest of lawbreakers. Shouldn't we be demanding at home exactly what we expect of the Swedes – the protection of law-abiding citizens?