Closing the Abortion Discussion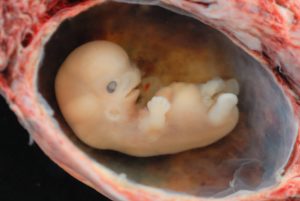 So, now it has become clear: Rabbi Broyde seems to have entirely misconstrued the Agudah's position, and this is why he claimed that the Agudah was somehow at odds with Rabbi Gordimer's correct, factual statement that "Judaism is not pro-abortion."
Neither of us, of course, can speak for Agudath Israel, but it clearly expressed its position: "it can only support such laws [limiting abortions] if they include a religious exemption clause." The necessary basis for such a position, of course, is the belief that a Rav must have full authority to authorize a woman to have a necessary abortion without anyone else signing off, much less second-guessing, on his approval. From a strict religious liberty perspective, when dealing with a serious Moreh Hora'ah B'Yisroel, such a perspective has obvious merit.
Rabbi Broyde's extrapolation from that position to imply something entirely different than what it says, does not. There is no basis for the assumption that requiring a religious exemption is founded upon the belief that "the status of a fetus is in dispute in halacha," or that "American law must determine that that a fetus is not a person."
As I already explained, in this particular case and in the current political environment, granting anyone calling themselves rabbi (and, of course, the United States cannot presume to distinguish between Rabbonim and rabbis) full authority to make this decision is both unnecessary to preserve our religious liberties, and would be misused to nullify the law's limitations upon abortion and render it essentially worthless. And as I wrote previously, a member of the Moetzes agreed with me that a religious exemption would thus only be counterproductive; that is why the Coalition for Jewish Values (which both Rabbi Gordimer and I serve in different capacities) took a different position.
None of us can contradict the posuk which, according to Rebbe Yishmael, states that a fetus is Adam, a person, in Torah, at least as understood by the consensus of poskim. None of us is greater than the Rambam who called "a fetus in the belly of his/her mother" an example of "killing a soul."
Reb Moshe writes as follows (Choshen Mishpat Beis, 73:8): "In the current era, due to our many sins, there are women without merit who wish to abort the fetus within them. Behold, this is forbidden from the prohibition of murder, and it is forbidden to help in this, not only for a Jewish woman but also for a non-Jewish woman, because all Children of Noah are also prohibited in murder, also with a fetus… there is no concern for hostility [from her / the non-Jews] when he says that he does not wish to assist in something which is murder of a soul, for even non-Jewish women know that this is not a proper thing to do… and a G-d-fearing doctor can say that he does not wish to participate in a matter of murder of a fetus when this is not for healing, due to danger to the mother's life."
Rabbi Broyde writes that "Many giants of halacha do not think abortion is murder. Some think it is." I suspect that he should have reversed these, and diminished "some" considerably. It is the permissive view of the Tzitz Eliezer that is seen as an outlier, at least according to the poskim with whom I have consulted. "Rav Moshe said the Tzitz Eliezer made a mistake, and ALL major Poskim agreed with him," in the words of a posek whom I asked while researching this issue.
Indeed, elsewhere the Agudah makes clear that it shares this position, writing that it hopes the Supreme Court will "reconsider" Roe v. Wade, because "the sanctity of human life deserves respect and legal protection at the onset of the life cycle," meaning, as it writes explicitly, before birth. That reference is, again, to human life, which "has status and dignity," not merely something that might become a life later on if nature is permitted to take its course.
No matter how you slice it, there's no way to turn the Agudah's position into "somewhat pro-choice." "Pro-choice" is the belief that a woman should be legally able to have an elective abortion simply because she doesn't want to have a baby—and over 95% of abortions in the U.S. (or at least in Florida, which requires documents the reason behind each) are done for this reason. The Agudah, like anyone Torah-observant, "supports legislation that restricts abortion on demand," because Torah cherishes human life.