Rabbi Moshe Tendler ZT"L – A Personal Appreciation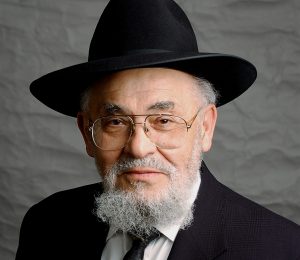 He saved my Yiddishkeit, but I never realized it until he was gone. The gift that he provided to so many of us seemed so natural and obvious, that we failed to recognize its importance.
I was all of fifteen when I first met him, as a participant in a National Science Foundation summer program that he oversaw and did most of the instruction. Entrance to the program was by application, and was very competitive. It was open to all high school students of the upper grades, and I had just finished my junior year. My best shot, thought this somewhat arrogant kid, was to appeal to the "rabbi" part of his Rabbi Dr. title. I spoke of my love for science (true) and being underprivileged because I attended a right-of-religious-center school, which meant an inferior general studies curriculum (also true, although superior to many similar schools today.) He apparently bought it, because I found myself sitting in his classroom in the mornings, and studying the metamorphosis of tadpoles in a lab at Albert Einstein in the afternoons.
At the time, I was struggling already with assumptions and practices in the frum world that completely grated on my leanings towards rationality and my need to understand. One figure was known for his apparent ability to find a way to harmonize Torah and science, and that was Rav Moshe Tendler.
I don't remember much else from those weeks of lectures, other than a recurring theme: There was no conflict between Torah and science, nor could there be. I had heard of such a possibility before, but Rav Tendler embodied it, and was its spokesman to the world. (He drove it home by peppering his lectures to Talmudic references which he saw as ahead of their time scientifically, as well as defusing points of seeming conflict.) Coming from him, the peace that broke out between Torah and science seemed so clear, evident, and beyond cavil. It was just what I needed to hear.
Rav Tendler was certainly not the first to reduce the tension between Torah and science. That goes back to the Gaonim and Rishonim. And, in the years that followed, I met many, many people who vigorously espoused the same position, often in still greater detail. He was the one, however, who was the modern poster boy for the alliance between the two supposed antagonists, and who made that partnership a commonplace. To a large extent, good parts of the Teshuva Movement could not have happened without his publicizing it. It took decades before the truth of that position would be challenged and even scoffed at, so that the large number of bnei Torah who believe it today often have to do so in secrecy.
How was he zocheh to this role? The hespedim offered some insight. The maspidim spoke of his meticulousness in halacha. They also spoke of his spending significant time and developing relationships with people coming from all sorts of backgrounds and beliefs. That, you might think, would produce a more inclusive and "progressive" attitude towards others. Well, yes and no, said the maspidim. He had clear limits as to what he would relate to. Anything that went afoul of the 13 Ikarei Emunah was completely beyond the pale. He had no tolerance or patience for it.
In other words, it was his stature as a talmid chacham that gave him the inner confidence and conviction to make the case successfully for the reasonableness of Torah. A lesser person could not have done it.
In the decades that followed, there were many times that I could not accept his halachic positions. (Despite this, he welcomed me warmly as a scholar-in-residence in his shul.) Nothing, however, could take away from the reality the example he set in my teen years was crucial to my development. Without it, I would likely not have gotten to the point that I could analyze the different positions, or care very much about them. His synthesis remained a working reality for innumerable people.
My personal appreciation turns out, then, not to be so personal. It is really the gratitude of several generations of young adults for whom he lit a torch to be followed, sometimes without them even realizing who bore it.
Yehi zichro Baruch.