When Global Religion Declines, We Celebrate the King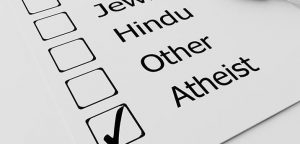 "First, know evil."[1] Rabbenu Bachya argues that good is easily compromised by forces that tarnish and degrade it. Unless a person learns about them, his goodness he develops will be endangered. Better to first learn what the other side has in store for you. Arguably, we can add to the meaning of the author of the eleventh century Chovos Halevavos. Understanding falsity places truth in sharper focus, adding to our motivation to achieve it. We rarely comprehend just why what we call true or good are attractive, unless we stack them up against the competition
It is in that vein that I bring to the attention of our readers an article in the current issue of Foreign Affairs about the world-wide decline of religion. Understanding the inadequacy of its analysis just might provide us with a bit more ability to be mamlich Hashem/to coronate the King properly, the avodah that is upon us in the coming days.
Ronald F. Inglehart's findings in his article, "The Global Decline of Religion," will not surprise many of us. He tells us about his previous research on data available between 1981 to 2007 that showed that "industrialization and the spread of scientific knowledge were not causing religion to disappear, as some scholars had once assumed." In fact, it was growing stronger in many countries.
That, he says, has changed radically and rapidly. Those same countries more recently have shown a drastic decline in religiosity. Significantly, the United States, formerly touted as one of the most religiously committed countries, has led the charge out of G-d's corner. "Near the end of the initial period studied, Americans' mean rating of the importance of God in their lives was 8.2 on a ten-point scale. In the most recent U.S. survey, from 2017, the figure had dropped to 4.6, an astonishingly sharp decline."
Like any academic work, we ought to take a closer look at methodology before shaking our heads in one direction or another. (The article offers no sources; all we can do is ask the questions.) Let us suppose, for argument's sake, that we can accept his conclusion about the shrinkage of the religiously inclined population. We will still have to challenge his analysis. It assumes quite a bit about the nature of religion, its role in the lives of individuals and societies, and why it sometimes thrives, and sometimes doesn't.
The arguments are all from the utilitarian camp. Religion provides X, religions compensates for Y. When X and Y diminish in value, religions ceases to hold on to the masses. Thus, the author tells us that so many religions provided strict gender roles. Those were important when we needed to encourage women to have lot of babies, just to provide intergenerational replacement. Not so much today. Therefore, people are free to discard religion. Given the unpopularity of religious restrictions, and rejection of attitudes towards women and gays, etc, they do.
Or, the claim goes, religion was necessary to uphold public order. In its absence, it was expected that the "retreat from faith will lead to a collapse of social cohesion and public morality, the evidence doesn't support this claim. As unexpected as it may seem, countries that are less religious actually tend to be less corrupt and have lower murder rates than more religious ones." So we have learned, it seems, that we certainly don't need religion to create a more stable society. So we walk out.
We don't need religion to provide meaning and purpose either. "Evidence from the World Values Survey indicates that in highly secure and secular countries, people are giving increasingly high priority to self-expression and free choice, with a growing emphasis on human rights, tolerance of outsiders, environmental protection, gender equality, and freedom of speech." That, implies the author, should provide all the goodness quotient that people need.
More. "In a world where people often lived near starvation, religion helped them cope with severe uncertainty and stress. But as economic and technological development took place, people became increasingly able to escape starvation, cope with disease, and suppress violence. They become less dependent on religion—and less willing to accept its constraints…as existential insecurity diminished and life expectancy rose." Since we perceive ourselves to be more in control (I suspect that the author prepared his paper before Covid), we have less need for religion.[2]
We can – and should – challenge all of these assumptions. Can religion be reduced to a tool for enforcing needed societal norms – as it arguably is sometimes? Does it reflect the needs of the weak, the insecure, the ignorant? (Was the uptick in religion in former Soviet bloc nations the consequence of societal uncertainty after the collapse of the regnant system, as the author contends? Or did it show a deep-seated quest for spiritual connection that 70 years of suppression could not extinguish?[3]) Is it true that a younger generation buying into "ideas, practices, and laws concerning gender equality, divorce, abortion, and homosexuality" unseated religion in the US? Or did the abandonment of belief in a Deity Who legislates and enforces leave people with a supercharged sense of personal freedom to do as they wished? Will the new secular code of "human rights, tolerance of outsiders, environmental protection, gender equality, and freedom of speech" work to make a better society? Or will it produce little besides shibboleths for virtue-signaling, without satisfying the need for real spiritual significance?
"You will be special to Me, because all the earth in mine."[4] Meshech Chochmah offers two takes on this. First, even though all the earth belongs to Hashem, too many simply don't admit to any such Being. We are special, because we recognize Him. Second, even when the world claims to know Him, they really only pay lip service to His reality. Our specialness is in demonstrating what it means in our comportment in our daily lives to take Him seriously.
Forgive me if I have read too much into R. Meir Simcha, but it seemed to me that he favored his second approach. A mere century ago, it did seem that consciousness of G-d was well established in much of the world. We could not longer think of ourselves as special simply for being torch-bearers to monotheism. Recent changes suggest that we may have to give pride of place once more to his first approach.
That means, first and foremost, rejecting as grossly insufficient even the parts of Inglehart's analysis that may be somewhat correct. We believe not because of need and weakness, but because of our inner experience. We shall borrow once again from the famous typology of Rav Yosef Dov Soloveitchik in "The Lonely Man of Faith," based on the different accounts of Adam's creation in the first chapters of Bereishis. Deeply paraphrasing, there are two kinds of people. Some see themselves in Nature, and find a role and happiness within it. There are others, however, who stand confronted by the reality of Hashem that they sense, that allows them no peace and no respite without trying to draw closer to Him, knowing all the while that they can never draw closer than their human limitations allow. Living confronted by His reality is the only way forward. Having faced Him, there can be no greater reality to us than His Being.
We don't serve Hashem because of what He provides for us – whether sustenance, meaning, eternal life, or stability. We serve Him because of what He is, which to us is the ultimate reality. The overwhelming nature of that reality is what we try to focus upon in the Days of Awe. That focus is the essence of coronating Hashem.
William James, the celebrated early scholar of religion, once asked a Cambridge (Mass., not the British university) schoolboy if he knew what religion was. "Sure," responded the child. "It"s believing in something you know isn't true.
For us, standing before Him as we listen to the shofar heralding His presence as he passes judgment upon us, it is believing in something we know is true – a truth stronger than any other we have experienced.