Rabbi Dr. Norman Lamm, z"l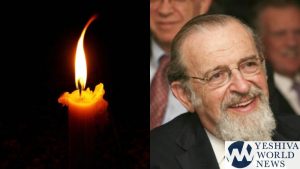 The tributes to Rabbi Lamm are pouring in from the many within his extensive orbit who speak lovingly of how he and his thought touched them. I write from outside that orbit. In fact, my relationship with Rabbi Lamm was created not despite our differences, but entirely because of them.
Even the outsider from a distance had to take note of his nobility. For decades, he had no peer as a speaker who combined content and elegant expression. Coupled with his role at Yeshiva University, he became de facto the most important spokesperson for Modern Orthodoxy for decades.
His role as President of Yeshiva University gave him huge influence in the general Jewish community and beyond, and he used it to promote the common good. But it was inconceivable to him to serve as President without combining it, as did his predecessors, with the role of Rosh Yeshiva. His mind and pen drew him back to the beis medrash; throughout his career, he wrote pieces of classic Torah lishma.
He was a prodigious author. Generations will owe it to him for his contribution to the resurgence of observance of taharas hamishpacha. While others made their equally important contributions by building the mikva'os and articulating halacha in the vernacular, Rabbi Lamm's A Hedge of Roses attempted – and succeeded – at what others believed was impossible. He made a modern, inviting intellectual case for the practice of the laws that govern marital intimacy. Many at the time looked with disdain upon what they thought represented the darkest of Jewish superstitions and ignorance; he made halachic practice appealing.
In 1999, he won the National Jewish Book Award for The Religious Thought of Hasidism: Text and Commentary. Year later, I had enough of a relationship with him to call him and share my thoughts. I loved the book, and still do. He had gathered many important Chassidic texts, and arranged them logically and coherently according to the intellectual issues they addressed. The best was his insightful introductions to those issues, and how the texts addressed them. At the time, a cottage industry thrived, writing nonsense about kabbalah. My long relationship with Rav Aryeh Kaplan zt"l left me particularly sensitive to the bizayon ha-Torah that was going on. I told Rabbi Lamm that a reworking of his book could serve as an excellent primer in the foundations of kabbalah, which served as the underlying system that supported the intellectual streams of Chassidus. He was complimented by my observation, and saw my point. At least I think he did. My suggestion did not fare as well. He said, "Yitzchok – I give you permission to rework my commentary and write the book. I just don't have the time." That project still remains in my to-do list.
Our relationship, however, was not always so cordial. How it evolved will always be the real story for me. For decades, the relationship between YU and the yeshiva world was at many times hostile and adversarial. These were two camps, each vying to win the hearts and minds of the Orthodox community. Each side had its strong points and weaker ones. Each did a far better job exposing the failures of the other than coming to grips with their own shortcomings. (Not too much has changed.)
It was not surprising that when I was offered a position as a rebbi in a new post-high school institution on the West Coast tentatively called Yeshiva University of Los Angeles, Rabbi Lamm objected. He had no idea who I was, but he knew from which of those camps I hailed. Were there not enough YU grads around? Objection overruled. I was hired anyway. I was not particularly enamored of him for his attempt to block my hiring, on top of his image as the chief spokesman for the "other" camp.
But life goes on. And sometimes, a bit of nuance sets in. I developed a relationship with his brother Maurice, z"l, the rav at the time of Beth Jacob Congregation, a large Modern Orthodox shul in Beverly Hills. At some point, my name came up in a conversation he had with his brother, and Rabbi Maurice Lamm convinced him that for someone on the right, I wasn't such a terrible fellow.
We continued to have occasional contact. It was made easier because there were no pretensions. He knew where I disagreed with him, and I was aware of what he rejected in the yeshiva world. We were both comfortable knowing that we didn't have to posture. He even invited me to do a long presentation to the Kollel in YU meant for future stars in the community.
At one point, I received a call from Rabbi Lamm at YU. Would I agree to a confidential conversation? Of course, I agreed. He was contemplating a particular appearance someplace outside of the Orthodox community. He wanted to hear a perspective from outside his group of loyalists in the Modern Orthodox world. How would the more right-wing community view it? Did they have good reason to object?
I was shocked. I was many, many years his junior. He knew many people on the right that he could have asked. I did not have anything near the kind of status that the conversation could have offered him some sort of cover from his critics. Somehow, he trusted me to be fair and rational. And that was all he was looking for. We had the conversation. I did have objections to the plan. He did not take my suggestion. There was no question in my mind, however, that he very much wanted to hear another opinion, listened carefully, and fully digested what I told him.
My respect for him skyrocketed. I had seen so little of that kind of intellectual honesty elsewhere, and even less of the ability to maintain a relationship with people with whom you deeply disagree. I maintained the relationship, minimally calling him every year before Rosh Hashanah (until the Alzheimer's set in) for an extended conversation. Ever the consummate pulpit rabbi, he would ask for my family members by name. (At one point, I tried to mimic his honesty by sending him a trenchant critique of the Open Orthodox attitude to halachic sources. Some months later, I received it back in the mail with the words אמת לאמיתו in the margins.)
I have tried to put that lesson into practice. It has not always been easy. (The problem for me has never been having the personal relationship with those outside of my hashkafic comfort zone, but in ducking the barbs from those in my own camp who objected.)
I will miss the living role model. Yehi zichro baruch.