Airbnb: Why I Disagree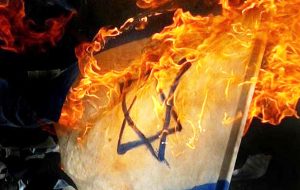 Rabbi Shafran has a good point. The crux of the matter, indeed, is that the two of us, friendship aside, employ very different definitions of anti-Semitism.
Rabbi Shafran prefers his definition, he tells us, because the broader one (and I will remind our readers that it is one that was accepted by many, including the US State Dept. for many years) would put too many people on the same spectrum. He asks whether I am comfortable putting Farrakhan and Airbnb on the same spectrum. Well, yes. I would. They don't occupy the same position on that spectrum, but it is the very same spectrum. It is a spectrum so roomy that no one on it needs to fear getting crowded for space.
Let me explain the reason for my preference. Both Rabbi Shafran and I hold day jobs for organizations that do Jewish advocacy – he for Agudah, myself for the Simon Wiesenthal Center. The two are very different, which means that the two of us get to meet and converse with different people. I have met plenty of philo-Semites, BH. I've encountered as well many anti-Semites. A large number of the latter are people I would call unconscious anti-Semites. I believe that they are the largest sub-group within this population. They usually fail to realize that their positions and arguments are based on animus towards Jews until someone makes them consider the basis of their positions. Why are they employing a double standard? Why are they critical of Jews or of Israel when they are not of comparable faults in others? After some reflection, they realize that they grew up with a low-grade hostility to Jews that was in the family as far back as anyone could tell.
I've met people who were so taken aback by this self-discovery, that they became fierce advocates for Jews and Israel as a way of extirpating the anti-Semitism within them. The vast majority, of course, never encounter the questions, and never come to the realization that they are keeping alive a hostility to Jews that was the rule, rather than the exception, for the last two millennia.
I believe that we have more to fear from the unconscious, low-grade hostility than from the mad-dog extremists. The latter will be few in number, and can (possibly) be contained by countermeasures and increased security. The former will be the reason why Jewish students on campus are seeing their safety and security undermined, with administrations unwilling to do for them what they routinely do for minorities whose causes are more PC. The former will join the boycotts of Israel still to come; they will fail to call out the politicians who cozy up to Farrakhan; they will look the other way as more virulent strains of anti-Semitism percolate around them and fail to stop them before it is too late. The anti-Semites that Rabbi Shafran worries about cannot succeed unless the ones that concern me yield ground to them.
Rabbi Shafran says that he will continue to fight discrimination, even when it is not motivated by anti-Jewish animus. Great. We need that. Meanwhile, I will go on fighting anti-Jewish animus, even when it is not attached to immediate discrimination. There is plenty of work for both of us.
I must add that we seem to disagree about one other idea. Rabbi Shafran works for Agudah, whose careful and considered use of language in its public pronouncement can teach all of us a thing or two. (I write this quite seriously, not facetiously.) Agudah understands the power of words and their consequences. I am therefore disappointed in the Hamodia article, even if I would agree with its premise – which I don't. The argument set forth in that article has the unintended consequence of providing cover for our enemies in the BDS movement. It can be cited by the proponents of the next generation of boycotts to demonstrate that even the Jews admit that one can point to the occupation as the root of all ME evil without any taint of anti-Semitism. We should not be offering succor to our enemies.
Rabbi Shafran is usually far better than me in anticipating the unintended consequences of a statement or action. I am puzzled as to why this did not happen in regard to Airbnb.