Rolling Up Our Sleeves for Passover Preparation – A Response to Rabbi Haim Ovadia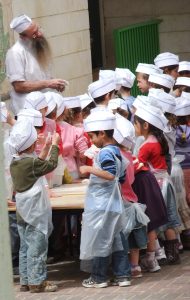 (This article first appeared in the Forward. Readers can view Rabbi Menken's bold and valiant comments in the Forward version of the article.)
Passover preparation has always been a heavy-duty task. For thousands of years, Jews throughout the world, in every Sephardic and Ashkenazic community, invested serious amounts of time and effort cleaning their homes, kashering their kitchens and sealing away utensils used for chametz (leavened grain products). The Shulchan Aruch (Code of Jewish Law) devotes approximately 40 chapters to Passover preparation, reflecting the seriousness and numerous details involved.
I recall my maternal grandmother sharing recollections of her 110 year-old great-grandmother standing atop a ladder before Passover in order to scrub her home in Lvov (now Lviv, Ukraine). Although this is not necessary in contemporary times, I think about my God-fearing forebear's practices every year as we prepare our own home for Passover.
It was thus quite surprising to read Rabbi Haim Ovadia's How to Clean for Passover — Without Losing Your Mind, in which many of the basic Passover laws are relaxed and at times altogether dispensed with. While there are several important differences between Sephardic and Ashkenazic practice, as reflected in the Shulchan Aruch and its commentaries, Rabbi Ovadia's article advises readers to do that which is outside the halachic parameters of any community.
Let's take a look at some of the highlights of Rabbi Ovadia's presentation.
Cleaning the House:
Rabbi Ovadia correctly writes that Passover preparation does not necessitate a full spring cleaning; halacha only requires one to deal with areas of the home where chametz may have been brought. But Rabbi Ovadia then goes further and writes that if the chance of finding edible and usable chametz in a given location is negligible or infinitesimal, there is no need to bother, even though chametz may very well have been brought there.
The reality is that halacha mandates checking all places where chametz may reasonably have been brought, out of concern that edible and usable chametz may unknowingly still be present. While one need not check areas where chametz may not reasonably have been taken, nowhere do the halachic codes go as far as Rabbi Ovadia permits.
When studying the laws of Passover preparation with my children, I often point to various areas in a given room and ask the kids if these areas require cleaning and checking. "Under the dining room table?" — "Yes." "On the windowsill?" — "No."
Cooking Before Passover:
Rabbi Ovadia (shockingly) writes:
If the flavor of chametz was mixed with Passover food before Passover, the flavor is nullified. You can therefore clean your kitchen the way you normally do, and then, before Passover, use your everyday dishes and utensils to make freezable food from kosher for Passover ingredients. Freeze and enjoy on Passover.
Rabbi Joseph Karo, who arranged the Shulchan Aruch, ruled that clean chametz utensils which were not used for 24 hours do not render food prepared subsequently in them as prohibited for Passover. (Ashkenazic practice is stricter, based on the gloss of Rabbi Moses Isserles in the above source.) Nonetheless, Rabbi Karo also maintained (ibid. s.8) that clean chametz utensils which were used within 24 hours do indeed render food prepared in them before Passover as prohibited for Passover use, and Rabbi Isserles likewise wrote (ibid. s.5): "And any food that has been cooked in a chametz utensil, such as wine or a spice compound, is forbidden on Passover." Rabbi Isserles wrote this in the context of foods cooked in clean chametz utensils prior to Passover.
What this all means is that both Sephardic and Ashkenazic Jews may not prepare Passover foods in regular chametz utensils, even prior to Passover. Furthermore, even if such utensils were not used for chametz within 24 hours, nowhere in the Shulchan Aruch or its commentaries do we find that one may use these utensils outright prior to Passover for the preparation of Passover foods. Rabbi Ovadia's permissive advice on this matter is hence contradicted by the Shulchan Aruch and Rabbi Isserles' controlling rulings.
Kashering dishes and utensils:
Rabbi Ovadia permits using chametz utensils during Passover, without any prior kashering. He writes:
The reason for kashering dishes is the concern that flavor absorbed from chametz will be released into the kosher for Passover food. That concern was valid in the past, when dishes were made from porous, low-quality materials. In today's modern kitchen, this is almost non-existent. Therefore, unless you know for sure that even after thoroughly cleaned, a utensil transfers flavors from one dish to another, you can use it for Passover after washing it regularly.
Although the concept that stainless steel may not transfer flavor has been raised by some halachic authorities, no halachic authority outright permits cooking kosher food in non-kosher stainless steel utensils, or cooking Passover food in stainless steel chametz utensils. Rabbi Ovadia's position contravenes that of all halachic authorities.
Storing away chametz utensils:
Rabbi Ovadia writes:
There is no need to seal off cabinets with all-year dishes, even if you are not going to use those dishes on Passover.
Please pardon the bluntness, but this is downright wrong. Contrary to Rabbi Ovadia's assertion, the Shulchan Aruch rules that chametz utensils which will not be kashered for Passover must be "hidden away in an area that one does not normally enter (or open)", and that "it is proper to lock these utensils in a designated room and to hide the key." (Today, good packaging tape or other means do the trick just fine.)
Passover is serious business, and those committed to its halachic observance need accurate guidance. Furthermore, it is not for naught that our ancestors checked for chametz as they did, used special utensils to prepare kosher-for-Passover food, kashered chametz utensils and sealed away non-kashered chametz utensils. These traditions are solidly grounded in halachic texts, and these texts are accessible to all.
Let us look to our forebears and to the halachic sources that they followed and that have been preserved and observed by Jews for millennia, often with incredible sacrifice. Let us invest the effort and perhaps sweat a bit (or more) as we prepare for Passover according to our sacred and precious traditions.
Wishing all a chag kasher v'sameach — Happy Passover!