Rabbi Dr. Abraham Twerski, zt"l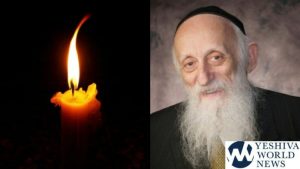 It is with profound sadness that I announce the petirah of one of the gems of our generation, Rabbi Dr. Avraham Yehoshua Heschel Twerski, zt"l.
The shock is too great and too sudden for me to do justice to an appreciation of his life and work. There will not be a shortage of people who will illuminate these; he was so colorful a figure that the illumination will come in brilliant hues and dazzling brightness. I will share only two aspects that just might be overlooked by others.
First – we have been robbed one of the best examples of someone who put it all together – absolute commitment to his chassidishe mesorah, outstanding performance as a clinician, spellbinding ability as a story-teller. Kiddush Hashem engine as a Chief of Psychiatry in a Catholic Hospital. Partner with Charles Schultz (of Peanuts fame) in writing popular psychological self-help books. The one who moved both substance abuse and spousal abuse off the taboo list for discussion within the community. One of America's handful of top experts in addiction, and founder of an institute that deals with it. He was a Renaissance Man in a shtreimel. Prolific author. Speaker at both the conventions of both the OU and Aguda. His ability to do all those things means that the whole was greater than the sum of its parts. At a time that many of us see and feel a tension between different demands upon us in our avodas Hashem, and between competing schools of thought about how to live our Torah lives, Rabbi Twerski showed that there did not have to be an tension at all. That was enormously empowering, even to those who knew him only from a distance.
Second – They say that the Chofetz Chaim was so great a tzadik, that people did not give him enough credit as a lamdan. And that R Chaim Brisker was so great a lamdan, that his tzidkus was underappreciated. With all his other accomplishments, it is important that we not overlook the chessed that he did. Confession: by temperament if not by birth, I'm pretty much of a Litvak. I just don't go to people for brachos before Rosh Hashanah. I made one exception: Rabbi Twerski. That is because I could not think of anyone I knew about who had helped so many people in distress. If chessed is the most sure-fire way of winning favor with the Ribbono shel olam, then he had to be way ahead of the crowd. His bracha I sought.
We were privileged to host him in our home in LA a number of times over the years (including a Shabbos, where I learned that the campaigner against serving alcohol at public events was no manner of teetotaler). When we moved to Israel, I found out that he lived just a few blocks away. His house became a regular stop on the way home from shul leyl Shabbos, where we traded divrei Torah, and gave my guests a glimpse of greatness. When Covid hit, he was isolated from his children and grandchildren, so I arranged to go over once a week to learn Maharal together. (We sat outdoors, and at a distance from each other.) He let me get away with nothing. Halevai most people should be as sharp at 40 as he was at 90.
Someone else will have to provide words of tanchumim. I can't think of any.