Messages From the War – Oct 22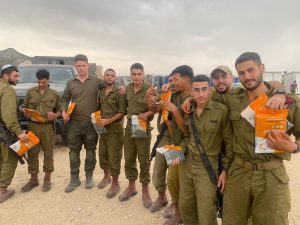 Anyone who is not here is missing out on an experience of Biblical proportions. You keep seeing more evidence of it, and you are all probably contributing towards it as well. This is a nation acting in concert, ignoring its differences, and facing an existential threat to its survival. It translates into the tangible, like the almost innumerable projects of support to the soldiers, to the hundreds of displaced families, and to the households laboring to function while one of its members is on the front.
But it also translates into something that cannot be measured, but only felt. The spirit, the feeling, of purpose and unity. You feel it when any conversation of the most mundane nature still ends, not with a perfunctory goodbye, but with a heartfelt "besorot tovot." (Unless it's with someone from the Edot HaMizrach, in which case it is five times as long, and several decibels louder.) The good tidings they wish are all about the captives and the soldiers. I haven't heard a single one focusing on revenge – although I can't say that we wouldn't cheer it.
You can sense it from a distance, but you have to be here to really experience it. I feel sorry for those who left, all for good reason, I'm sure. But they are missing out on something special.
For the curious, who are living vicariously through us: As the saying goes, "Besides the assassination, Mrs. Lincoln, how did you enjoy the play?" Three thoughts are overwhelming and all-consuming – which means we are all on overload. The first is an unrelenting miasma brought on by the size and cruelty of the Simchas Torah massacre. Second is the constant concern for the captives and the soldiers. The third – and easiest one to deal with – is the realization that some Hezbollah missile might snuff us out in an instant.
As far as the mundane details of daily living – the new normal is livable (at least Yerushalayim, unlike other parts of the country that have to deal with daily rocket attacks), despite silly media descriptions to the contrary. Items missing from the shelves a week ago – eggs, bottled water, bread – have returned. Services are back to near-normal. The streets are not empty at all, but traffic is still very light. You can't take 370000 men out of the workforce and expect the economy to fully function. We don't see the crowds passing time at the cafes and restaurants that are open; people don't seem to have much interest in aspects of life that seem more trivial. It is also difficult to write, since incessant click-bait about the war constantly interrupts focus.
If anything, the ease with which we live (punctuated from time to time to a hurried trip to a shelter) is a problem for some of us in the charedi world. No matter how many projects we involve ourselves in, its just not the same as for the rest of the country, who have far more skin in the game. Outside of the charedi world, it is hard to imagine anyone who does not have a friend or family member among the murdered, the captives, or on the front-lines. This is much less so in charedi communities. One does not have to be a prophet to realize that charedi attitudes are going to shift concerning military (and other) service to the country, beyond the all-important learning of those who really have revved it up to 100% efficiency. The IDF reports that they have already received 2000 charedi requests to enlist, and hope to have an intake process in place by tomorrow.
Returning to the warm embrace of unity. Many centuries ago, Maharal was challenged by a local church figure to explain why Jews treat each other more shabbily than the non-Jews around them. (See Netzach Yisrael, chap. 25 for his amazing answer.) For years, I've had to deal with the same question from friendly Christians. They were too polite to voice it, but the question was there, and it was prudent to deal with it, rather than ignore it. What I told them then was something that I firmly believed – but for which I could offer no evidence. Today, I have the evidence.
This is what I told them. Yirmiyahu 11:17 has Hashem calling Klal Yisrael a "flourishing olive tree." We can think of more attractive comparisons. A fragrant rose wouldn't be so bad. Why an olive tree? The gemara (Menachos 53b) offers two reasons. It can take many years before an olive tree bears its fruit; the olive gives its oil only after it is beaten and crushed. (I added a variation on the first theme. An olive tree can go dormant for many years, and suddenly yield its fruit again. When I spoke about this in shul on Shabbos, one of the attendees said that he had a tree that was several hundred years old, and had never produced olives in the years he lived there – until that day, when it dropped its first fruits!) I told my friends – who often have an inflated, unreasonable view of how righteous Jews are expected to be – that they should not be confused by the disconnect between what they sometimes see and the idealized version they have been taught about. Jews indeed sometimes do not behave the way the Torah expects them to. But, I tell them, don't count them out. G-d Himself calls them olive trees, who will still bear precious fruit.
Today, I see before me the merging of the different explanations in the gemara. Through being beaten and crushed on Simchas Torah, the tree has borne the exquisite fruit of unity, there for all to see. The quality of the Jewish neshama is on display. Some people are bound to get it.