Moving Commentary 2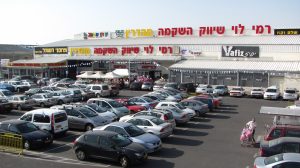 With huge thanks to HKBH, we arrived here two days ago. Lots of things to get done, and I have no intention of boring people. But I will offer it as an excuse for doing things in a strange order. It is my intention, BEH, to write a few pieces on why we decided to make the move. (We have been challenged by a good number of people about this!) Meanwhile, I might throw in some anecdotes and impressions,as they occur.
Like this one, after some preliminary shopping for necessities at Rami Levy this afternoon. I couldn't help but contrast the experience with shopping at my familiar Ralph's market in LA. The most important differences:
1) In Yerushalayim, I was conscious of being surrounded by people speaking a language that was not my most facile. In Los Angeles, I was more and more frequently surrounded by people whose language I did not understand at all.
2) The aisles at Rami Levy are actually wider than at Ralph's. (OK, the lines were twice as long as well. But the new plastic bag law, copied from the one we had in California, I suppose, is a better deal than in the States. Ten bags for a single shekel!)
3) The PA announcements are different. Waiting on line, someone came on and announced that because of the proximity to shekiah, there would soon be a minyan for mincha (afternoon pra. People interested should go immediately to the shul – in a side room of the store!