Beyond Faded Eyeliner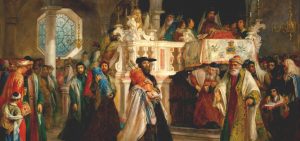 By Alexandra Fleksher
The latest flurry of articles and social media discussions about how women celebrate Simchas Torah made me think about my own relationship to the holiday.
Simchas Torah was the most meaningful to me when my husband was learning in the kollel at Yeshivas Ner Yisroel in Baltimore during the early years of our marriage. I had never a question in my mind why I wasn't dancing, why I wasn't celebrating my connection to Torah in the same way the men did. Simchas Torah was about him, a literal celebration of the toiling in Torah he did day and in and day out. Truth be told, Simchas Torah was my celebration and the celebration of all the young kollel wives watching their husbands' faces light up with true joy while clutching sifrei Torah. We were the ones who made this all happen.
There's something beautiful about giving wholeheartedly and gaining in return, without expectation. That is what those years were about. His celebration was my celebration. I never asked what was in it for me. Watching my husband celebrate across the mechitzah was gratifying and joyous, in a sense confirming my commitment to our joint goal of enabling him to learn in kollel. He was rejoicing in something he – and we — had worked so hard to earn. 'What's mine is yours and what's yours is mine' was most certainly our mantra.
Fast forward through four years of medical school and three years of residency (all facilitated by yours truly and a bunch of loans) followed by a few years now of gainful employment, and my husband is a baal habayis in the circle. These days, he isn't celebrating the daily toil of learning ten hours a day. He celebrates the minutes, the hour he can get in the evenings as long as he and his fellow doctor chavrusa don't have night shift. He is celebrating that Torah living and adherence to mitzvos is still at the core of his being. He is celebrating the meaning that Torah brings to his life, which at times seems like jam-packed days strung together without respite until Shabbos comes. He is celebrating the accomplishments of keeping his outlook straight and his beliefs in line with the Torah, despite the challenges posed by his entrenchment in the secular world.
I see Simchas Torah as a mirror to each of one of us, reflecting back our relationship with the Torah and with Hashem. In the circle that spins around the Torah every year, there may be person who is celebrating his returning to Torah. Another who invested countless hours of Torah study in himself and in his students. Another who has doubts but at this moment is reveling in the joyous pulse of the moment. Another who has worked so hard to set time for Torah study each day despite the demands of his professional life. And yet another who is celebrating his commitment to keeping and living the Torah in today's modern world.
Each woman on the other side of the mechtiza has her own relationship with Torah which comes to the forefront on this holiday. Often for women, by taking on the role of observer which is the case in most Orthodox shuls, Simchas Torah can shed light on her relationships – or lack of – in her life. A woman may be longing for a husband or children and another may be comparing her husband and children to others. One woman may be celebrating Torah vicariously through her husband's public celebration, another may be evaluating where she stands in her own connection to Torah. Whether a woman is dancing on her side, attending a Torah class during hakafos, discussing (and most likely moaning about) yom tov menus, or sharing some bonding time with friends, Simchas Torah is most certainly a yom tov that reflects something different to each person.
This year, ten years out of kollel, I continued to gain tremendous nachas seeing my husband and two sons dancing on the other side of the mechitza. The experience shed light on my feelings towards them and the pride I take in each of them. My youngest daughter enjoyed holding Abba's hand and seeing the sefer Torah up close, proudly standing right next to it as her Abba held it tight. Accompanied by her friends, my older daughter went back and forth between the shuls for the experience, and it reminded me of what I used to do as a teen.
As I looked at the woman around me in shul, some more engaged in the experience of observing than others, I do wonder about how we're all doing, where we're holding, how we're connecting. In our shul, dancing on the woman's side is not done, so that isn't even on the radar. But I wonder: we are not celebrating the connection to Torah in the same way as the men, but do we have a connection to it beyond being enablers and providers? Do we make sure to feed ourselves while we are so busy feeding others? By enabling others around us to connect to Torah, do we also find ways to actively connect to it ourselves? Do we have our way, whatever our way may be?
Do we as frum women consciously strengthen ourselves enough in our Torah and our commitment to its practice and values? Or does the experience of staring into the men's side with only thoughts of our faded eyeliner and how we're going to warm up the potato kugel in time permeate our mind and soul?
To me, the question of the hour isn't as much how we're celebrating, but what we're celebrating. And every Jewish woman and man needs to have an answer.
[Reprinted from The Chicago Jewish Home, Volume 1, Issue 6.]
Alexandra Fleksher holds a M.S. in Jewish Education from Azrieli Graduate School of Jewish Education and a B.A. in English Communications from Stern College for Women. Her essays on contemporary Jewish issues have been published in various blogs and publications including Cross-Currents, Hevria, Klal Perspectives, Torah Musings, The Jewish Press and The Five Towns Jewish Times.