The Paris Statement and the Judeo-Christian Legacy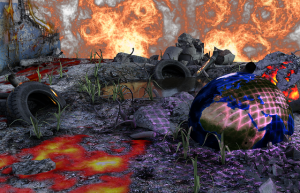 On October 7th, a group of European philosophers issued the Paris Statement, decrying the quasi-religious liberalism that they believe is destroying Europe and robbing hundreds of millions of people of their patrimony. While the mood of the document is dark and foreboding, it is anything but hysterical. The arguments are presented calmly, reasonably, and analytically.
The Statement is long, and critical of many things: open borders, the threat to the family, the disappearance of both individual responsibility and decency, the ignoring of any debt to the past. If you like sharp-tongued radio hosts, you will not like this Statement. If your preference is for arguments intended to convince rather than overwhelm, it is worth the effort.
Establishment Europeans suffer from a form of mass delusion, the authors believe. Millions of immigrants flooding Europe with radically different cultural, moral and religious norms, will quickly turn into good, evolved Europeans, according to the purveyors of European PC.
The authors see European civilization as integrally connected to Christianity, which they see as crucially responsible for many of its triumphs and accomplishments. They decry a "faux-Christianity" which ignores most of its tradition, and turns one or two Christian values into its new, perfected form.
I know one of the authors. Dr Roger Scruton is hailed by many as the most significant conservative philosopher in Europe today. In the summer of 2015, he flew from London to lecture for a day and a half to the participants of the Tikvah Program for Yeshiva Men. I knew that I had to respond to some of the assertions in the Statement. What follows is the message I emailed to him earlier in the day:
Dear Dr Scruton,

We shared some time together at the Tikvah Fund program for Orthodox Jewish men in August 2015. I believe that I can lay claim to having instructed you in the art of eating cholent. I think we both understood that this was unrelated to regnant notions of multiculturalism. Rather, it was an exercise in cultural sharing, while being mindful of the unique and separate contributions of different societies without erasing their borders.

Which brings me to my wish for change, should there be any, in revisions to the Statement. There is no gainsaying that it was Christian civilization that shaped Europe – indeed all of the West. But there is also no gainsaying that the virtues to which you draw attention have roots older and deeper than Constantine. Those roots are in Judaism. "Fairness, compassion, mercy, forgiveness, peace-making, charity" entered Christianity through its roots in Hebrew Scripture and Jewish life.

The Statement nods appropriately enough to the influence of Classic traditions.  A reminder of the importance of what is in fact a very real joint Judeo-Christian legacy would be in order. If the only reason to make mention of it were that it happens to be true, I would not bother with what might seem to be a quibble. But there is yet another reason. The forces and mindsets that are threatening to destroy European culture are also poised to make another attempt to make the Continent Judenrein. It likely won't be extermination camps this time. But both Judaism and Jewish lives are being marginalized throughout Europe. Asserting the importance of them in any future  talks and papers on the Paris Statement might actually make a difference in the lives of a threatened people – as well as trying to take back the promise and virtues of Western civilization.

The Statement was aimed at those who are not embarrassed to speak about healthy forms of particularism, but may be weakening. The ship has capsized, but it has not yet sunk. In attempting to right it, people are going to need reminders of the timelessness of what their threatened civilization got right. The Jews, and Jewish survival, remain key exhibits.

Respectfully,

Yitzchok

Rabbi Yitzchok Adlerstein

Director, Interfaith Affairs

The Simon Wiesenthal Center

Los Angeles
It did not take long for Professor Scruton to respond. Because it was a private message, I cannot reproduce it. Suffice it to say that he accepted the points, especially about the need to counter the wave of anti-Semitism engulfing the world.
Growing up, I used to mock the idea of a "Judeo-Christian" legacy. The Irish Catholics in my neighborhood who taunted the Jews wanted no part of Jews or Judaism; for my part, Christianity is what our ancestors gave up their lives rather than embrace. Attempts to find their commonality could only be made by wearing lenses made to eliminate the vast majority of the spectrum.
My thinking has changed. Some of it because I know that millions of Christians have changed, at least for the moment, their attitudes towards Jews, Judaism, and Israel. I don't think that Jews, on the other hand, have changed their doctrinal objections to key differences with Christianity. Nor should they.
Something else has changed. A growing, powerful, toxic antipathy to absolutes, to authority, and even to truth itself (post-modernism finds the notion of "truth" stultifying and irrelevant) has drawn conservative Christians and traditional Jews closer. Some of this owes to practical considerations. We find ourselves on the same side on important legislative issues, so we form alliances of convenience.
But there is more to it. What the dominant culture hates about us has put into sharp relief what we have in common, despite irreconcilable theological differences. Not platitudes about mutual respect, love, and tolerance, but key assumptions about the nature of Man, his relationship with G-d, and the existence of both a macrocosm and microcosm designed by a benevolent Creator rather than by randomness. These are no small items. Whether the world will continue to move further away from them, or begin to return to them, will determine the survival of civilization as we have known it.
There is, indeed, a Judeo-Christian legacy. The Torah contributed it to Mankind, and – as the Rambam writes at the end of Hilchos Melachim – Christianity was one of the vehicles for spreading some of its content to the rest of humanity.
How well Torah Jews model the core values of that legacy to our fellow citizens is no longer "just" a matter of kiddush Hashem or its opposite, but a front-line tactical weapon against moral anarchy.