What Netanyahu Should Have Learned From Trump According To Mishpacha's Moshe Grylak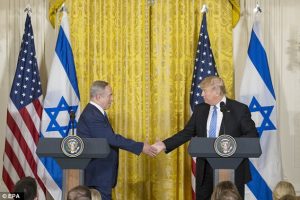 "I rubbed my eyes; perhaps I was dozing." Thus begins one of the first paragraphs in a very strange op-ed (February 15) by Mishpacha's editor-in-chief Rabbi Moshe Grylak. With those words, the author expresses his surprise that Donald Trump, speaking at the National Prayer Breakfast in DC a few weeks ago, was "talking like a mashgiach ruchani…teaching us about emunah." He contrasts the President's credo with what Bibi Netanyahu's reaction would be in his then meeting-to-be at the White House. The President declared his preference for spiritual success over material success, declared that "we are all united by our faith in our Creator," and predicted that "America will thrive as long as we have faith in each other and faith in G-d." Bibi, on the other hand, "won't have the slightest idea what the President was talking about when he said all those eloquent words about faith…The two will be on completely different wavelengths."
At this point it is my turn to rub my eyes, and wonder whether California's legalization of marijuana has somehow gotten some of the product to seep into my water supply. Let me confess to being a great fan not only of Mishpacha, but of Rabbi Grylak in particular. We have publicly differed before, but I know him to be a talmid chacham, a person of immense integrity, and a darn good journalist, capable of responding to the needs of the day with eloquent jeremiads or soothing solicitudes. Everyone has a bad day, but this was a train wreck! Could he really have written the words I saw in front of me?
Unlike Rabbi Grylak, I was actually sitting in the audience when the President spoke of faith. No one in my field of vision rubbed their eyes. They understood that the President (or his speech writer) had accurately gauged his crowd, and delivered what they wanted to hear. Everyone knew that he had never represented himself during the campaign as particularly religious. He could not name his favorite verse in the Bible. He did not really have a denomination to call his own. This did not mean that he was disingenuous, however. He would not have been the first person to own up to a belief in G-d, but still choose to call his own shots in making life's decisions. Belief and independence in behavior are unfortunately not mutually exclusive.
Rabbi Grylak's incredulity was misplaced. And his put-down of Bibi is much worse. It is simply incomprehensible. How does one attempt to belittle the Prime Minister on the basis of prediction about what Bibi would or would not understand at a meeting that had not taken place?
The prediction, in fact, was baseless. The Prime Minister has spoken of G-d, of His promise to His people, of emunah. I have heard him myself. He, too, does not represent himself to be religiously observant – which does not preclude him from saying/feeling/believing all those things. Like the President, he has at least one child who is fully observant (charedi, in Bibi's case), and more with leanings in that direction. Just where do they differ?
The notion that the President might have some spiritual message that Bibi has not heard is ludicrous. Rabbi Grylak attributes the President's spirituality to his good fortune in having a mother who used to read the Bible to him in his childhood, while Mr. Netanyahu did not have "a mother who taught him Tanach. Passages of Tanach interwoven with messages of belief in the Creator, the G-d of Israel, don't have much of a part in his childhood memories." I am in the dark as to how Rabbi Grylak knows what Bibi's mother taught him, although I cannot preclude his having special information. I do know that Bibi's father Benzion was a preeminent Jewish historian in his day, and certainly knew about these concepts – although avowedly secular. Bibi's mother was both a devoted wife who laboriously prepared her husband's manuscripts on a typewriter (and knew the content of his works) and a mother who paid the ultimate sacrifice for her people when Yoni died at Entebbe. I suspect that Bibi did hear quite a bit about Jewish beliefs growing up, both from the ubiquitous frum neighbors, and from his mother. He also knew, of course, that he was descended from a line of Milikovsky rabbonim.
What Rabbi Grylak really means, of course, is that whatever was conveyed to young Binyamin Netanyahu was insufficient to guarantee that he live the life of a charedi Jew. Poor Bibi never had a chance, having been raised by secular Zionists. This was really just another hit piece, firming up the rejection we should all be feeling for the accursed State of the enemies of Torah.
I'm still rubbing my eyes, however. If Bibi is just another victim of the diabolical designs of the evil Zionists, then why the animus directed towards him? Nebach…he's just another nebach! Might this hatchet-job on the Prime Minister be a diversion from the sad truth – that there is no formula of chinuch that guarantees that a child will be observant? There are, however, factors that make it more likely that children from frum homes will not stay frum. Legions of dropouts from observance should be making it clear to us that many young people see the flaws in the system, and not only the many admirable qualities of our lifestyle. They see the forced poverty, the fights among leaders, the cover-ups of abuse, the suppression of individuality, the ugly protests that halt traffic in cities, the beating of charedi soldiers rather than showering them with hakoras hatov.
Indeed, even had Bibi been blessed with Donald Trump's mother, there could have been many exit ramps on the way to observance, many of them manufactured by ourselves in the frum community. But it is easier and more self-satisfying to point a finger at the other.
Rabbi Grylak is one of the people best suited to creating the consciousness in our community to remedy our problems, and allow the natural luster of Torah to shine through. Perhaps he really was dozing, and produced a nightmare. When he wakes up, he will find his stride again, and get back to his usually fine work of representing the beauty of Torah.