Ba'alos Mesorah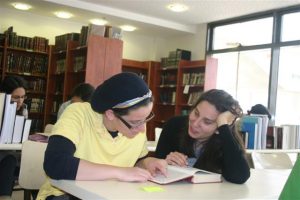 In Putting Our Money Where Our Mouths Are, Dr. Rivka Press Schwartz poses an acute challenge to Orthodox communities. The discussion below is not intended to refute Dr. Schwartz, but rather to respond to her challenge and hopefully provide clarity and insight into what has unnecessarily and unfortunately become a quite confusing and sticky issue. In fact, even absent Dr. Schwartz' article, the issue has reached a critical point and necessitates long overdue public discussion.
To cut to the chase, Dr. Schwartz presents the issue from her perspective:
…I saw young rabbis talking about what their connection with Rav Aharon had meant to them personally—that they saw this Torah giant on a daily basis for a year or three, that he came to their weddings, answered their phone calls, and generally made himself available to them in an ongoing way as a religious mentor and guide.

And I was struck, profoundly, by the fact that no woman outside of his family recounted the same experience. Rav Aharon delivered a weekly shi'ur to the women who were students at Migdal Oz, and there were women who described his availability to speak with them and answer their questions if they approached him with a particular need. (One such story was deposited in my box at Frisch by someone who clearly had heard me discussing these ideas. I never was able to ascertain who shared it with me, but I am grateful all the same.)

But the connection, the sense of rebbe-ness, the lived experience of being mit'abek in the afar of someone's raglayim—that was not an experience that any woman outside his family described, because it does not seem that was an experience that any woman had.

I should be explicit that no criticism of Rabbi Aharon Lichtenstein is intended here. But the facts under discussion are not in dispute: a great many young men, of varying levels of scholarship and worthiness, saw him as their Rebbe. They were shaped not only by the Torah they learned from him, but by the Torah they saw him live, by their close proximity to his personal example. But few, if any, women, however learned or sincere, had the same access, depriving them of the experience of having their religious personalities, or their understanding of and relationship to Torah leadership, shaped in the same way.

In a recent conversation with a senior Torah figure in our community I raised the problem of the profound disconnect that exists—even on a human level—between the religious leadership of the community and the Modern Orthodox laity it is putatively leading. This Rosh Yeshiva responded that that lack of familiarity and empathy goes both ways—that the laity accept seeing the Torah leadership caricatured in certain ways because they do not know them, and don't realize how little those caricatures capture the actual character of the men in question. I readily acknowledge the point. The same solution would serve to address both. If we want women to fully appreciate the status of the hakhmei ha-mesorah, to see themselves as subordinated to those hakhamim's words not only when they pasken halakhah but also when they issue rulings based on meta-halakhic considerations, halakhic values, or halakhic ethos, one way to help that happen is to create opportunities for women to have the kind of exposure to and relationships with those figures that men have taken for granted.

Some of the responses to this suggestion offered by my interlocutors within the Centrist or Modern Orthodox community are deeply revealing. One is the claim that prominent Torah figures have limited resources of time, and have to spend it where it would do the most good: training the Torah leaders of the next generation. Let us, in the Simpsons' deathless phrase, make the quiet part of that argument loud: women (who, it has been established and reestablished, cannot be rabbinic figures) are not worth Torah leaders spending their time on…

…I spoke at an RCA convention in the summer of 2015 about the future of leadership roles for women in Orthodoxy. An RCA member, in talking about what leadership roles would or would not be appropriate for women, made functionally the same argument: women are not entrusted, he said, with being custodians of the mesorah. Only men are. As such, it would not be appropriate to put women into any roles in which they were assuming responsibility for safeguarding and passing on the mesorah.

I do not claim to have the Torah knowledge or authority to argue these from a text standpoint. I will argue them from a life-on-planet-Earth standpoint. If you are seriously arguing that women aren't worth the community's Torah leadership investing its time in, or that women are not entrusted with the transmission of the mesorah, then you will get exactly what you are paying for. Women educators and educators of women in our community, some of whom offered their thoughts, orally and in writing, to the poskim panel convened by the OU, say the same thing, over and over again: our daughters are checking out. Somewhere between the ages of 12 and 18, we lose a lot of them, if not physically then in the fullness of the engagement of their hearts and minds. Telling them that specific halakhic or meta-halakhic considerations preclude their serving as clergy is one thing. Telling them that they are outsiders to the core mission of our community is another thing entirely, one that will accelerate, rather than reverse, their disengagement.

What would it look like to have a community that understands that if it wants its women to act as insiders, it must treat them as insiders? What would it look like for the Centrist Orthodox world to try to ensure that its most capable young women are acculturated to see themselves as talmidot, subordinate to the authority of the Torah leaders, as its most capable young men are? My friend Avi Helfand has suggested that I end my essays with practical suggestions, and so I will be as practical as I can: the YU Roshei Yeshiva, from whose ranks most of the signatories of the OU statement were drawn and who stand as the preeminent Torah leadership of the American Centrist/Modern Orthodox community, must have relationships with the young (and not-so-young) learned and learning and teaching women of our community.

This cannot be accomplished by a freestanding shiur at Stern College about "X and shidduchim" or one-off meetings and conversations. Relationships are built with time. LetRoshei Yeshiva commit to cycling through teaching one semester at Stern, with the opportunities for connection- and relationship-building that would afford. Let Roshei Yeshiva commit to spending time on the Stern campus—over Shabbatot, in office hours—meeting and connecting with the students there. Let Roshei Yeshiva commit to forging far closer connections to the students in GPATS. The relationship between the Roshei Yeshiva and GPATS has been famously fraught. Closer Rebbe-talmidah relationships could go a long way towards changing that, in fostering understanding by the Roshei Yeshiva of the young women and their world, and in fostering in the young women greater connection to, appreciation of, and humility towards these communal leaders. In the absence of these changes, what messages are being sent, still, about whom the Roshei Yeshiva are Torah leaders for? Who will be able to say, one day, that having had a relationship with this Torah figure shaped her life?

But the need here goes beyond the YU Beit Midrash, and its Roshei Yeshiva. In every OU community in which we are asking women to follow the guidance of the rabbinic leadership in matters beyond "which-spoon-in-which-pot," we have to examine whether the conditions that make that followership more likely are being met. Does the shul rabbi meet with every bar mitzvah boy before his bar mitzvah? Does he meet with every bat mitzvah girl, as well? If we want a young woman to have a relationship with a rabbi, to see herself as part of his flock, he will have to find a way, within the boundaries of tzniut and contemporary sensibilities, to sit and speak with her.

Does the shul have teen programming with a rabbi? Is that programming, explicitly or implicitly, geared towards teenage boys? Is there any opportunity for the teenage girls to meet, talk, learn with the rabbi? (Not seudah shlishit or challah-baking with the Rebbetzin. Those are wonderful opportunities for connection, and I write this as a proud Rebbetzin, but they are something else entirely.) What opportunities are we providing for women and girls, who are, after all, fifty percent of Orthodoxy, to forge meaningful, personal, and lifelong connections with their rabbinic leaders?

Underlying the OU poskim's statement is the assumption that the rabbinic leadership of our shul communities and our larger Centrist/Modern Orthodox community speaks not only to narrow halakhic matters, but to the broader halakhically-inflected policy questions that shape our communal life. The OU statement encountered opposition precisely in part because so many in our community have not been invited into the sort of relationship with its Torah leadership that naturally inclines them to follow its dictates. What are we doing to change that?
The answer to Dr. Schwartz' challenge is that women are part of a Mesorah (Torah Tradition) in Judaism that is starkly distinguished from Judaism's Mesorah for males. Rav Soloveitchik zt"l laid this out quite clearly:
We have two massoros, two traditions, two communities, two shalshalos ha-kabbalah – the massorah community of the fathers and that of the mothers. "Thus shalt thou say to the house of Jacob (= the women) and tell the children of Israel (= the men). "Hear my son the instruction of thy father (mussar avicho) and forsake not the teaching of thy mother (toras emecho)… One learns much from father: how to read a text – the Bible or the Talmud – how to comprehend, how to analyze, how to conceptualize, how to classify, how to infer, how to apply, etc. One also learns from father what to do and what not to do, what is morally right and what is morally wrong. Father teaches the son the discipline of thought as well as the discipline of action. Father's tradition is an intellectual-moral one. That is why it is identified with mussar, which is the Biblical term for discipline.

What is toras emecho? What kind of a Torah does the mother pass on?… Permit me to draw upon my own experiences. I used to have long conversations with my mother. In fact, it was a monologue rather than a dialogue. She talked and I "happened" to overhear… She talked me-inyana de-yoma. I used to watch her arranging the house in honor of a holiday. I used to see her recite prayers; I used to watch her recite the sidra every Friday night and I still remember the nostalgic tune. I learned from her very much.

Most of all I learned that Judaism expresses itself not only in formal compliance with the law but also in a living experience. She taught me that there is a flavor, a scent and warmth to mitzvos. I learned from her the most important thing in life – to feel the presence of the Almighty and the gentle pressure of His hand resting upon my frail shoulders…

The laws of Shabbas, for instance, were passed on to me by my father; they are a part of mussar avicho. The Shabbas as a living entity, as a queen, was revealed to me by my mother; it is a part of toras emecho. The fathers knew much about the Shabbas; the mothers lived the Shabbas, experienced her presence, and perceived her beauty and splendor.

The fathers taught generations how to observe the Shabbas; mothers taught generations how to greet the Shabbas and how to enjoy her twenty-four hour presence.
And:
There is a distinction between mother's and father's mission within the covenantal community, since they represent two different personalistic approaches. Father's teaching is basically of an intellectual nature. Judaism is to a great extent an intellectual discipline, a method, a system of thought, a hierarchy of values… However, Judaism is not only an intellectual tradition but an experiential one as well. The Jew not only observed but experienced the Shabbas, the Jew experienced Rosh Hashana and Yom Kippur. He did not only recite prayers on those days. The seder was… a great experiential event. There is beauty, grandeur, warmth, and tenderness to Judaism. All these qualities cannot be described in cognitive terms. One may behold them, feel them, sense them. It is impossible to provide one with a formal training in the experiential realm. Experiences are communicated not through the word but through steady contact, through association, through osmosis, through a tear or a smile, through dreamy eyes and soft melody, through the silence at twilight and the recital of Shema. All this is to be found in the maternal domain. The mother creates the mood; she is the artist who is responsible for the magnificence, solemnity and beauty. She somehow communicates to him the heartbeat of Judaism, while playing, singing, laughing and crying.
(Please very carefully read the entirety of Rav Mayer Twersky's shiur, Masorah and the Role of the Jewish Woman, in which most of the above quotes from the Rav appear. This shiur comprehensively addresses the unique role of women in Judaism, including the notions of women as rabbis and female leadership positions, with great erudition and articulation, based thoroughly on the Rav's explication of the matter.)  
The Mesorah of women is not imparted by women becoming links in the chain of legalities of Torah She-b'al Peh (the Oral Law). The Mesorah of women is a more sublime, less mechanical one. It is the Mesorah of the heart of Torah and the spirit of our nation. Men cannot properly transmit this Mesorah; it was entrusted exclusively to women, and they are charged and expected to carry it forth.
Rav Soloveitchik's concept of young women studying Torah She-b'al Peh was a practical one: to impress upon young women, who were typically on track to pursue advanced secular degrees, that Halacha is a highly sophisticated and intricate system – thereby dispelling any illusion that Torah is less complex or rigorous than worldly academic endeavors. Rav Soloveitchik sought not to create legions of female ba'alos Mesorah of Torah She-B'al Peh, and to wit, never did he suggest that Stern College have a mandatory Talmud program, much less roshei yeshiva and multiple levels of Gemara shiurim. If I may quote from a previous article of mine on the subject:
"…If ever circumstances dictate that study of Torah Sheba'al Peh (the Oral Law—Talmud) is necessary to provide a firm foundation for faith, such study becomes obligatory and obviously lies beyond the pale of any prohibition. Undoubtedly, the Rav's prescription was more far-reaching than that of the Chafetz Chayim and others. But the difference in magnitude should not obscure their fundamental agreement…" (R. Mayer Twersky, "A Glimpse of the Rav" in R. Menachem Genack ed., Rabbi Joseph B. Soloveitchik: Man of Halacha, Man of Faith, p. 113—quoted in Torah Musings, August 2, 2005, http://hirhurim.blogspot.com/2005/08/women-learning-gemara.html).

The Rav's agenda of Talmud study for women was in essence one of pragmatics, for there are Talmudic adages that discourage Torah/Talmud study for women, and furthermore, women are exempt from the mitzvah of Torah study. Thus, women would not study Talmud "for its own sake," but rather to achieve certain practical religious objectives. This notion is also evidenced by various anecdotal narratives, in which it was clear that the Rav approached Talmud study for women from a utilitarian perspective, as holy, lofty and noble as the Torah learning experience is.

Rabbi Aharon Lichtenstein, a son-in-law of the Rav, noted in a monograph that he did not have a detailed sense of the Rav's motivation for supporting women's Talmud study, and that the Rav did not make it a centerpiece of discussion or campaign comprehensively for it, beyond introducing it at Maimonides School and Stern College. Although the Rav endorsed Talmud study for women when asked by Rabbi Leonard Rosenfeld about it in 1953, the Rav's advice needed to be solicited and was not proactive or forthcoming. (See Ilan Fuchs, Jewish Women's Torah Study, p. 198.)

This information is essential and critical, as it dispels the perception that Talmud study for women, in the eyes of Rav Soloveitchik, was a hands-down requirement or an inherent and mandatory religious duty, as important a function as he may have believed it served. Furthermore, it is obvious that Talmud study for women differs greatly from Talmud study for men; Stern College, under the guidance of the Rav, did not make Talmud study part of its compulsory Jewish Studies curriculum, nor did it hire dozens of roshei yeshiva and rebbeim to teach Talmud at countless strata, as is the case at Yeshiva College and RIETS. To equate the nature and expected scope of Talmud study for men and women is to deny the facts on the ground.
But let's sharpen Dr. Schwartz' question and be very frontal: In some sectors of the Modern/Centrist Orthodox educational system, young women are trained to aspire to greatness in Talmud and intricate halachic analysis; these young women attend advanced Gemara shiurim and sharpen their skills in the context of chavrusa sessions, and they are placed on a course to naturally become the basic equivalent of rebbeim, rabbis, and whatever else. Then, a roadblock comes thundering down and impedes their path, bawling forth: "WOMEN CANNOT BE RABBIS!" – to which some instinctively respond, "Ouch!! What an unfair system!"
The above scenario reflects a system that failed to heed and distill the nuanced approach of the Rav and to consider in advance the general, two-pronged and differentiated Mesorah. When the Rav opined favorably regarding young women studying Torah She-B'al Peh, the above trajectory was not at all the vision he had or the path he advised. The contours and objectives of Gemara study programs for young women which were introduced during the last decade or so were frequently not well thought out in the broader sense, which demands that the precise and applicable Mesorah of Torah define the curriculum and intended destination. Running with a generalized catchphrase that "Rav Soloveitchik endorses girls' learning of Torah She-B'al Peh" and using it to create programs of study that disregard the Rav's own precedent and presentation of the very different roles of men and women as ba'alei and ba'alos Mesorah is a recipe for disaster.
Dr. Schwartz notes that:
(O)ur daughters are checking out. Somewhere between the ages of 12 and 18, we lose a lot of them, if not physically then in the fullness of the engagement of their hearts and minds. Telling them that specific halakhic or meta-halakhic considerations preclude their serving as clergy is one thing. Telling them that they are outsiders to the core mission of our community is another thing entirely, one that will accelerate, rather than reverse, their disengagement.
It may very well be that it is the placement of young women on an errant trajectory, which is not consistent with Mesorah and is hence bound for mass frustration and mortal collision, that is the real cause for the disengagement as depicted by Dr. Schwartz. We often hear gross generalizations about the OTD ("off the derech") phenomenon taking tragic tolls in the various Orthodox communities: "OTD former chassidim said they could not live with the extreme restrictions, OTD former yeshivish (now called "Charedi") people resented the kollel-only/cookie cutter mold, and OTD former Modern Orthodox Jews said that exposure to secular campus life and an often less than serious commitment to Halacha from the start led them to drop Orthodoxy…" But perhaps we can now add one more generalization: "OTD former (and/or not fully engaged, current) Modern Orthodox young women said that they were placed in a dead-end system that denied their expected development into ba'alos Mesorah of Torah She-b'al Peh, alienated them from their assumed rightful place in the chain of transmission of Torah She-b'al Peh that is achieved through prolonged shimush with roshei yeshiva, and deprived them of legitimate career use of their Talmudic studies, resulting in untold frustration and mass disaffection." These young women were boarded into an unstable seacraft that had not been tested by the waters of Mesorah and would thus inevitably capsize.
Women are encouraged to know Torah and, more importantly, to enrich Jewish life by teaching, living and passing on the life-Mesorah that is unique to them and that men are unable to properly safeguard and promulgate. The compelling veracity of this specialized Mesorah of women, and the incorrectness of the contrived notion that men and women share the same role in Mesorah, are glaringly evident throughout Jewish history and in the educational curricula established in consultation with gedolei Yisrael through the ages.
We close with another quote from the Rav that so vividly captures the distinctive female paradigm in Judaism:
The Biblical woman … was a dialectical personality. She combined two mutually exclusive characteristics. (She) was humble and shy, and yet she possessed an indomitable will and an unshakeable determination. She was simple and tenacious, meek and fearless. The Biblical woman was never at the center, always in the wings. She was never loud, always quiet. At the same time, the Biblical woman was the leader and the head of the household. In times of crisis, the Biblical woman assumed unlimited responsibilities and made the gravest decisions… Sarah was a humble woman, always in the tent, always shy and modest. Abraham sat in front of the tent; she was inside. She was always ready to comply with Abraham's requests and yet, in critical times, when she was concerned over the destiny of her son, the humble Sarah displayed unlimited strength of will and made Abraham listen to her. She instructed Abraham: "Cast out that slave woman and her son", and God instructed Abraham to listen to Sarah.