Xenophobia and Loving the Ger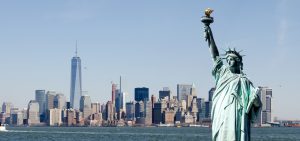 The commandment to love the ger has long been the subject of a tug of war between two camps. Traditional Jews understand it the way the Talmud did – as a reference to a righteous convert. Non-halachic Jews have disregarded that understanding, and take it at its face value – an exhortation to embrace the stranger, to remember that we were once foreigners in the land of Egypt. (Traditional Jews have long found this irritating. Isn't it a bit disingenuous, they ask, to cite Biblical authority when those same Jews openly admit to not seeing themselves personally bound by any line of the Torah – which they regard as entirely the product of human manufacture? Orthodox Jews who do accept the Torah as the revealed Word of G-d are doubly peeved when those same heterodox Jews interpret those verses in ways completely at odds with the way tradition understood them for millennia.)
In earlier decades when some heterodox rabbis still showed a bit more familiarity with authentic Judaism than today, some of them argued that the Talmud's halachic interpretation should not deter us from finding meaning in the plain sense of the verse. Interestingly, they can point to an important rabbinic figure of the early twentieth century who seemed to agree.
For quite a while, I have chosen one sefer a year, and each week offered an adaptation of some excerpt on the weekly parshah. (All of them can be found in the archives of the advanced section of Torah.org.) This year's sefer is HaMedrash V'HaMaaseh, by Rav Yechezkel Libshitz zt"l, the head of Agudas HoRabbonim of Poland till his death in the '30's. In preparing the offering, I was struck by the way he takes the versus about the ger to include the actual stranger, not just the convert. It seemed as if he was speaking to the issue of immigration that divides Americans today! What follows is an excerpt from the excerpt I presented. The translation/adaptation, of course, is all mine, and the author should not be held responsible for my inadequacies.
We see it around us today. In many countries, even among otherwise refined and intelligent people, we see persecution of the outsider, the stranger. We see it as an ideology promoted as a holy obligation of every nation to preserve its own culture and identity, lest it be swallowed up by the outsiders who have arrived within its borders.

Sodom for Sodomites, they seem to be calling! This is not the way of the Torah! Thirty six times it exhorts us to love the ger. The sheer number of times that the Torah stresses this mitzvah says much about its importance; the fine details of how the Torah speaks about it reveals its far-reaching implications, as we shall see.

"When a stranger lives among you [singular] in your [plural] land, do not oppress him. The ger who lives with you [plural] shall be like a native among you. You [singular] shall love him like yourself."[1] The multiple shifts between singular and plural must be explained.

We will begin by observing that even the National Sodomites have their principles. They don't appeal to rank xenophobia, but to economics, and to history. They argue that their resources are inadequate to support a population of outsiders. They wish to protect the rights of "natives," which means people with established legal rights within that country. When these arguments are in place, a protectionist government has two choices. It can choose to deny the newcomer rights of citizenship, leaving the outsider as a second-class non-citizen. If the government is too embarrassed to legislate such a policy, it will not be able to deny equal protection to all. Rather, it will uphold the right of the individual to decide for himself with whom he wishes to do business, or who should be elected to a public position. In other words, the government will see to it that where de jure discrimination is impossible, de facto discrimination nonetheless remains an option.

The Torah prohibits even this gentlemanly rejection of the stranger! This is all hinted at in the pesukim above. "When a stranger lives among you [singular]," i.e. when there are so many of them that each person can legitimately feel that the outsiders are encroaching, and creating a personal burden;" "In your [plural] land," i.e., in the land in which a large group of people have recognized privileges as full citizens;" "Do not oppress him"…[Do not bar him from attaining rights of citizenship. Rather,] "He shall be like a native among you." Moreover, don't think of individually treating him in a discriminatory manner as some sort of pariah. Instead, "You shall love him like yourself."
Is the author reaching out beyond the grave to instruct us about events in our lives? Is he suggesting what the Torah has to say about relighting Lady Liberty's torch of welcome to those seeking refuge on our shores? Only to some extent, we quickly realize. He does indeed condemn xenophobia per se, and believes it to be wrong not to share resources with others, even when the "natives" are inconvenienced. But he is speaking of the rumblings against Jews from those riding the crest of nationalist fervor across Europe – those who wished to rid their borders of Jews who just did not belong, although they presented no threat at all to the rest of the population. The plurality of Americans who support the President's desire for better vetting of immigrants do not for the most part come from the xenophobic roots of a century ago. They cite real concerns about the impact on American society of large numbers of people who were fed contempt and hatred of the West in the school systems in their countries of origin. They may or may not be correct (see one unexpected take on this in a recent Wall Street Journal op-ed), but their goal is not to keep strangers out, so much as to ensure that the strangers whom they welcome will not turn against them.
[1] Vayikra 19:33-34