The Last Word: The Master Knocks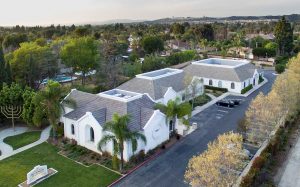 by Rabbi Dovid Eliezrie
"The day is short, the work is great, the workers are lazy, but the reward is great, and the master of the house is knocking [at your door]." Pirkei Avos
Yasher Koach to Rabbi Gordimer, first for this loving criticism, and then his mea culpa. Both are accepted and appreciated.
A few brief points.
Chabad, as any community has challenges, both internal-as we live our lives as Chassidim. External-as we deal with the broader Jewish world through Shlichus. Chabad is community of Chassidim struggling with many of the same issues the rest of the Frum community faces. In some areas we have been very successful and others we are wanting. Internally-and this may not be perceived outside of Chabad-there is much self-reflection and internal debate about a wide variety of topics. Be it educational institutions, leadership, communal standards of observance etc. etc.
In particular in developing institutional infrastructure for Shluchim there has been stellar achievements. To point to three impressive ones, the Rohr Jewish Learning Institute has revolutionized Torah learning with amazing curriculum and programs. Chabad on Campus has changed Jewish life on universities and colleges. Chabad.org has become the largest Jewish presence of the web, touching untold numbers.
The major thrust of my piece was a much broader phenomena. Historically Jewish life in the US revolved around denominational affiliation, Orthodox, Conservative and Reform. In recent decades most Orthodox Shuls were populated by Orthodox observant-Shomer Shabbos. Now we are seeing a major realignment into new groupings. The Orthodox BH continue to grow. The Reform and Conservative are facing major challenges. Conservative has lost 40% of its members, and Reform is on the demographic precipice, its population aging, its membership numbers bolstered by intermarriage.
My term "a new Jewish middle" refers to the hundreds of thousands who now attend Chabad. They range across the spectrum of observance, from the most frum to High Holiday Jews. Many have not been affiliated in the past, others historically attended liberal congregations. In that context, in most cases, the messages from the pulpit where inimical to observance. The educational values offered their children, did not prod them towards more Torah and Mitzvahs. Many times, it endorsed the opposite.
Now that these Jews attend Chabad it's a different tone. In Chabad they are getting a fresh direction towards Torah and Mitzvahs. A portion will become fully observant, others will increase their observance in smaller steps. At the very least their children will exposed to Torah true Judaism which can only inspire them in the years to come.
Today Chabad has more centers than either Reform or Conservative has Temples. Most Chabad Centers serve a smaller demographic then attend a liberal congregations. However it is only a matter of time until the "Chabad affiliated" will match, or exceed the size of either of these movements. This will have a profound effect on Jewish communities in a myriad of ways.
Amongst the core of Jews engaged in Jewish life we are witnessing "realignment". The continued growth of orthodoxy, and the shift-at times subtle- of many Jews towards Yiddishkeit prompted by Chabad and other outreach groups. Coupled together, these two trends have the potential in the long run to change the direction of American Jewry.