Shlomo Yehudah Rechnitz's Powerful Jeremiad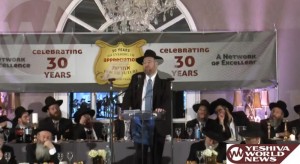 It's gone viral. We're calling attention to it because it is so important that we would like to do our share of publicizing what should be read by everyone. Let no one say that the Orthodox community is not self-critical. While it takes someone of SYR's wealth and power to get away with saying what he did where he said it, the eagerness with which his mussar has been received is significant. We should be pained by the problems that he takes note of, and realize that no one city has a monopoly on them. But we should also take pride in the responsiveness of the Torah world to the excellently crafted action points that SYR offers all of us.
Read (or watch) this remarkable address here.
A response to the speech has emerged. We present it here in the interests of fairness and balance.