On Pink Elephants, Accomodating The Latest Trends, And Heroism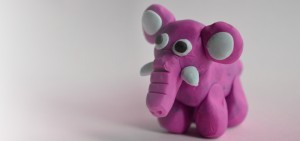 There is a "pink elephant" in the room as Orthodoxy discusses authentic Torah values in an environment rife with secular stirring. It is a fear that may hinder some without their even realizing they carry this fear. It is the fear of "What if?"
What if, by standing for Torah principles, we really do lose kids, millennials, those of other generations? What if we lose women? What if? After all, didn't the 19th Century Orthodox of Europe lose their generations to Reform? Didn't the early twentieth-century Orthodox lose their kids to Reform? Are we repeating an error of history?
It seems doubtful that anyone in all of contemporary American Orthodoxy blames Rav Shamshon R. Hirsch for "ruining things." We see him as a hero who fought the good fight. We see that those who left Judaic observance and adherence during his lifetime were going to leaveanyway, under non-Jewish influences of the day, Judaized into a sort of "Wissenschaft des Judentums." Rav Hirsch could have compromised his message to keep the drifters in. Instead, he "held the fort," doing his human best to explain authentic Torah thought, belief, and practice the best he could. In one sense, it could be argued theoretically that Rav Hirsch failed in ostensible result: they left anyway. But history proves him a hero. We of contemporary Orthodoxy ascribe to him not those who left anyway but those whom he encouraged to remain, to stay with the Torah despite the zeitgeist, the spirit of the times. Today we read his works, his letters, his commentaries. He is a hero of history for having stood against a tide, using intellect and rationality but never compromising authenticity.
Similarly, we do not regard Rav Yosef Ber Soloveitchik (recalled among RIETS graduates as "the Rov") as having been a "failure." His greatest years of achievement and heroism were years when Orthodoxy still was struggling for its footing in America: the 1930s and 1040s and 1950s. Jewish Americans were leaving the "world of their fathers" in droves — to Reform, to Conservative, to secularism. And, yet, faced with the reality around him — the zeitgeist, the spirit of his times — where many Orthodox congregations throughout America dared not erect physical partitions between men and women, he boldly advocated mechitzah. He insisted onmechitzah. In a time and world where out-of-town Orthodox people wrestled with the question of where to pray on the High Holidays — whether it is better to stay home or to hear the shofar blown in a Conservative temple — the Rov ruled unequivocally that halakhah mandated praying alone at home and not hearing shofar on Rosh Hashanah rather than walking to hear it in a Conservative temple. Did his "obstinacy" fail to satisfy the "needs" of some young mature American Jews during the mid-Twentieth Century? Perhaps. Yet contemporary American Orthodoxy does not perceive him today as a "failure," despite Orthodoxy's problematic demographics at the time, the continued numerical losses. Rather, contemporary American Orthodoxy sees him as all-the-greater for having held the fort, having explained the issues the best he brilliantly could, having trained talmidim to be rabbonim who themselves would go outin their hundreds upon hundreds, teaching the generations ahead how to distinguish Torah Truth from Judaic mendacity. It took decades — actually, it took history — to grasp what the Rov achieved. Only now are the Pew Research Center survey results starting to show the historic demographic change that is unfolding like a tsunami, the established footing and rooting of Orthodoxy juxtaposed against the second and third generations of the compromisers.
We open a Mishneh B'rurah, and we see what the Chofetz Chaim achieved. In addition to having taught and disseminated the laws of Shmirat HaLashon ("Guarding the Tongue"), his life's greatest published achievement was a compendium of halakhic glosses on the Shulchan Arukh laws of Orach Chaim, law by law, detail by detail, technicality by technicality. Who among contemporary Orthodox Jews would contemplate "blaming" the Chofetz Chaim for the losses to Jewry of young people all over Russia and the Soviet Union during his lifetime while he stood resolutely firm on halakhah and mesorah? Who would accuse him of having "failed" to accommodate Judaism to the emerging Marxist social order?
None among contemporary American Orthodoxy regard any of the great Gedolei HaTorah of that era — the Torah Giants who established Yeshiva Torah Vodaath and Ner Yisroel and MTJ and Telz and Mir and Lakewood in America — as "failures," though the demographics of the day were dispiriting for Orthodoxy. Rather, they built and held the fort. They handed down rulings and opinions. They explained. They did not compromise. In personal matters, they found room for private leniencies. One merely has to review the teshuvot of Rav Moshe Feinstein in Igrot Moshe to marvel at the leniencies — not only to marvel at their ingenuity but at their extent. However, in Rav Moshe's role in setting the formal compass for the generation, the halakhah reigned supreme. Conservative rabbis may have published treatises permitting driving cars on Shabbat in the first instance, but not he. As a result, many Jews transitioned from membership at Orthodox shuls to Conservative and Reform temples, where they would feel less guilty and more "at home," lured by the attractions of driving on Shabbat, moving out to the new suburbs, eating in non-kosher restaurants. Today, half a century later, it sadly is well documented that "Conservative Judaism" struggles to remain in business altogether, and that "Reform Judaism" struggles with intermarriage and patrilineal descent and ways to define their members. Meanwhile, the yeshivot of Orthodoxy never have been more jammed, swelling in numbers and in Pew surveys.
Those who did not compromise where compromise with authenticity was impossible stand today as our heroes of history.
Yes, American Orthodoxy lost many American young Jews during the 1881-1930s half century, and beyond. And much of that happened because we had no landed, culturally attuned, Western Torah leadership. In its early phase, amid the harried mass immigration of 1881-1914, American Orthodoxy's East European leaders and laity spoke primarily Yiddish and wereutterly not in tune with the New World. They never got a hearing because they did not communicate in the lingua franca. They did not reach because they did not speak and could notcommunicate in American terms.
We of contemporary Orthodoxy are different. We are American. We speak English better than the average American does. We know the culture. We know the humor far better than do the past quarter-century of gag writers at "Saturday Night Live." We are in touch. We have college degrees. Many of us have advanced degrees. We did better in high school AP American history than did those around us. Many of us did better on the SATs and LSATs and MCATs and GREs than did the non-rabbonim and non-Jews around us. They have nothing on us as Americans. They have nothing on us as sophisticates.
As contemporary American Orthodox stalwarts, we are not repeating the tragedy of the 1880s-1930s, where there was almost no one to role-model American Orthodoxy for young people then being born here. Rather, we can speak. We can write. We can post and blog and tweet and explain. We are smart and wise and formidable.
There will be those among our number who will leave. They flee in droves — or so they say — when we stand for marriage as the Torah stands. They leave in droves — or so they say — when we insist that the Torah is part of a Divine Revelation at Sinai and that every word, every letter, was communicated by G-d to Moshe, that Avraham existed and so did Yitzchak and theImahot and Egyptian bondage and y'tzi'at Mitzrayim. Some leave — or so they say — because we refuse to retreat from Yehuda and Shomron. Some because we do not share their views about evolution. Or about revolution. Some because we will not give formal permission to drive on Shabbat or to eat fish broiled and baked in non-kosher restaurants. Some because we have not read the latest novel or seen the latest movie.
There always will be a challenge in holding everyone in the fold when living in an open free Western society, where the lures from outside are so tantalizing: the supposedly free and wild inter-gender partying everywhere, the legalized drugs, the amazing breadth and scope of food choices when abandoning kashrut. By looking for a Jewish mate outside Orthodoxy, one increases his and her choices ten-fold, by a thousand percent. By looking outside Judaism, one multiplies that ten-fold by another fifty-fold, multiplying that thousand by another five thousand percent. So there will be losses in an open Western society. Every soul is precious, and yet there will be losses.
But from Rav S.R. Hirsch to those before, to those after, to the Rov and beyond, our greatest lesson from history is that our heroes are not those who stepped back from Torah's truth andmesorah to accommodate the zeitgeist, but those who stood with mesorah, did not flinch or capitulate, found mollifying language to the best of their abilities, spoke gently, lovingly, opened their Shabbat homes — but stood firm. They did not "succeed" in holding everyone "inthe fold," saw a great many young people abandon the Torah's truth for secular society's illusory greener pastures, but history teaches that it was not they who lost the departed. The departing were departing, no matter what. And what the heroes did is that they maintained and bolstered the foundations that would enable future generations to experience the Torah of our G-d and our generations.
We have today's debates only because the heroes of Jewish contemporary history preserved our Torah and mesorah for us and our future generations.
Rabbi Dov Fischer, an Adjunct Professor of Law and a consultant on secular legal affairs, is a six-year member of the Rabbinical Council of America's Executive Committee and is rav of Young Israel of Orange County, a Modern Orthodox congregation in Irvine, California. His writings can be found at www.rabbidov.com