The Har Nof Massacre, Knife Attacks, and BDS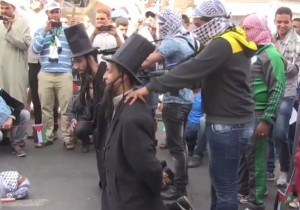 After nearly a year of fighting for his life, a fifth rabbi just passed away, murdered during morning prayers last November. The terrorists of that morning did not target a discotheque, settlement or military base, but a synagogue in West Jerusalem. They proudly desecrated a Jewish House of Worship in order to murder religious leaders, American, British and now Canadian, all men who came to the Holy Land only to immerse themselves in learning and teaching.
The Fatah movement of Mahmoud Abbas, the "moderate" Arab leader, celebrated the "martyrs" who butchered these innocent scholars.
Just two days prior to the Rabbi's passing, a pair of knife-wielding assailants stabbed an eighteen-year-old charedi (ultra-Orthodox) man outside a synagogue in Beit Shemesh – the latest in a wave of violence against Jews in Israel. Ponder this ghastly detail: witnesses saw the attackers attempt to board a schoolbus filled with charedi children.
There is a pattern to these attacks. The Jihadists have not, as some argue, targeted Israelis at random. An extraordinary number of the victims have been in uniform – but not that of an IDF soldier, symbol of the "occupation" they purportedly oppose. Rather, a disproportionate number of those targeted – as in the examples cited above – have been visibly Jewish, clad in the distinctive attire of Orthodox Jews.
For numerous reasons, a terrorist concerned about the current political dispute would view Charedi Jews as unfavorable targets. Peaceful scholars of ancient texts, the charedim are underrepresented in Israeli's military. Jews of the "old Yishuv" moved to Jerusalem long before the Zionist movement existed, without a scent of nationalist aspirations. Mainstream charedi Rabbis have consistently approved the principle of ceding land for true and lasting peace.
There is even the infamous "Niturei Karta" fringe group that calls for the destruction of Israel – though rejected by other charedim, they at least dress the part. This being the case, a terrorist attacking someone in charedi garb might conceivably be assaulting a political ally.
Yet despite all of the above, stabbers excessively target Orthodox neighborhoods and Orthodox Jews. This is not the "Intifada of the Knife," but the "Intifada of Unmasked Anti-Semitism." It is not about occupation or even about Israel; it is about Jews.
Supporters of Boycott, Divestment and Sanctions (BDS) against Israel claim to be different, modeled upon the boycott of South Africa. This, however, is belied by troubling facts. No one during that era picketed individual South African businesses, or threw their products off store shelves. No one contemplated requiring an artist of South African descent to disavow South Africa's open racism before performing. And, of course, no one paraded through streets lifting knives overhead, like a young boy sitting on his father's shoulders proudly did at a recent BDS demonstration in London.
This is not to say, however, that it is challenging to find a previous boycott endorsing hatred and even violence towards Jews – given the Nazi boycotts of the 1930s. That is the accurate paradigm. Again and again, today's purported "anti-Israel" demonstrations slip into a familiar and ugly pattern of anti-Semitic bigotry.
Why are the Regents of the University of California forced to address increasing acts of anti-Semitism at campuses statewide? It is no mystery. At UC Berkeley, UC Santa Barbara, and UC Davis, BDS campaigns immediately and inevitably led to anti-Semitic vandalism and posters – swastikas, grafitti such as "Zionists should be sent to the gas chamber" and "grout out the Jews," even flyers blaming Jews for 9/11. At UCLA, divestment activists questioned the eligibility of a candidate for student government solely because she is Jewish. For weeks following BDS events, Jewish students report verbal and even physical harassment for wearing signs of Jewish identity, whether skullcaps or Magen David necklaces.
BDS activists can neither claim that this is mere coincidence, nor that they are uninvolved. Attendees at divestment meetings note the repetition of common anti-Semitic canards such as Jewish control of government and wealth, and claims that marginalization of Jewish students is justified by the Mideast conflict. Invited speakers characterize grisly murders of Jews as a "response to occupation," claim to be merely "anti-Israel" while posting anti-Semitic memes to Facebook, and whitewash Hamas – a terror organization whose charter calls for genocide, and whose leaders openly celebrate the murder of Jewish civilians and even children – as a "progressive, left-wing" organization merely leading the "resistance" against Israel.
Precisely because honest criticism of Israel is not anti-Semitic, the BDS campaigns of today must be opposed and condemned. Groups sponsoring these events appear unable to tell the difference, and routinely feature speakers who cross the line from one to the other. "Anti-Israel" cannot continue to serve as a code phrase for incitement and anti-Semitism – precisely what is found so pervasively today.