Effacing Women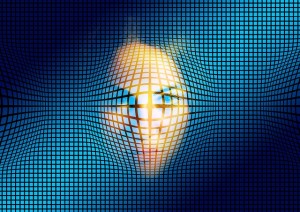 Could be that I have used the verb in an improper manner. But it can't be even remotely as improper as the phenomenon itself.
I haven't seen any really good treatments of the hugely disturbing trend in parts of the community to deny the existence of the chromosomally-challenged (how's that for a new euphemism for she-who-must-not-be-mentioned!), or at least their faces. One very good contribution now appears in the Jerusalem Post, authored by Shoshanna Keats-Jaskoll. Here is the strong beginning:
Imagine a world without women. No mothers or daughters. No female doctors, MKs, teachers or even real estate agents. No girls swinging on playgrounds or young women going to school.

Open one of the numerous pamphlets or magazines in towns around the world with large haredi communities – from Bnei Brak to Lakewood, New Jersey, from Betar Illit to London – and that is what you will find. Even the magazines created for women, like Mishpacha and Bina, have no women or girls in them.
It relates developments in Ramat Beit Shemesh, and what happened when a group of mostly Anglos decided to counter the trend with a local advertising flyer that welcomed names and faces of women.
There is much good material in the piece, including the position of Rav Ovadia, zt"l:
Rebbetzin Dr. Adina Bar-Shalom, daughter of late Shas spiritual adviser Rabbi Ovadia Yosef, expressed horror: "I fear that if this continues, we will have to veil our faces."

She recounted how her father reacted with shock and anger upon seeing a published family photo with the faces of his wife and mother blurred out.

"What nerve… what is this supposed to be? Ultimately they'll all be in veils," she recalled him saying.
Occasionally, a good throw-away line as well:
[A] Ramat Beit Shemesh Alef rabbi who had called Metziah and arranged a boycott was responsible for the near-firing of a local healthcare manager a few years earlier.

In that case, someone had deemed her dress immodest, as she did not wear stockings. Every day, men came to the clinic to see what she was wearing; there were demonstrations outside her workplace, and her husband was threatened. When her boss asked her to capitulate to make peace, she told him she would agree to wear stockings through the long, hot summer – as long as he did the same.
I related best to the opinion of a local chasid:
Asked about the issue of erasing women and using threats to enforce modesty, a hasidic man from Beit Shemesh, speaking on condition of anonymity, says, "Today, more than ever, we need to ascertain if pictures of women are forbidden or permitted. If it is permitted according to Halacha" – which, he asserts, it is – "then it is not okay to make it forbidden. When you forbid things that are permitted, people say, 'Forget it all, [the Torah] is all made up!'"

He adds, "I don't think there is a problem with a normal picture of a woman. Someone who sees a problem with this should perhaps check if there is something wrong with himself. This type of behavior causes hatred between people; people see fanatics, and assume we are all this way."
The conclusion is pointed:
If erasing women is not bringing more holiness; if it creates a reality where women's needs are not met; if the ways it is done are not pleasant, but threatening and harsh; if the rabbinic sources of yesterday and today reject it outright as un-Jewish; if women's reactions to it are further extremes and anger; if girls are feeling lost, confused and left out; and if it thwarts those working to show the beauty of Judaism, then it is clear that this practice is causing far more harm than good, and is not protecting the Jewish people.
The article, which should be read in its entirety, poses a challenge to all of us who agree, and have been silent as we watched a new form of behavior take hold that we know will be unhealthy for our community, and for kavod ha-Torah. The article documents the actions of a small group of people in the Dati Leumi community in Israel, for the most part. What will we do about it, here in our communities?
[Thanks to Menachem Lipkin for the contribution.]