Classified Information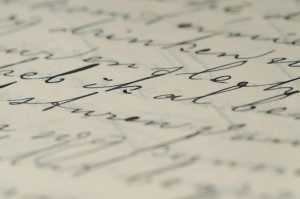 Part of my job as Agudath Israel of America's media liaison is to help ensure that traditional Orthodox Jewish beliefs and life are accurately represented in the press, and that the larger Jewish and non-Jewish worlds are informed about important happenings in the Orthodox community.
There are ample opportunities for both. Misconceptions about Orthodox Jews, especially haredim, are commonplace, not only in the general press but even in the Jewish. And there is no dearth of newsworthy occurrences in the haredi world. Orthodox educational institutions, moreover, do an impressive job of ensuring Jewish commitment and continuity; and the community yields singular events – like the "Siyum HaShas" Talmud-completion gathering last celebrated in 2005, which brought together more that 100,000 celebrants in major convention centers across the continent and around the world.
And yet I think that what are most revealing about Orthodox life are little things.
A revered yeshiva dean was once asked by the parents of a marriage-eligible young woman about the personal qualities of a young man studying at the institution. The rabbi's response was that the fellow struck him as a paragon of good traits. "But if you want to find out what he is really like," he added, "you'll have to ask the cook."
What he intended to convey was that while our public personae and actions may mean much, whatever meaning they hold pales beside the evidence to be culled from the mundane activities of our daily lives, from the testimony of our husbands, wives, children, friends – or, if we live in a dormitory, the cook.
The haredi world doesn't have a cook (well, actually, it has a good many excellent ones, but you get the point). What it has, though, are newspapers.
There are several, most notably Yated Neeman and Hamodia – the latter not only publishes, like the former, a large, multi-sectioned weekend paper but a smaller daily edition as well. The news coverage itself says much about the community. Since mimicking the larger world's media would violate a number of Jewish religious ideals, one won't find any reference at all in the haredi press to the celebrity obsessions that grace even the front pages of the general press, or any parallel to the sort of sleazy crime coverage favored by tabloids, or even any of the standard-issue scandal-mongering that saturates so much of the media. Basic international, national and local news are reported straightforwardly, with the intention of providing important or practical information.
But to me, the most intriguing – and telling – window onto the Orthodox world provided by its newspapers lies in the small print of its classified ads.
Those in a randomly selected edition of Hamodia include the expected job offerings, services and properties for sale or rent, of course. But then there is, in addition to a "lost" column, a sizable one labeled "found."
Therein, one ad-placer seeks the owner of a gold bracelet; another, the person who had lost a digital camera; yet another, the feet missing a pair of children's sneakers; another still, the holder of the partner of a single leather glove. Another bracelet and a blanket are offered by yet other ads, both found "a few years ago."
And then there are the "gemachs," more than five full-page columns of them. "Gemach" is the transliteration of a Hebrew acronym for the phrase "bestowal of kindness," and the word refers to a charitable effort that grants or lends goods, or provides services, to anyone in need of them, free of charge.
Many gemachs – understandably, considering the Orthodox commitment to large families – revolve around the needs of new parents. There are gemachs offering "multiples" baby equipment for new mothers of twins or triplets, others that prepare free meals for new mothers, yet others providing women to spend nights at new parents' homes, to help care for the young siblings of newborns. There are also offers of catering services for new parents celebrating their son's bris, portable playpens, and infant car seats.
And then, among the dozens of other gemachs listed are some offering professional makeup-application (for weddings and such), others still lending hospital gowns that provide more coverage than the standard fare, audiotapes of lectures on an assortment of topics, checklists for planning a wedding, custom hair pieces for men and children with chemotherapy hair-loss (most of Hamodia's women readers own wigs), rides to the park or the shore for Alzheimers sufferers, air-beds for sudden influx of overnight visitors, "shtick" – costumes, novelties and the like – to enliven weddings. There is even a gemach offering listings of gemachs.
This, from a community that, with the constant and formidable responsibilities of observant life, has precious little free time. But what time and effort it has, it seems, a good deal of it is channeled toward helping others.
That subtle message residing in newspapers like Yated and Hamodia rarely appears in the general or other Jewish media. There the spotlight is most commonly focused on the Orthodox community for one or another of its unusual religious or cultural practices, or when one of its members does something wrong. But Orthodox peculiarities or wrongdoers, though they certainly exist as they do in every society, do not reflect the essence of their community.
The classifieds do.