Rav Moshe Grylak – Warrior for Kevod Shomayim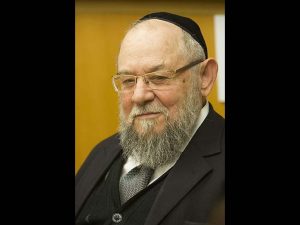 With the passing Tuesday evening of Rav Moshe Grylak z"l, we lost an unsung giant of our generation. And I lost a friend and mentor.
His was a name familiar to both the Israeli and Anglo haredi communities, through decades of service as a journalist. Some referred to him as the first haredi journalist in the State of Israel. A large number of people knew him as the person tapped by R. Shach zt"l to launch the Hebrew Yated, and more recently, as the Editor-in-Chief of the English edition of Mishpacha.
The tributes now being written will crown his head with journalistic laurels, and there is nothing wrong with that. But doing so will completely miss what drove him. There are journalists who were so successful in reaching people, that over time, they were seen as sage, trustworthy voices. (For those familiar with ancient history, I'm thinking of Walter Cronkite, and later David Brinkley.) Their opinions and guidance were sought, not just their reportage. Their journalism led them to become cynosures.
R. Moshe Grylak's path wended in a different direction. He was, fundamentally, an ambassador of Torah. He was intoxicated with the Torah's truth and beauty, and worked to bring awareness of it to as many people as possible. He wanted to blow sky-high the negative stereotypes about Torah itself and about haredim in particular. At his core he was – to use today's jargon – an influencer. That led him to use journalism as a vehicle.
Those whom he influenced were not exclusively from the "in-group." I suspect that those were the minority. He became a voice of reason about Torah to the non-Orthodox world. To convey Torah values to them, he wrote a parshah series for Jews curious enough to listen to what "the other side" was saying about the shared legacy of Torah. He participated in events where he would be the representative of the "old-time religion," eager to share its insights with others, without preconditions.
I got to know him only in the last few years, when his energies were not what they were in the past. We had publicly locked horns, before I made Aliyah, in the pages of Mishpacha and my Cross-Currents blog. A son of mine in Givat Ze'ev HaChadashah related to me that R. Grylak's daughter lived a block away, and her father was often there for Shabbos. This led to an initial visit (at which we more than buried the hatchet), followed by many more, until his last illness.
I cannot say that I knew him as well as others, but I still developed strong impressions of his greatness. Two elements in particular contributed to it, as far as I could see.
The first was his connection with the Chazon Ish as a young man. From his recollections to me, it seems like the closeness to the Gadol Hador of the early years of the State turned him into a powerhouse, a confident articulator of Torah thought. Long after the passing of the Chazon Ish, the relationship continued to empower him. (He could regale at long lengths with stories about the Chazon Ish – including his sense of humor, often missed in more sanitized treatments.)
The second was his intellectual curiosity. He was intrigued to learn that I worked for the Simon Wiesenthal Center as a bridge to the Christian world, and insisted not only on learning which groups were pro-Israel and why, but on analysis of the trends as well. Having discovered that my own interests extended beyond the walls of our community, he wanted to hear from me what he might be missing about the Jewish world in his more cloistered environment. He was especially eager to hear about ideas and movements that were challenging the Torah world, and how we were dealing with those challenges.
He peeked out beyond the limits of the Torah redoubts he came from – always with the confidence that Torah could survive anywhere, and stand up to the scrutiny of anyone. He spent several years in South America. (He once asked me if I believed that all non-Jews hated us. Before I could even finish enunciating a firm but brief "No," he said, "That's good. Some of my best friends in South America – extremely fine people – were not Jewish, and I just cannot believe that they secretly hated us.")
The recipe for his success remains as strong today as ever, even if we do not seem to find as many people who have tried to take the ingredients and whip up a batch of public kiddush Hashem. Those ingredients are an unswerving commitment to our mesorah, a head always involved in learning, the imprint and demus d'yukno of a gadol, and inquisitiveness. He will remind us that it can – and should – be a program for Jewish leadership. That reminder will diminish somewhat the sting of his loss. I, however, will miss him dearly.
Yehi zichro baruch.